Choosing a Senior Community in County Lines Country
So many options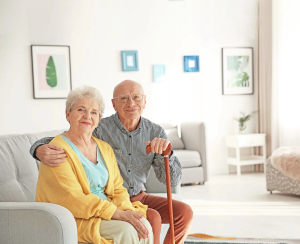 You've made a choice. for whatever reason — health, safety, lifestyle — you've decided to move to a senior community. But that's not the end of it. There are many more choices to make.
No need to buy a ticket to Florida, though. You should know that County Lines country is an excellent place to retire. For example, Caring.com, which considers health care, senior living and housing, transportation, quality of life and affordability, ranks Philadelphia 24th, Lancaster 7th and Wilmington 8th overall among cities nationally. Plus there are 25 independent living, 37 assisted living and 14 continuing care retirement communities ranked above 4.0 out of 5.0 within 12.5 miles of West Chester.
Still, there are many factors to consider. Here are some to help you in that process.
How Health May Influence Choices
Your health, both currently and in the future, may determine which type of community you should choose. Can you walk? Will you drive? Do you need to be near a particular doctor or hospital? Can you perform the general activities of daily life — cooking, vacuuming, laundry, taking out the garbage, changing a light bulb, shoveling the walk? Will you remember how to take care of yourself?
Your answers will help determine whether an Independent Living or Assisted Living community is a better fit. With Independent Living, you generally must perform the activities of daily living on your own. While with Assisted Living, you'll get help with these daily activities including bathing, dressing, laundry, medication management and the like.
A Word on Religion
For some, religion may be a deciding factor in choosing a facility. For instance, St. Martha's Villa in Downingtown is a Catholic institution, while Kutz Senior Living in Wilmington celebrates Jewish traditions and values. The Hickman in West Chester and the Friends Home in Kennett are both Quaker in background. All these communities accept residents of other faiths as well.
As you go west to Lancaster County, the communities become Christian in their orientation. Landis Homes strongly supports Sunday morning worship, prayer groups, Bible studies and Christian education. Brethren Village, Luther Acres, Cornwall Manor and Garden Spot also emphasize Christian activities and values. If you're not religious, or of a different religion, you should be aware of their orientation.
Location, Location, Location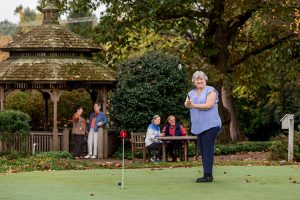 Consider whether you'd prefer an urban, suburban or rural environment. Next, decide if you'd prefer to live in a studio, apartment or a spacious home. Also decide if you'd prefer to shop for yourself or dine on site three times a day. And you may love to swim, play pickleball, frequent the theater, work with wood tools or participate in other activities. You can have some, but not all, in every community.
Communities in Town
There are several senior communities within walking distance of a town. For instance, The Hickman in West Chester is close to the downtown district. One resident there declares she "feels cared for every day in a loving and kind environment" and "especially enjoys the restaurant-style dining experience and the delicious, nutritious meals." Another feels "very connected to our lively and tight-knit community."
In Wilmington, only a few blocks from the Delaware River, Kutz Senior Living is another in-town choice, along with Lodge Lane, its Assisted Living facility, offering studios and apartments.
Similarly, the Friends Home in Kennett is at the edge of downtown Kennett Square.
55+ Communities in the Suburbs
Hershey's Mill is a 55+ community with an 18-hole golf course, tennis and pickleball courts, biking, shuffleboard and, according to Director of Marketing Jack Keeley, "almost any other sport you can imagine." The community consists of 800 acres and over 1,700 homes in a gated community with 24/7 security.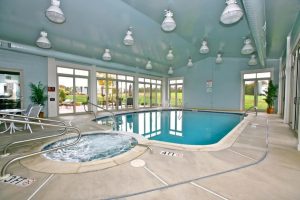 For 55+ seniors, Canvas Valley Forge offers apartments and all King of Prussia has to offer. Allure Lifestyle Communities, which owns Canvas, says the location "can't be beat. Residents enjoy … countless activities each day, from fitness classes to happy hours and everything in between, with all the shopping, dining and entertainment of [KOP] Town Center just steps from their front door."
Honeycroft Village by Cedar Knoll Builders is a 55+ community in Cochranville, about eight miles from West Grove, offering houses that can be over 4,300 square feet. There's a clubhouse, indoor pool and a fitness center.
Life Plan Communities in Chester and Delaware Counties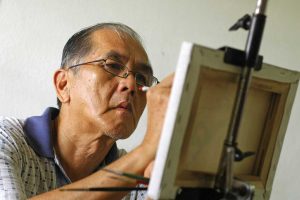 You may prefer a Life Plan community in Chester or Delaware County. They all have indoor pools, fitness centers, clubs and activities and are also within a 10-minute drive of town.
Kendal-Crosslands offers several communities located in the vicinity of Longwood Gardens and Kennett Square is committed to ensuring that the later years of life are filled with the potential for love, growth, friendship, peace, and dignity through services and communities that allow residents to thrive. Sitting on 500 acres, its amenities include tennis courts, miles of hiking trails and more. But there's a long waiting list — another factor to consider.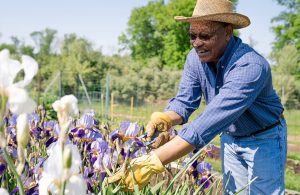 Freedom Village in Coatesville is all apartments, in a five-story building near the Brandywine YMCA. It features lifelong learning classes and lectures, trails, library, arts and crafts room, woodshop, putting green, movie theater and many clubs.
Sitting on 96 acres in Newtown Square, White Horse Village has five restaurants, a vibrant arts program, an auditorium, gardens and outdoor courts of various kinds. Residents are especially friendly and enthusiastic, say residents John and Dianne Hirt. "We really have a community here, and that's a big deal with us. We like to be friendly and outgoing and work with people. This place does it all."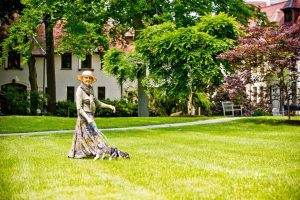 Also in Newtown Square, Dunwoody Village offers small apartments and homes of over 4,000 square feet, spread out over 83 acres only a few miles from the Main Line and Media. For entertainment, it has a putting green, pickleball courts and much more.
The Mansion at Rosemont has a 10-acre nature preserve, a performing arts center, a grand ballroom and more than 30 clubs. On the Main Line and about 2.5 miles from Bryn Mawr Hospital, it features studios, one- and two-bedroom apartments.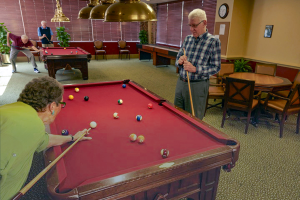 With apartments of up to three bedrooms, Riddle Village in Media is adjacent to Riddle Hospital. It has a town hall, woodshop, outdoor recreational courts, putting greens, koi pond and fire pit. Resident Steve Marrone says, "There's a strong sense of community, and the residents and staff are so friendly. It's located in a convenient part of Delaware County, and the hospital is next door."
Part of Acts, Lima Estates and Granite Farms are southwest of Media. Lima consists of 54 acres of one- to three-bedroom apartments and has a clubhouse, library, restaurants and theater. Granite Farms has almost the same set of amenities and an assortment of one- and two-bedroom apartments.
Go West
Another option is the Life Plan Communities in Lancaster County, where most have pools and fitness centers.
On over 90 acres west of the thriving Lancaster City arts and cultural scene, Homestead Village has a therapy pool, pickleball court, library, crafters room, woodshop and walking trails. Christina Gallagher, Director of Marketing, describes Homestead Village as "casually elegant." From opportunities for wellness, volunteerism and continuing education, "being a resident at Homestead Village means you'll be supported in many ways."
In New Holland, Garden Spot offers homes and apartments up to three bedrooms. The community has its own greenhouse, theater, store, park, gardens and chapel. Resident Charlie Hunsaker found Garden Spot "met all our criteria: friends we knew and loved had already moved there, housing, a beautiful campus and a Christian community."
Several other Christian communities are located in Lititz. Landis Homes has a reputation for providing excellent care while also offering a wide variety of opportunities for residents to engage in an active lifestyle. The beautiful campus features woods, a wetland, many walking paths and is surrounded by farmland yet is close to many conveniences.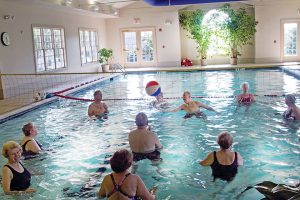 Luther Acres resident Ruth Lohmeyer was moved when visiting "dear, older friends. Seeing their enjoyment and the care they received convinced me that Luther Acres — and Lititz — would be a wonderful place to live during my retirement years." Luther Acres has horticultural, wellness and healthcare centers, as well as a woodshop, theater and two libraries.
Also in Lancaster County, Brethren Village has an arts room, gardens, library, model train club, and woodwork and craft shop.
Beyond Lancaster County, near Hershey, is Cornwall Manor, consisting of two nearby campuses of 85 and 105 acres, with apartments and homes up to three bedrooms. It also has greenhouses, a library, and recreational and craft rooms. Jennifer Margut, VP for Marketing and Public Relations, says, "If a natural, mature wooded setting with walking trails, excellent services and amenities, maintenance-free living, a variety of residential living options, sound financial management, close proximity to educational and cultural opportunities, and first-class medical facilities are on your 'must have' list … you will discover [Cornwall is] a unique and charming place to live."
Finally, Cost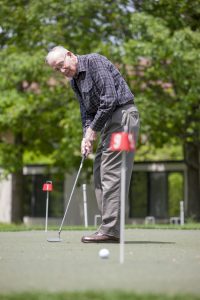 The cost to live at one of these senior communities will be a significant, possibly determinative, factor. Often a down payment or entry fee is required. To that, you'll have to add the monthly costs. Insurance may play a role, but for most, plan on consulting a financial advisor.
FamilyAssets.com provides a tool to allow you to compare monthly costs of different facilities. Basically, though, the cost for an Independent Living community ranges from about $3,200 to $8,000 per month. For a Personal Care Home, add $600 to $2,000 per month to that.
While this is a substantial investment, remember the costs of your housing, health care, sports and entertainment, meals and other costs add up. But for many, that's offset by convenience and security. And the company you keep and the friends you make, which can't be measured in dollars.
Understanding the Terms
In this overview, we're taking some liberties. For example, we refer to Personal Care Homes and Assisted Living as essentially the same. Both types of facilities offer assistance with activities of daily life.
We also refer to Continuing Care Retirement Communities and Life Plan Communities as equivalent. There may be small differences, but not much.
Often, an Independent Living facility is denominated as a 55+ community, referring to minimum age of residents. The theory is that here you require no assistance with activities of daily life. This is often a first step in your continuum of care of a Life Plan Community.
At the other end of the care and housing spectrum, Skilled Nursing facilities provide a higher level of healthcare. Similarly, Memory Care requires specialized care in units specifically designed for it. In general, we don't discuss these two types of facilities here.
back to top