Chester County's Equestrian Traditions and Treasures
Don't hang up your saddle yet! There's still plenty to celebrate this equestrian season.
It's no secret that Chester County enjoys a rich equestrian history that continues to grow with each passing decade.
And even though many of our favorite local equestrian events—Devon Fall Classic, Dressage at Devon, Plantation Field International Horse Trials, Fair Hill International—may be on hold this year, there are still equestrian traditions and treasures to be thankful for.
Let's make sure we help keep them flourishing.
Equestrian Traditions
Whether it's the sport of kings—that's polo, by the way—a community riding group or a way for the kiddos to learn about horses and responsibility, our area has spectator sports, foxhunting clubs and pony clubs to engage fans of all ages and introduce them to our equestrian traditions.
If you're looking for thrills from exciting equestrian competition, look no further than the Brandywine Polo Club, at its home base in Toughkenamon. The polo club, founded in 1950 by former Yale intercollegiate player James McHugh, continues to share their passion for polo as well as the spirit of community—especially appreciated during these times.
This sports club has continued their scheduled season—after a slight delay—with matches open to spectators and tailgaters, with social distancing, of course. Bring your own picnic (including masks and adult beverages), sit 6 feet apart and enjoy the matches and the outdoors!
With 2020 marking their 70th anniversary, what better time to discover the Brandywine polo scene? For more background see "Discover the Brandywine Polo Club" on our website, CountyLinesMagazine.com.
Tickets available at BrandywinePolo.com for matches Friday at 5:30 p.m. and Sunday at 3 p.m. 232 Polo Rd., Toughkenamon.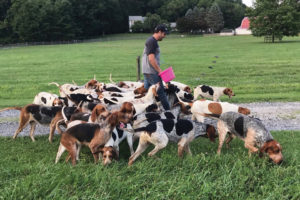 For those itching to ride and not just watch the action, check out the clubs focused on teaching proper technique to riders of all experience levels.
As all riders know, horseback riding is a sport filled with traditions established hundreds of years ago, and love of the sport is what helps keep it and the lifestyle alive. Riders have established and nurtured local hunt clubs and pony clubs in Chester County, creating groups with a long history.
Dating back to 1870, The Kimberton Hunt Club, founded in Chester Springs, is considered one of the oldest hunt clubs in the United States. Most years, members sponsor a horse show, hound show, blessing of the hounds (Thanksgiving morning) and hunt ball. And, as their website says, "a day of good sport is the norm." Even better, it's generally followed by a hearty hunt breakfast and party.
Almost 150 years later, foxes are still plentiful in our area, as the foxes are not killed—they're merely chased and go to ground (down a hole). Despite the area becoming more suburbanized, the foxhunting tradition continues in our area at this and other hunt clubs.
The Kimberton Hunt Club is a great place for those new to the sport, since riders move at a slower pace, over hills and through the woods, allowing new riders to focus on technique. Following by car or truck is another option.
If you're interested in hunting as a guest, find out more on the website, KimbertonHunt.org.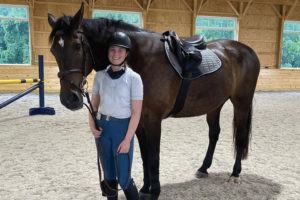 One way to keep younger fans engaged and learning key traditions is through pony clubs, one of the leading junior equestrian organizations in the world. Chester County has several to choose from including the Radnor Hunt Pony Club, Northern Chester County Horse and Pony Club and Mr. Stewart's Cheshire Foxhounds Pony Club.
Located in Unionville, Mr. Stewart's Club helps pass appreciation for the sport on to the next generation. Focusing on growing skills, Mr. Stewart's mounted program helps kids practice jumping, eventing, mounted games, tetrathlon, dressage, foxhunting and horsemanship along with responsibility, generosity, volunteerism and environmental stewardship. Their "unmounted" meetings highlight the importance of feeding, shoeing, veterinary care and general horse management.
With the help of these pony clubs, we just might see your kiddos participating in the Devon Horse Show in a few years!
Unionville; MrStewartCheshireFoxHounds.PonyClub.org. Malvern; RadnorHuntPC.org. Northern Chester County; NCC4H.org. More at Eastern PA Pony Club; EasternPA.PonyClub.org.
Equestrian Treasures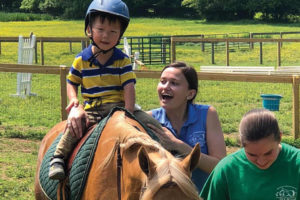 Our rich equestrian history has also spurred the creation of equestrian treasures that help keep both horses and their riders happy and healthy, whether providing therapy, in retirement or for veterinary needs.
People need horses just as much as horses need people, and The Thorncroft Equestrian Center is a shining example of the special connection and trust between the two.
Specializing in therapeutic horseback riding for both children and adults who have mental, emotional and physical disabilities, Thorncroft provides a space that encourages healing and growth for humans and their horses.
Established in 1969, Thorncroft is considered a pioneer among therapeutic equestrian centers and serves more than 350 students a week through lessons, summer camps and clinics on over 70 acres, with the help of 30-plus horses and 20-some staff.
Other therapeutic riding centers in Chester County provide additional services. Horse Power For Life, in Glenmoore, has a 16-week program of therapeutic horsemanship to support cancer patients and survivors of all ages. And Quest Therapeutic Services of West Chester focuses on pediatric therapy to enhance the lives of children with disabilities.
These organizations provide support for those with disabilities and help them focus on the beauty of their minds and bodies while also learning about horses and having fun.
Malvern; Thorncroft.org. Glenmoore; HorsePowerForLife.org. West Chester; QuestTherapeutic.com.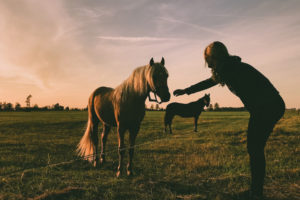 Like our aging relatives, horses also need a place to spend their days when their peak competitive years are over. Ryerss Farm for Aged Equines provides a caring home for aged, abused or injured horses to spend their golden years, literally out to pasture.
Founded in 1888, Ryerss is the oldest nonprofit horse sanctuary in the U.S. and provides a comfortable home for horses to live out their golden years as part of a herd in the bucolic countryside.
Ryerss is now open for visitors, between 10 a.m. to 4:30 p.m., and while there's no admission fee, donations are appreciated to help keep the farm running. Can't visit? You can donate on their website to help endow a stall, bench or pasture.
Or you can volunteer at the farm or sponsor a horse for $500 a year. Sponsorships help with necessary costs like feed, dental care, veterinary care and shelter. Sponsors receive a picture, certificate and biography of their horse along with private time to groom and get to know their horse.
Gather the family and stop by to keep our equine friends company and maybe meet your future sponsored horse! Pottstown; RyerssFarm.org.
Last but perhaps one of the most important local equestrian resources is Penn Vet's New Bolton Center. Keeping your horse healthy and happy is always a main priority and one made much easier by virtue of having a world-class equine hospital nearby. Its 700-acre campus handles one of the largest caseloads of any academic large animal hospital—from 2006 Kentucky Derby winner, Barbaro, to working horses on local farms to beloved pet ponies.
Doctors at New Bolton are working on state-of-the-art medical treatments to help horses recover safely and quickly from injuries, ranging from creating programs for performance horses—equine athletes—in the sports medicine center to providing advice about helping pets cope with the quarantine.
You can check out the latest research and medical journals on the website to help horse owners and trainers keep their horses healthy. Kennett Square; Vet.Upenn.edu.
Equestrian Lifestyle
Finally, whether you're a participant or a spectator in our local equestrian lifestyle, it's important to look the part. Some of our favorite local shops can help you do just that. We hope you'll support local tack shops in our area—especially if you plan to continue riding.
A key stop to make sure you're dressed for the occasion is Malvern Saddlery, a boutique specializing in tack, riding gear, saddles, fashion and gifts. Despite current circumstances, the shop continues to support customers by offering scheduled shopping times. Make an appointment to shop for your equestrian essentials. 1 East King St., Malvern. MalvernSaddlery.com.
Gather up more gear at Ricks Saddlery's West Chester location. Rick's offers sportswear, boots, vet supplies and of course lots of saddles. Need more? Visit their new Equestrian Superstore in Cream Ridge, NJ, which also offers an education center dedicated to learning about horses through seminars, lectures and product shows. 1340 Pottstown Pk., West Chester. SaddleSource.com.
With all these options there are plenty of equestrian clubs, shops and activities to enjoy and help keep the spirit of the season alive in our community.
These Events Have Been Cancelled Due to the COVID-19 Pandemic
Ludwig's Corner Horse Show
September 5–7
5 Nantmeal Rd., Glenmoore
610-458-3344; LudwigsHorseShow.com
The 77th Annual Ludwig's Corner Horse Show, scheduled for Labor Day Weekend and a Chester County tradition, currently plans to hold the horse show but not the Country Fair activities. The horse show is open only to competitors, trainers, owners, grooms, support staff and show officials, but not to the general public or spectators.
Dressage at Devon
Cancelled for September 2020
23 Dorset Rd., Devon
954-647-7940; DressageAtDevon.org
Dressage has been called poetry in motion and ballet on horseback. Its beauty dates back hundreds of years and is a blend of power and artistry. Competition involves a series of movements based on a horse's action, not unlike gymnastics or figure skating competitions.
Devon Fall Classic
Cancelled for September 2020
Devon Horse Show Grounds
Rt. 30, Devon
610-964-0550; DevonHorseShow.net/Fall-Classic
An exciting all-jumper competition featuring riders, ages 5 to adult, with all experience levels soaring over obstacles, racing for the fastest time. There are plenty of family activities at the Midway, with rides, games, carnival food and Ferris wheel plus over 30 unique vendors.
Plantation Field International Horse Trials
Cancelled for September 2020
347 Green Valley Rd., Unionville
302-547-0695; PlantationField.com
Plantation Field's 350 acres welcome serious equestrian fans. Seasoned Olympic competitors as well as the next generation of international eventing stars compete in dressage, cross country and show jumping in what's considered an equestrian triathlon. The event isn't complete without tailgating, and spectators put out their best silver and tasty treats to impress the tailgate judges. Also a Kids Korner and Country Fair for plenty of family fun.
Fair Hill International
Cancelled for October 2020
378 Fair Hill Dr., Elkton, MD
410-398-2111; FairHillInternational.org
The Inaugural Maryland 5 Star at Fair Hill is postponed until 2021. One of only two 5 Star events in the U.S., and seventh worldwide, this prestigious designation is the pinnacle of the sport of eventing, a kind of equestrian triathlon. Debuting in October 2021, the event marks a new chapter for Maryland's equestrian tradition, showcasing four days of competition in dressage, cross country and show jumping at the new Fair Hill Special Event Zone in Elkton, MD.
back to top