Cheers for New Beers
The beer scene welcomes new breweries, pop-up beer gardens and specialty releases.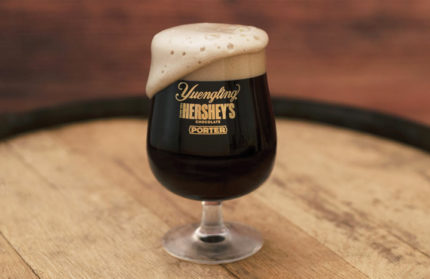 Another year calls for another round of great new beers, breweries and beer news! It likely comes as no surprise that our area has plenty of places on tap that are making and serving beer—with new arrivals released every couple of months.
So let's take a closer look at things we think you'll want to know.
A Tale of Two Brews
Steel City Coffeehouse brought a microbrewery to the already popular coffeehouse in Phoenixville. Owners Laura Vernola-Simpson and Ed Simpson brought in brewer Jeremy Burke to manage brewing operations and offer his own brews in late January 2019. Burke brings traditional styled beers like stouts, IPAs and porters, including Steel Mill Stout made with coffee (no surprise), a favorite among patrons.
Now you can enjoy a craft beer along with local wines from Maple Springs Vineyards and spirits from Manatawny Still Works. And of course, Steel City is still a café, coffeehouse and live music venue. So head there to unwind from a long week with a live show and a brew of your choice—alcoholic or caffeinated.
New Brewhouse in Kennett Square
Kennett Square welcomed the opening of the much-anticipated Braeloch Brewing last March. Owners Kent and Amy Steeves along with Matt and Kathy Drysdale converted a 1903 historic, 9,200-square-foot building to a 4,000-square-foot taproom and a brewery. The taproom also features a 78-foot-long signature bar, designed by Steeves' brother Brett, that curves and weaves along one wall.
Braeloch offers a wide cross-section of beers from its 10-barrel brewing system, with traditional ales and IPAs to more experimental brews, on 12-rotating-taps.
When the weather gets warmer, Braeloch will reopen its popular dog-friendly outdoor beer garden alongside Red Clay Creek. In January you may only be able to dream of grabbing a couple of friends, getting a cold brew and enjoying the great outdoors. But it's a great dream.
Join the Revolution
Marching onto the site of the Revolutionary War's Battle of Brandywine, Artillery Brewing opened its door this past July at Thornbury Farm Market outside West Chester.
Co-owners Michael Loveless, Paul Zippel and Randell Spackman created this microbrewery's arsenal of good beers with American Revolution-inspired names. In their first season, they served up six handcrafted beers made from ingredients found at Thornbury Farm for a truly farm-to-glass experience. The microbrewery had both an enclosed taproom accommodating 35 people and a beer garden for 350.
With the arrival of cold weather, Artillery closed its doors for the season and is currently searching for a new location where beer-lovers can visit year-round. Keep an eye on their website and Facebook page for updates.
A Gathering Spot for Philadelphia Sports Fans
When you're headed to Talen Energy Stadium in Chester for a soccer game for the 2020 season, stop by the new brewery, Larimer Beer Company, for a sports-themed beer. Founded by brewer Matt Lindenmuth, Larimer opened the doors to its taproom in July for the Philadelphia Union's home soccer game at the stadium. The rest of the brewery was under construction through early fall, with a completed, fully operational brewery that opened in November.
The brewery has drawn in Union supporters, visiting soccer teams and fans as well as local community members. At the start of the NFL season, Larimer released its first sports-themed beer, Bird Gang, for the Philadelphia Eagles football team, with plans for a Union soccer team beer for the 2020 season. The tasting room will also feature local beers, including brews from Sterling Pig and 2SP Brewing.
We're hop-ful Larimer will be a great hangout for Philadelphia sports fans!
At Last!
West Grove has been a dry town since the 1940s, but that changed in 2019, when residents voted to allow malt and brewed beverage licenses in the borough. Blondes and Brewnettes Brewing Co., the passion project of sisters Bernadette Mellon and Beverly Snyder and their husbands Knute and Shane, opened last October at the Twelves Grill & Café, which the Mellons have owned since July 2018.
Blondes and Brewnettes will continue to be based at Twelves, but with plans brewing to locate and open a full-service taproom and brewery. Twelves will remain a BYOB and sell Blondes and Brewnettes beers.
Collegeville's New Brewpub
New to Collegeville is Trouble's End Brewing, taking over the former space of Appalachian Brewing Company. Trouble's End is the combined effort of brothers Dave and Nick Bellenzeni, along with brewer Zach Svoboda and Casey Parker.
The 25 taps feature beers by Svoboda as well as outside brews, plus cocktails, mocktails and wine on draft. Make sure to taste your way through the American menu—chicken biscuit pot pie, French onion mac and cheese and a smoked brisket Reuben.
Trouble's End also boasts room for over 200 guests, live music, an arcade and table games. So plan to stay a while.
Changes to the Exton Beer Scene
Iron Hill is bringing its first large-scale production brewery to Exton, expected to open this summer at The Shops on Eagleview Boulevard. Officially called Iron Hill Brewery & Taproom, the new hub will do all the canning for Iron Hill's signature beers and serve as a test kitchen for new menu offerings.
The location is set to be more than 18,000-square-feet, with a 10,000-square-foot brewery and a 4,500-square-foot taproom. Beer production will start at 6,000 barrels a year, eventually expanding to 20,000.
This new location is a hop forward in Iron Hill's goal of 20 locations by the end of 2020. The current count is 16, with a 17th location expected this spring in Newtown.
For a Limited Time …
Chocolate lovers, rejoice—Yuengling and Hershey put their heads  together for the first time to create Yuengling Hershey's Chocolate Porter. The brew is both brands' first collaborative beer and took about a year to develop.
Yuengling's Dark Brewed Porter, which has been made since the brewery opened 190 years ago, is the beer's base. Hershey's chocolate syrup, cocoa powder and cocoa nibs are added for a rich and dark chocolate-flavored finish.
The Chocolate Porter is only available on tap at select locations, and is expected to last only until about mid-February, so try it soon! Find where to sample this limited release by visiting Yuengling's website for locations.
Best of Pop-Up Beer Gardens
Everyone loves beer gardens, dating back to when they first started in 19th-century Germany. So beer gardens are always part of our beer coverage. Here a few we enjoyed last summer.
In May, Levante Brewing Company brought a seasonal pop-up beer garden to the 200-acres of Highland Orchards. This was a family-friendly experience, drawing on the best of the partnership, with baked goods and local produce, picnic-style seating, food trucks and special events like live music and the Peach & Corn Harvest Celebration. We were sad to see it close Labor Day weekend.
For summer carnival fun, Stickman Brews joined forces with Ludwig's Corner Country Carnival at the Ludwig's Corner Horse Show Fairgrounds. Starting early June and running into October, the Country Carnival also had rides, games and amusements, and carnival fare like funnel cake, snow cones and fried Oreos. Proceeds benefitted the Ludwig's Foundation to maintain and preserve the grounds as open space for community events, fundraisers, festivals and other events.
A new concept, Trails on Tap was a pop-up beer garden along the Schuylkill River Greenways during five weekends from late June through early August. Visitors enjoyed outdoor activities—kayaking, bicycling and lawn games—and had food and drinks while they also enjoyed nature. A portion of the proceeds was reinvested in protecting the Schuylkill River, its trails and its greenways.
We're excited for the weather to warm up to enjoy these beer gardens again. But until then, give another one of these breweries a taste.
Beer Events
Jan. 11, Ardmore Winter Beer Festival. 23 E. Lancaster Ave., Ardmore. ArdmoreMusic.com.
Feb. 22, Heritage and Hops. 227 Bridge St., Phoenixville. SchuylkillRiver.org.
Feb. 29, Kennett Winterfest. 600 S. Broad St., Kennett Square. KennettWinterfest.com.
Mar. 7, Philly Craft Beer Festival. 1100 Flagship Ave., Philadelphia. PhillyCraftBeerfest.com.
Apr. 4, Rails & Ales: Railroad Museum of PA. 300 Gap Rd., Strasburg. RRMuseumPA.org.
May, Brandywine Valley Craft Beer Festival. E. State St., Media. IronHillBrewery.com/Media.
May 9, Phoenixville Beer & Wine Festival. 762 Pike Springs Rd., Phoenixville. PhoenixvilleBeerWineFestival.com.
May 29–June 8, Philly Beer Week. Various. PhillyLovesBeer.org.
June 20, Ephrata Brewfest. 20 E. Main St., Ephrata. EphrataBrewfest.com.
July, Newark Food and Brew Fest. Various. NewardFoodAndBrewfest.com.
Aug., Lancaster Crafte Beerfest. 100 block of N. Queen St., Lancaster. LancasterCraftBeerfest.com.
Sept., Bloktoberfest. Washing Ave. from Broad to 17th St., Philadelphia. Bloktoberfest.org.
Sept., Newtown Square Pints in the Square. Newtown. PintsInTheSquare.com.
Sept. 12, Historicc Odessa Brewfest. 201 Main St., Odessa, DE. OdessaBrewfest.com.
Sept. 26, Philadelphia All-Star Craft Beer, Wine and Cocktail Festival. Citizens Bank Park, Philadelphia. BallparkFestival.com/Philadelphia.
Oct., Conshohocken Beerfest. Garthwaite Stadium. ConshyBeerFest.ticketleap.com/tickets/.
Oct., Kennett Brewfest. 600 S. Broad St., Kennett Square. KennettBrewfest.com.
Oct., King of Prussia Beerfest Royale. 690 W. DeKalb Pk., King of Prussia. KOPBeerfest.com.
Oct. 3, Brew-chanan Fest. 901 Buchanan Ave., Lancaster. ESPNRadio927.com/BrewChananFest2019.
Nov., Phlight of the Phoenix. Bridge St., Phoenixville. PhoenixvilleChamber.org.
Dec., Valley Forge Beer Fest. Greater Phila. Expo Center, Oaks. ValleyForgeBeerfest.com.
back to top