Charity Datebook Calendar 2022
From virtual to live events, plan something for every month
This year things look a little different. Some events are still being held virtually, while many charities are planning to go forward with their events. Not all dates have yet been set (see events marked "TBD"). We encourage you to check websites often for updates and, as always, ask that you support these great local causes… and have some fun along the way.
View PDF version here.
January
21st Annual A Taste of Phoenixville 2023
TBD
Creative cuisines, silent auction, live music, local wine and beer make this a great start to the year. Benefits Good Samaritan Services helping with homelessness. Franklin Commons, 400 Franklin Ave., Phoenixville. TasteOfPhoenixville.com.
February
Habitat for Humanity—5th Annual Building A Thirst Fundraiser
Through February, 2022
Get tickets for 12 free beers at 12 participating breweries throughout Chester County. Also included is a coupon for $10 off a Hops for Homes Beer Festival ticket. HFHCC.org.
Cheers for CHOP
February 26, 2022
An evening of live music, cocktails, dancing and an incredible silent auction. Benefits Behavioral Health at Children's Hospital of Philadelphia. Live! Casino & Hotel Philadelphia, 900 Packer Ave., Philadelphia. CheersFor.CHOP.edu.
March
Notable Kitchen Tour & Chef's Tastings
Through March
Held virtually this year and featuring Tabletop Art via Facebook. Benefits The Philadelphia Orchestra. Donation requested. NotableKitchens.com.
Chester County Antiques and Arts Show
Previously in March
Check website for details. ChesterCoHistorical.org.
Alex's Lemonade Stand 16th Annual Lemon Ball
March 4
Choose in-person or virtual for this grand event featuring cocktail reception, an auction, dining and dancing to a live band. Springfield Country Club, 400 W. Sproul Rd., Springfield. AlexsLemonade.org.
73rd Annual Chadds Ford Art Sale & Show
March 18–19
Local and regional artists auction work in an array of mediums. Patrons may also bid on local services as well as artisans' crafts. Benefits educational enrichment programs at Chadds Ford Elementary. 3 Baltimore Pk., Chadds Ford. 610-388-1112; CFES.UCFSD.org.
Chester County Community Foundation Food for Thought: Sweet Charity Edition
March 21
Sample delicious desserts made by local chefs. Enjoy delectable food and great company, while supporting the Community Foundation's mission to grow legacy philanthropy in the region. Whitford Country Club, 600 Whitford Hills Rd., Exton. ChesCoCF.org.
Saint Agnes' Night at the Races
March 26
The Kentucky Derby arrives in West Chester, with horse races, silent auctions, Bourbon/ Whiskey tasting, food and fun for grown-ups. Benefits the school, fostering continued Generations of Excellence for the next 150 years. Join the fun in person or
online. Thomas Patrick Hall, 211 W. Gay St., West Chester. 610-696-1260; SASNAR.com.
April
Philadelphia Virtual Red Ball
April 2
Guests enjoy passed hors d'oeuvres and fabulous food stations. Benefits the Red Cross of Southeastern Pennsylvania, who respond to disasters and provide care and comfort to families. Vie, 600 N. Broad St., Philadelphia. RedCross.org.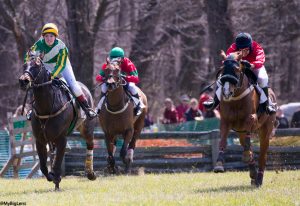 79th Brandywine Hills Point-to-Point
April 3
Celebrate the first race of the season over a 318-acre property. Kids activities include lead line and stick pony races, the Radnor Hunt foxhound parade and great raffle prizes. Dogs on leashes welcome at this family-friendly event. Benefits Brandywine Red Clay Alliance. Myrick Conservation Center, 1760 Unionville-Wawaset Rd., West Chester. BrandywineRedClay.org.
King of Prussia Restaurant Week
April 4–10
King of Prussia's only restaurant week spotlights KOP's world-class dining scene while raising money for Children's Hospital of Philadelphia. Held the same week, during KOP Shops for CHOP, shoppers can save big while supporting CHOP at their favorite retailers. KOPRestaurantWeek.com.
Coaches vs. Cancer 18th Annual BasketBall
April 9
Business, health care and philanthropic leaders come together for a night to make a difference in the fight against cancer. This year's event honors Coach Herb Magee, NCAA Division II men's college basketball coach at Thomas Jefferson Univ. Benefits the American Cancer Society. The Bellevue, 200 S. Broad St., Philadelphia. PhiladelphiaBasketBallGala.org.
In Person & Live Online Wine Tasting with Coach Dick Vermeil
April 24
Join Hall of Fame football coach Dick Vermeil in-person at The Abbott's Barn or via Zoom for a virtual wine tasting event and lively dialogue to support The Barn at Spring Brook Farm. The Barn's mission is to enrich the developmental skills and lives of children with disabilities through animal-assisted and nature-based experiences. 360 Locust Grove Rd., West Chester. 610-793-1037; Springbrook-Farm.org/SpringFundraiser.
"All That's Purple Affair" Celebrating Our Resilience
April 23
Annual gala featuring entertainment and silent auction. Benefits the Domestic Violence Center of Chester County. Franklin Commons, 400 Franklin Ave., Phoenixville. DVCCCPA.org/Gala.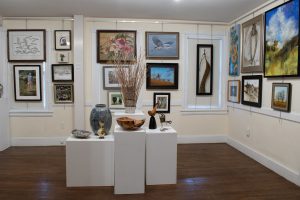 49th Annual Yellow Springs Art Show
April 23–May 15
The galleries in the Lincoln Building will be open for this year's hybrid event featuring over 200 artists from the Delaware Valley and beyond. Benefits the arts, education, preservation and environmental protection of Historic Yellow Springs. 1685 Art School Rd., Chester Springs. YellowSprings.org.
Annual Celebrity Chef's Brunch
April 24
The Celebrity Chefs Brunch is celebrating 25 years of bringing award-winning chefs to Delaware. Indulge in exquisite tastings prepared by world-renowned chefs, as well as brunch cocktails, live entertainment and more. Benefits Meals on Wheels in Delaware. DuPont Country Club, 1001 Rockland Rd., Wilmington. MealsOnWheelsDE.org.
Delaware Marathon Running Festival
April 24
Runners enjoy the best of Wilmington, from the majestic views along the Riverfront and through downtown. Benefits the Cardiac Center, Nemours/Alfred I. du Pont Hospital for Children. Tubman Garrett Riverfront Park, 815 Justison St., Wilmington. DelawareMarathon.org.
Unite For HER At Home—Bloom Spring Fashion Show
April 24
Join in for brunch at home and a spring celebration of life, fashion and community, featuring Unite for HER Wellness Program participants. Tickets benefit local women affected by breast and ovarian cancers. UniteForHER.org.
FORE Fresh Water Golf Invitational
April 25
Annual golf invitational to support freshwater research, environmental education and watershed restoration. Covid-19 protocols will be in place. Sponsorships, foursomes and single golfer packages are available. Bidermann Golf Course, Greenville, DE. StroudCenter.org/Events.
The Philadelphia Show
April 28–May 1
The 60th Anniversary Edition at the Philadelphia Museum of Art features 40 outstanding exhibitors from all over the country
specializing in fine art, Americana, antiques, folk art, ceramics, porcelain, silver, jewelry, textiles and decorative arts. Preview Apr. 28. Benefits the Museum. 2600 Benjamin Franklin Pkwy., Phila. ThePhiladelphiaShow.com.
People's Light Annual Auction
April 29
This year's gala will honor Abigail Adams and highlight her indelible impact at People's Light for over 40 years. Toast Abbey's artistic contributions, leadership and tireless work on behalf of the theater. The gala will include cocktails, a silent auction, dinner and live entertainment. The Farmhouse at People's Light, Conestoga Rd., Malvern. PLGala2022.GiveSmart.com.
Home of the Sparrow Black & White Gala
April 29
Dinner, silent and live auctions. Their mission is to partner with women facing homelessness to secure housing, achieve long-term stability and chart new paths. Drexelbrook Catering, 4700 Drexelbrook Dr., Drexel Hill. HomeOfTheSparrow.org.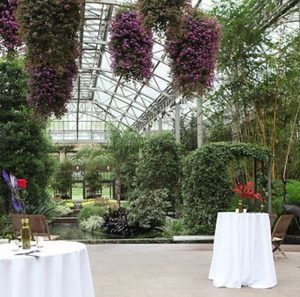 Chester County Hospital Gala—Caribbean Night
April 30
A fun-filled evening of delicious cuisine, cocktails and a steel drum band, followed by dancing in the Longwood Conservatory. Dance the night away while supporting Chester County Hospital. 1001 Longwood Rd., Kennett Square. ChesterCountyHospital.org/Giving.
Safe Harbor—Family Cornhole Fundraiser
April 30
A day of fun for the whole family with live music, a silent auction, prizes and catered food. Safe Harbor is a nonprofit charity with a mission to provide housing, food and access to support services for homeless single men and women. 20 N. Matlack St., West Chester. SafeHarborOfCC.org.
Peter's Place 20th Anniversary Benefit & Auction
April 30
Enjoy an elegant evening of cocktails, dinner and auctions to support the mission of Peter's Place, which provides safe and supportive environments for grieving children and families. Merion Golf Club, 450 Ardmore Ave., Ardmore. PetersPlaceOnline.org.
May
Brandywine River Museum of Art Antiques Show
TBD
Details coming soon. Brandywine.org/Events.
Schuylkill River Greenways Paddling Film Festival
TBD
Enjoy an international film tour presenting the world's best paddling films of the year. The award-winning film festival is coming to the region this spring. Benefits Schuylkill River Greenways National Heritage Area. Riverfront Park, 140 College Dr., Pottstown. Schuylkillriver.org/Film-Festival.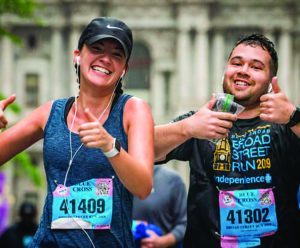 Blue Cross Broad St. Run
May 1
Line up for a 10-mile, point-to-point course starting at Central High School Athletic Field in Philadelphia and finishing inside the Navy Yard. Benefits the American Cancer Society. BroadStreetRun.com.
Bournelyf Special Camp 2022 Hand to Hand 5K Run & 2K Walk
May 1–7, 5
The in-person race will begin and end at the corners of Church & Gay St., West Chester, on May 5. Virtual Option: the entire week of May 1st to May 7th, run or walk 5K/2K on a course of your choosing and submit your time. BSCWC.org to register or sponsor.
21st Annual Bringing Hope Home Great Guys Dinner
May 5
The event brings a sigh of relief to families dealing with the financial hardships a cancer diagnosis can cause by offering financial assistance. Join the great guys (and gals) for dinner, cocktails, auctions and more. Springfield Country Club, 400 W. Sproul Rd., Springfield. BringingHopeHome.org.
44th Annual Winterthur Point-to-Point
May 8
Enjoy a day of elite horse racing on the lush grounds of the Winterthur Estate. A signature Brandywine Valley event complete with antique carriage parade and antique car exhibit. Enjoy tailgating, hospitality tents and shopping galore. Benefits Winterthur's programs. 5105 Kennett Pk., Wilmington. Winterthur.org.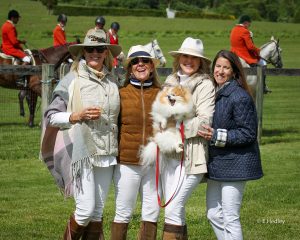 The 29th Running of Willowdale Steeplechase
May 14
The races will return to full spectator capacity with the exciting addition of a limited number of Private Party Paddocks. World-class steeplechase racing, pony races, Jack Russell terrier races, boutique shopping, tailgate, hat and best dressed competitions, food vendors and fun for kids. Benefits Stroud Water Research Center, Penn. Veterinary Medicine's New Bolton Center. 101 E. Street Rd., Kennett Square. WillowdaleSteeplechase.org.
FORE Health Golf Invitational for Chester County Hospital
May 16
A great day of golf to benefit the NICU and Women's and Children's Health Services. Chester Valley Golf Club, 430 Swedesford Rd., Malvern. ChesterCountyHospital.org/Giving.
The 91st Radnor Hunt Races
May 21
Racing for Open Space, raising funds and awareness for the Brandywine Conservancy's open space and clean water programs. Race day is also about steeplechase racing, fashion and tradition at this signature event. Benefits the Brandywine Conservancy. Radnor Hunt Grounds, 826 Providence Rd., Malvern. RadnorHuntRaces.org.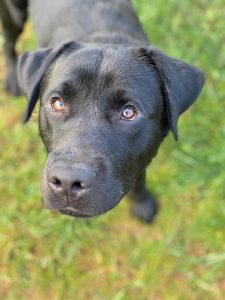 Canine Partners for Life Unleashed & Uncorked: Unleashing the Possibilities
May 26
CPL's largest fundraising event of the year. Meet CPL recipients and pups, indulge in wonderful food and music, meet graduates and their service dogs and enjoy exciting live and silent auctions and a variety of games. Deerfield Golf Club, 507 Thompson Station Rd., Newark, DE. K94Life.org.
The Devon Horse Show & Country Fair
May 26–June 5
See Olympic-caliber riders, the best local riders, junior classes and munchkins on the Lead Line or come for the fun outside the ring—like the Ladies Hat contest—at the country's oldest and largest outdoor multi-breed horse show. Visit the Country Fair's midway attractions and boutiques. Benefits Bryn Mawr Hospital. 23 Dorset Rd., Devon. DevonHorseShow.net.
43rd Annual Therapeutic Riders Division of the Devon Horse Show
May 28–29
Over 175 riders of all abilities compete in equitation, dressage and trail classes at the Devon Horse Show Grounds, 23 Dorset Rd., Devon. Thorncroft.org.
June
Philadelphia Auto Show
TBD
Cruise on over to one of the country's top auto shows—700 vehicles from 40 manufacturers at this elegant fundraiser. Feb. 7, Black Tie Tailgate, benefits the Dept. of Nursing at Children's Hospital of Philadelphia. PA Convention Center, 1101 Arch St., Philadelphia. PhillyAutoShow.com.
The Strawberry Festival
June 2–5
The Rotary Club of Coatesville hosts the Strawberry Festival, offering the same wonderful family entertain – ment, rides, kids activities, monster truck rides, crafts, Friday fireworks and more. Benefits the Coatesville community. Brandywine Hospital, at Rt. 30 Bypass, Coatesville. BrandywineStrawberryFestival.com.
Natural Lands Stardust! Celebration
June 3
Kick off summer with a celebration including garden strolling, roving supper and much merriment. The event benefits Natural Lands' mission to save open space, care for nature and connect people to the outdoors in eastern PA and southern NJ. Stoneleigh: a natural garden, 1829 County Line Rd., Villanova. NatLands.org.
Main Line Animal Rescue 11th Annual Tails & Trails 5k Run/2k Walk
June 4
The day will be filled with fun, food, music, drinks and pups. Run or walk at your own pace while still supporting the mission to save animal lives. Ready. Set. Rescue! 1149 Pike Springs Rd, Chester Springs. 267-990-1198; PSPCA.org.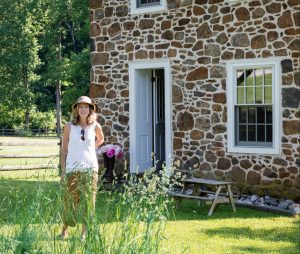 Willistown Conservation Trust Barns & BBQ
June 4
Two ticket levels this year: The Willistown Morning Barn Tour and Barns & BBQ, both featuring the tour and access to barns and farms with Barns & BBQ attendees ending the evening with a cocktail hour, three-course meal, and live music at a secret barn location. Benefits the Trust's conservation works. 925 Providence Rd., Newtown Square. WCTrust.org.
CVIM's Annual Golf Classic
June 7
Join Community Volunteers in Medicine and its partners for a day of golf on a premier course along with breakfast, lunch, dinner, open bar, auction and giveaways, to support the region's largest free healthcare center in our community for families without health insurance. Applebrook Golf Club, 100 Line Rd., Malvern, PA. Learn more at CVIM.org.
Alex's Lemonade Stand Great Chef's Event
June 11
Culinary superstars along with local stars from the best bars, wineries and craft breweries share their creations at this tasty annual fundraiser at the Navy Yard. Urban Outfitters Headquarters, Bldg. 543, 5000 S. Broad St., Phila. AlexsLemonade.org.
Historical Society of the Phoenixville Area Strawberry Festival
June 11
A family affair with food, entertainment, kids games and fresh strawberries and ice cream highlight the event. Benefits the Historical Society. 204 Church St., Phoenixville. 610- 935-7646; HSPA-PA.org.
"Ring Into Spring" at Washington Memorial Chapel
June 11
Afternoon tea and lecture about the "Justice Bell," a legendary symbol of the Women's Suffragette Movement, a concert on the Chapel's world-renowned carillon and a guided tour of the architecturally significant chapel. Presented by the Main Line Committee for the Philadelphia Orchestra. 2000 Valley Forge Park Rd., King of Prussia. PhilOrchVolunteers.org.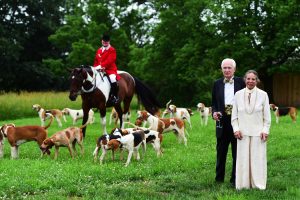 Thorncroft's 37th Annual Victory Gallop
June 11
As Thorncroft's premier fundraising event, the Victory Gallop presents an unforgettable black-tie evening for the benefit of the Farm. The Victory Gallop welcomes guests for dinner, dancing and silent auction. Held at a private estate. Thorncroft.org.
The Philadelphia Flower Show
June 11–19
"In Full Bloom" will take place in South Philadelphia's Franklin Delano Roosevelt Park. Benefits the Pennsylvania Horticultural Society. 1500 Pattison Ave. & S. Broad St., Philadelphia. $20–$45. 215-988- 8800; TheFlowerShow.com.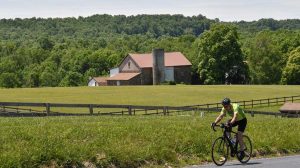 French Creek Iron Tour—Cycling for Open Space
June 12
Rides for all levels—from beginners to accomplished cyclists—with 11, 20, 32, 50, 62, 75 and 100 mile road course options. Benefits French & Pickering Creeks Conservation Trust. IronTour.org.
Schuylkill River Sojourn
June 17–24
Join an adventure of a lifetime with the annual guided paddling trip on the Schuylkill River. Paddlers choose what days and locations they want to join on the 7-day journey. Benefits Schuylkill River Greenways National Heritage Area. Location varies. SchuylkillRiver.org/Sojourn.
Habitat For Humanity Hops for Homes Beer Festival
June 18
This is the first Hops for Homes Beer Festival celebrating Chester County craft breweries. Join in a day of beer tastings from La Cabra, Suburban Brewing and more along with food trucks, backyard games and live music. Exton Square Mall Parking Lot, Exton. Noon to 4. HFHCC.org/News/Building-A-Thirst.
Challenge for Cancer Bike Tour
June 26
Cycling tours throughout scenic Chester County from 5 to 100 miles to benefit The Abramson Cancer Center at Chester County Hospital and Penn Medicine Hospice in Chester Co. CCCRide.com.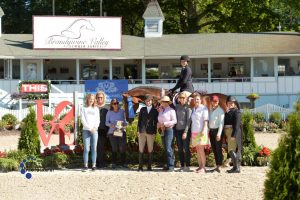 Lindsay Maxwell Charitable Fund Brandywine Horse Shows
June 29–July 3, July 5–10
Offering two weeks of family-friendly equestrian competition at the Devon Show Grounds. This year the show benefits Domestic Violence Center of Chester County and Equus Survival Trust. Rt. 30, Devon. BrandywineHorseShows.com.
July
The Colonial Theatre Presents Blobfest
July 8–10
The award-winning 3-day event is the largest fundraiser for the theater, held in person this year. 227 Bridge St., Phoenixville. 610- 917-1228; TheColonialTheatre.com.
August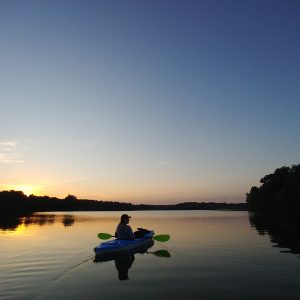 Delaware Burger Battle
TBD
Delaware's top chefs put their best burgers forward as guests sample the burger-licious options. Benefits Ministry of Caring's Emmanuel Dining Room. Cauffiel House, 1016 Phiadelphia Pk., Wilmington. DEBurgerBattle.com.
Clean Water Paddle Push at Stroud Center
August 1–31
Grab your paddleboard, canoe, kayak, inner tube or waders and hit a body of water near you to celebrate water, the earth's most vital natural resource. Your support directly benefits the future of fresh water through Stroud Water Research Center's global research, environmental education and watershed restoration efforts. At a body of water near you. StroudCenter.org/Events.
September
SHiNE in the VINES
TBD
Celebrating 24 years of supporting patients living with cancer. Benefits The Abramson Cancer Center at Chester County Hospital. PatientSHINE.org.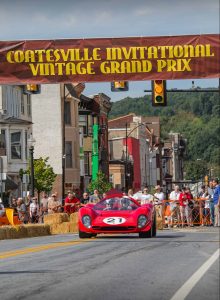 Coatesville Invitational Vintage Grand Prix
TBD
Step back in time to experience authentic early American sports car racing featuring dozens of rare and unique historic cars and motorcycles dating from 1900 to 1970, competing in individually timed races. Benefits the Coastesville community. Start and finish at 3rd Ave. & Lincoln Hwy., Coatesville. CoatesvilleGrandPrix.com.
20th Up On The Roof
TBD
Sip a martini and watch the sunset from the rooftop of the Chestnut Street Garage. West Chester Downtown Foundation and West Chester BID join forces for an evening under the stars with dinner, music, dancing and open bar. Benefits the beautification of West Chester. 14 E. Chestnut St., West Chester. DowntownWestChester.com.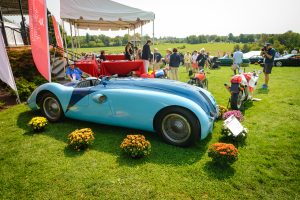 Radnor Hunt Concours d'Elegance
September 9–11
Drive on over to this nationally recognized three-day event that includes a Friday Night Barbecue, Chester County Road Rally and Black Tie Gala. Benefits Thorncroft Equestrian Center, specializing in therapeutic horseback riding. Radnor Hunt, 826 Providence Rd., Malvern. RadnorConcours.org.
West Chester Summer Soirée
September 10
Guests bring their own picnic dinner and cocktails to share a fun evening with family and friends dining and dancing under the stars. Live entertainment and lots of fun. Benefits local charities. Location announced closer to event. WCSummerSoiree.org.
Run for Thorncroft Equestrian Center
September 1
Featuring at 5K and Move As You Please, 1-Mile Fun Run/Walk/ Wheel or Ride. (5K is challenging for runners of all levels.) Post-race features live music, craft beer and food trucks. Benefits the Farm and the care of horses. 190 Line Rd., Malvern. Thorncroft.org/5k-Run.
Bucks County Designer House & Gardens
September 18–October 16
Moving to the fall this year. Check website later this summer for details. Benefits Doylestown Hospital and the Village Improvement Association. BucksCountyDesignerHouse.org.
Main Line Animal Rescue 12th Annual Spring Golf Outing
September 19
Golfers and animal lovers gather for raffles, prizes and an on-course lunch. French Creek Golf Club, 4500 Conestoga Rd., Elverson. 267-990-1198; PSPCA.org.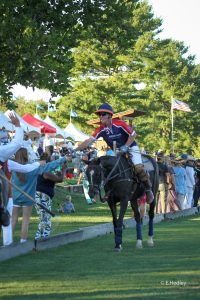 Ride for the River
September 24
Celebrate the Schuylkill River Trail with bikes and bands. Join a scenic ride on the trail with 4-, 16- and 35-mile options. Then, enjoy free live music at the Can Jam Music Festival. Benefits Schuylkill River Greenways & Schuylkill River Trail. Riverfront Park, 140 College Dr., Pottstown. SchuylkillRiver.org/Ride.
Malvern Bank Charity Polo Event
September 25
Join the Malvern Foundation Team for a gourmet lunch, open bar and exciting polo match and support a great cause—assisting those in need with tools that lead to independence and self-sufficiency. Meet the Foundation's 2022 grant recipients. Brandywine Polo Club, in Toughkenamon. For more information: Patricia McLennan, PMcLennan@MyMalvernBank.com.
October
Laurel Hill Cemetery Gravediggers' Ball
TBD
Themed costumes and masks encouraged at this fun fundraiser. Benefits Friends of Laurel Hill & West Laurel Hill Cemeteries, working to preserve and promote both sites. The Penn Museum, 3260 South St., Philadelphia. GravediggersBall.org.
The Water's Edge Gala
TBD
The Water's Edge gala brings together business leaders in the community, supporters of Stroud Water Research Center and experts in the world of fresh water. Stroud Center recognizes an individual or organization who has made invaluable contributions to the world of fresh water by awarding them the Stroud Award for Freshwater Excellence. StroudCenter.org/Events.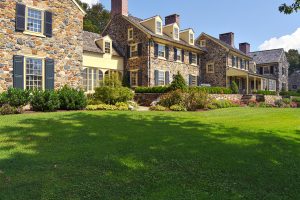 Chester County Day House Tour
October 1
This Chester County tradition is always the first Saturday in October and is known as "The Day." Celebrate the history and architecture of Chester County on this long-running tour, taking you inside stunning homes and historic buildings. Benefits the Women's Auxiliary's Breast Health pledge to Chester County Hospital. ChesterCountyDay.com.
Crush Cancer Wine & Spirits Tour
October 1–31
Crush cancer with a tour of local wineries, breweries, distilleries and dining establishments through Chester County during the month of October. 2CrushCancer.com.
20th Annual People's Light Golf Classic
October 3
Your tee time is reserved at the beautiful and historic Waynesborough Country Club. Benefits People's Light Arts Education programs. Visit PeoplesLight.org.
In Person & Online Hoe Down Celebration
October 8
Join your Chester County friends and neighbors for a party and silent auction like no other while honoring The Barn's founder, Mary Beth Drobish. Proceeds will support the Barn's mission to enrich the developmental skills and lives of children with disabilities through animal-assisted and natured-based experiences. For tickets, call 610-793-1037 or visit Springbrook-Farm.org/HoeDown.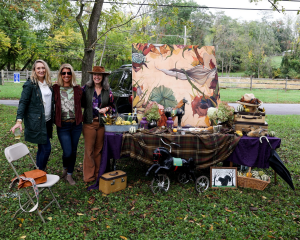 Thorncroft Equestrian Center's 13th Annual "Bake"
October 9
Support the riders and horses who make Thorncroft's mission possible. This event features live music, great food and multiple options to enjoy all the festivities. Choose between a seated table in our tent, carry-out dinner, or premium tailgating experience. More features include a performance by Thorncroft's equestrian drill team, The Mainstreamers. More information at Thorncroft.org.
Rotary Club of West Chester—Chili Cookoff
October 9
Downtown West Chester gets spicy! Over 70 chili-cooking teams—businesses, nonprofits, hometown cooks—line the streets for this cookoff and compete for prizes in several categories. Sample as many as you can and vote for your favorite. Benefits local nonprofits. Gay St., West Chester. WestChesterChiliCookoff.com.
3rd Annual Wine Tasting with Coach Dick Vermeil
October 15
All are cordially invited to join Coach Dick Vermeil for this private wine tasting in support of Bournelyf Special Camp as they celebrate their 42nd year of service. Benefits the camp scholarship program and summer camp operations. BSCWC.org. 
Safe Harbor's Annual "Golftoberfest"
October 17
Golf + October equals "Golftoberfest" with German-themed food and drink, plus a silent auction, Hole-in-One Contest and entertainment. Chester Valley Golf Club, 430 Swedesford Rd., Malvern. SafeHarborOfCC.org.
Harvest–Unite for HER Chef and Wine Tasting
October 27
Rustic chic tasting event featuring the region's best chefs, wines, brews and spirits, plus an auction and live music. Benefits local women affected by breast and ovarian cancer. Phoenixville Foundry, 2 N. Main St., Phoenixville. UniteForHER.org/Harvest.
44th Annual Radnor Run
October 29 (Estimate)
Lace up your shoes and join the 5-mile timed running race, 1-mile walk/fun run and a health fair after the run. Benefits the American Lung Association. Radnor Twp. Bldg., 301 Iven Ave., Wayne. Lung.org/RadnorRun.
November
88th Running of the Pennsylvania Hunt Cup
TBD
Timber racing, food and shopping highlight a day in the countryside at this long-running event. Benefits the Chester County Food Bank, Work to Ride and Upland Country Day School. North of Rt. 926 & Newark Rd., Unionville. PAHuntCup.org.
Scenes of the Schuylkill Art Show
November 2
Enjoy a night of art, awards and cocktails. During the 18th Annual Scenes of the Schuylkill Art Show, several supporters of the river and trail will be recognized with an awards ceremony. The evening will also include a silent auction. Benefits Schuylkill River Greenways. Montgomery County Community College West Campus North Hall Gallery, 16 W. High St., Pottstown. SchuylkillRiver.org/ArtShow.
French & Pickering Creek Trust's Annual Auction Party
November 4
Enjoy live and silent auctions with exciting items on the block, plus delicious food. Benefits French & Pickering Creeks Conservation Trust. Stonewall Golf Club, Bulltown Rd., Elverson. FrenchAnd Pickering.org.
Main Line Animal Rescue 10th Annual Bark & Whine Gala
November 5
The most important fundraising event of the year and a night to celebrate the Rescue's mission. Support by purchasing a Bark in the Box, take part in the silent auction or make a donation. 2300 Arena, Philadelphia. 267- 990-1198; PSPCA.org.
59th Annual Delaware Antiques Show
November 10–13
See 60 distinguished dealers in art, antiques and design. Benefits educational programming at Winterthur Museum, Garden & Library. Chase Center on the Riverfront, 800 S. Madison St., Wilmington. Winterthur.org.
Phoenixville Chamber of Commerce Charity Gala
November 19
A signature event including dinner, dancing and auction with great items for this season of giving. Benefits the Phoenixville Senior Center and Barnstone Art for Kids. Rivercrest Golf Club & Preserve, 100 Rivercrest Dr., Phoenixville. PhoenixvilleChamber.org.
December
West Chester Charity Ball
TBD
Enjoy dinner, dancing and an auction. Benefits The Friends Association for Care and Protection of Children, Outreach, Emergency Family Shelter and the Homeless Prevention Program. West Chester Golf and Country Club, 111 W. Ashbridge St., West Chester. FriendsAssoc.org.
For more events news, subscribe to our twice-monthly Newsletter.
back to top