Buy Local or Bye-Bye Local
Small Businesses are a Big Deal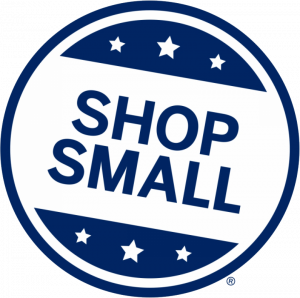 Did you know about 28 million small businesses operate in the U.S. alone, according to the Small Business Administration (SBA), generating 66% of all new jobs since 1995. And their special day, Small Business Saturday, promoted by American Express starting in 2010, encouraged more than 108 million people to "shop small."
Why should you shop small on Small Business Saturday … and every day, in our opinion? Here are some huge reasons. Need more? Read the Forbes article "43 Reasons You Should Support Small and Independent Businesses."
When you buy from a small business, you're supporting a real person. There's a real person behind every small business—someone who took the risk and built the business. The owner, who may be a friend, neighbor or familiar face in your community, would probably high five you for shopping there, except for, well, Covid.
Your purchases stimulate the local economy. Small businesses generate $68 of local economic return for every $100 spent with them. The sales taxes they pay stay in the local economy to fund public schools, libraries, parks, firefighters and other public services. Over $9.3 billion would be returned to our economy if every family spent just $10 a month at local businesses!
Local businesses hire local people. The SBA reports that local businesses added 8 million jobs to the American economy since 1990, while large chains eliminated 4 million jobs.
Successful small businesses attract more businesses (and more jobs) to the community. Many small business owners also give back by encouraging and mentoring other entrepreneurs, and purchasing products or services from other local small businesses. It's a win-win.
Small businesses give back (more) to the community. They donate profits, services and goods to local (rather than national) nonprofits and charities. Small businesses donate 250% more than large businesses to community causes. Plus small businesses and boutique shops add unique character to your town.
Small businesses get to know their customers. You're not just an account number to a small business. The owner may even know your name. They strive to provide more personable, hands-on and better customer service with personalized advice and even demos!
Small businesses provide greater access to diverse products. Local businesses respond to local demands and tastes, and small businesses have just as much access to vendors (who also determine pricing, not stores) than big box businesses do. If a small business doesn't have the products you want, ask them—they're usually more willing to order them for you.
Small businesses create a sense of community. You're much more likely to get to know a small business owner in your neighborhood. According to a study reported in Forbes, the second most desirable community feature in a town is a stronger sense of community. Number 1 is more local restaurants, many of which are also small businesses.
Shopping local is green. Shipping produces 1 billion metric tons of C02 a year. And think about all those cardboard boxes and plastic packing material.
You'll feel good. Would you rather feel the pang of guilt buying so-so coffee from a chain or a lifeless burger at a drive-through, or be entirely satisfied with your latte made locally with love and a great burger from a small business owner who serves you herself?
back to top