Brunchtails
Bloody Marys and Mimosas aren't your only options to enjoy at Sunday brunch.
Step outside the brunch cocktail box and try something new at these local spots—or mix them up yourself!
Lady Desmond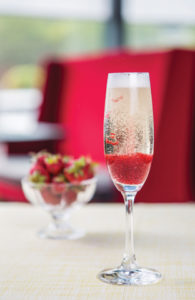 Light and bubbly, this signature cocktail from The Desmond in Malvern pairs perfectly with their award winning Sunday Brunch.
.75 oz. vodka
.5 oz. fresh lemon juice
1 muddled strawberry, plus 1 more for garnish
.5 oz. elderflower liquor
3 oz. champagne
Shake first 4 ingredients and strain into a flute. Top with champagne and garnish with a strawberry on the rim.
Strawberry Thyme Lemonade Sparkler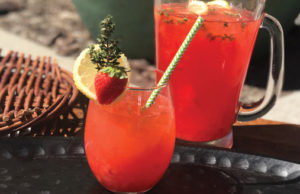 This refreshing sparkler by The Classic Diner of West Chester and Malvern is sure to wake you up on a leisurely weekend morning.
1½ C. sugar
12 sprigs fresh thyme, plus more for garnish
1 quart strawberries: 2½ cups hulled and pureed, extras for garnish
2 C. fresh lemon juice, plus slices for garnish
2 C. strawberry vodka: Stoli, Finlandia or Smirnoff
Lemon club soda
Combine sugar, thyme and 1½ cups water in a large glass bowl. Microwave for a few minutes, stir and microwave until sugar is dissolved. Let syrup cool and discard thyme.
Combine the syrup with the strawberry puree, lemon juice and 5 cups of cold water in a large pitcher. Add the vodka. Chill for 30 minutes or up to 12 hours.
Serve over ice in a stemless wine glass. Add a splash of lemon club soda and garnish with additional thyme, lemon slice and a strawberry. Serves 8.
Supernova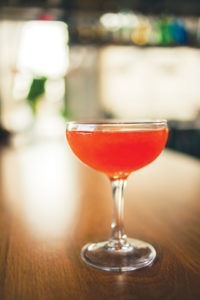 The Supernova is the perfect brunch pick-me-up to sip while dining al fresco on Mistral of King of Prussia's porch.
.75 oz Limoncello
.5 oz. Aperol
.25 oz. simple syrup
.25 oz. fresh lemon juice
2 dashes orange blossom water
Sparkling wine
Orange peel twist for garnish
Shake first 5 ingredients with ice and strain into a coupe glass. Top with sparkling wine and garnish with an orange twist.
Ron's Mango Pineapple Passion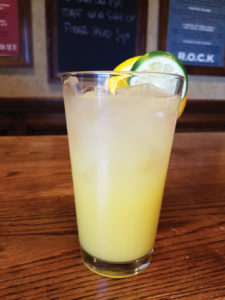 Wake up with a fruity, tropical refresher from Ron's Original Bar & Grille in Exton.
1.5 oz. Belvedere Mango Passion Vodka
.5 oz. Peach Schnapps
1 oz. mango puree
1 oz. pineapple puree
Pineapple wheel for garnish
Orange wedge for garnish
Lime wedge for garnish
In a shaker, shake the first 4 ingredients together. Strain into a pint glass over ice. Top off with a pineapple wheel and garnish with an orange and lime wedge.
Parisian Spritz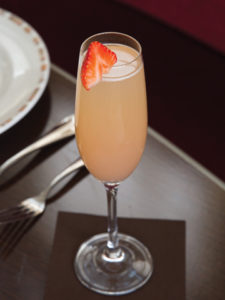 Toast to Paris with Paramour of Wayne's sparkling light libation with bright flavors and perfumed aromas as you sip in style.
.75 oz. St-Germain liqueur
1 oz. peach puree
4 oz. De Perriere Blanc de Blancs
Fresh sliced strawberry for garnish
Combine St-Germain liqueur and puree in a shaker, fill with ice, and shake to combine, chill, and dilute. Strain into a flute. Top with chilled Blanc de Blancs, and garnish with a fresh sliced strawberry.
back to top