Brews & Foods
Thirsty? Hungry? You're in luck! Bar + restaurant options are thriving, with no end in sight.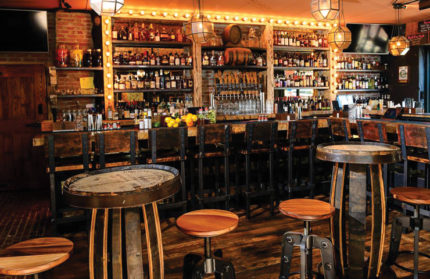 When you think Chester County and the surrounding suburbs, do you think beer and food? You should!
In fact, it's been called "Beer-burbia" with all the breweries, brewpubs, gastropubs and pour houses that offer an astounding selection of local craft beer, many with unique food menus to match.
Don't take our word for it. Get out and see the best for yourself!
Main Line & KOP Faves
You can't talk about beer and food on the Main Line without beginning with the one that started it all … Teresa's Next Door in Wayne, fondly referred to as TND. With one of the most eclectic menus around, serving a variety of animals—think rabbit, goat, goose, even snails—this is the place where adventurous foodies meet beer geeks. The wood-burning grill turns out favorites like the exotic Game Burger with ever-changing meat and goat tacos with cactus slaw. And the tap drink selection is one to brag about with 27 beers, 7 ciders, red and white wine and even a mead ready to fill your glass. A must-visit. And revisit.
Newer to the scene but making waves with a growing list of awards, La Cabra Brewing in Berwyn should be next on your list. Their very own seven-barrel brewhouse allows experimentation with many different styles of homemade brews—from German pilsners to barrel-aged fruit beers—that change with the seasons, making sure their lineup never gets stale. The Latin-inspired menu is similarly seasonal with interesting small plates, tasty tacos and sandwiches sure to satisfy. Pick from IPA mac & cheese, charred octopus, jerk chicken tacos and the Hangover burger—or sample them all!
Another Wayne destination to try is The Goat's Beard's second location complementing the original in Manayunk. With a focus on local, sustainable and responsible on both tap and table, their brunch, lunch and dinner menus offer inventive takes on American cuisine that are both familiar and a little different. You'll feel good about their craft beer options including many PA brews and their so-called Whiskey Bible, paying homage to the USA with over 70 varieties made in America.
Close by in King of Prussia, City Works Eatery and Pour House is celebrating a one-year anniversary in the Town Center. The tap selection here is unparalled with 90—yes, you read right—local and global beers on draft, 14 of which rotate to include rare, limited and seasonal brews and 25% dedicated to local breweries. The eatery options include lots of bar bites and shareable goodies, making this the place to relax and stay a while. Come back in the warmer months for their inviting outdoor patio!
Must-See Media
If you really love beer and food, you need to take a trip to Media. Brick & Brew, also in Havertown, has become a happening hangout since their opening. With classic gastropub fare, the menu is made from scratch and kept interesting with weekly specials. Some, in fact, have huge followings like their chicken & waffles, shrimp & grits and peanut butter & jelly burger, with fans waiting patiently for more. Other tried-and-true favorites like confit wings, fried pickles and their line-up of wood-fired pizzas keep people coming back for more. Their well curated 12-tap draft selection features options from highly regarded breweries like Bells and Allagash along with a handful of local craft breweries with similar passion, vision and quality. Be on the lookout for special releases!
Brewing their own beer in small batches on Baltimore Pike, Sterling Pig Brewery is another Media must-try. Featuring eight rotating taps with everything from IPAs and pilsners to porters and stouts, the carefully crafted lineup is perfectly paired with the tasty food options. Share their wood-fired pizza—complete with rustic charred edges—with a friend or dig in to their signature barbeque options like St. Louis ribs and smoked brisket.
Media's newest gastropub, Tap 24, opened in November with a friendly atmosphere and an emphasis on local brews. Their 24 (no surprise) rotating taps feature familiar names like Levante, 2SP, Stickman Brews, Victory and nearby Sterling Pig, and cover the range from popular IPAs to more niche sour and barrel-aged beers. You'll find classics on their traditional pub menu with wings, burgers and their signature rosemary-brined fried chicken—and more to come.
A list of Media beer and food spots wouldn't be complete without Pinocchio's Restaurant & Beer Garden To Go. In the biz for over 60 years, their award-winning bottle shop is amazing and sure to satisfy any beer fanboy—1000 specialty beers, 200 craft beers and growler fills from the 25 rotating options on draft. Plus you can stay for the pizza—take your pick of Neapolitan, Sicilian or their famous white gourmet styles—and other bar-friendly grub. Just in case you needed another reason to come back!
But Wait, There's More
Over in Exton's Eagleview Town Center—a.k.a. Restaurant Row—award-winning Suburban Restaurant & Beer Garden serves up a selection of all-Pennsylvania beer, most brewed in very small batches. Try exclusive brews like Stickman Brews' Table to Face, made especially for their menu, or favorites from La Cabra and Sterling Pig. Their food satisfies locavores with grass-fed burgers from Wyebrook Farm, pork from Green Meadow Farm and cheese curds from September Farm—both in Lancaster County—and veggies from the Eagleview Farmers Market right across the street. Try their cheese and meat board to sample the range.
For a more worldly selection with a helpful cheat sheet, Grain Craft Bar + Kitchen in Kennett Square is perfect for beer newbies and veterans alike. Their Beer Bible helps you navigate among the many sweet, bitter, fruity and malty beers on the menu. And with 23 on tap and over 50 in the fridge, there's sure to be something to suit your mood. Stop in for Weekend Brunch on Saturday and Sunday—the Scrapple Cheesesteak and Sunrise Nachos are highly recommended. For lunch, dinner, happy hour and late night, sample the hearty menu—with favorites like Yard's Love Stout braised short ribs over cheesy grits—to match.
Phoenixville keeps turning out new beer options, but oldies-but-goodies like Bistro on Bridge are always worth a visit. Their 21 rotating beers on draft cover a variety of styles from stouts and sours, to pale ales, porters and IPAs. Be sure to try one of the four Prospects—their very own beer blends made in-house from a local base beer plus their choice of ingredients—for something different. And, true to their name, the contemporary Mediterranean-inspired bistro menu is a winner with snacks, apps and much more. Come by in the warmer months to chill out on the outdoor couches.
West Chester also has plenty of places to whet your whistle, like long-time favorite Side Bar & Restaurant, boasting a huge craft beer selection from PA and beyond. On tap you'll see familiar brews including Tired Hands, Dogfish Head, Yard's, Locust Lane, Sterling Pig and Sly Fox while the bottle selection of nearly 200 will expand your horizons. Take your pick from their globally influenced menu with unique options like chicken & hummus and a bison burger while enjoying the neighborhood atmosphere.
If you haven't gotten enough of the food and drink options in West Chester, head out of the downtown to Righteous Tap House. With a combo of local, national and international brews, their 25 ever-rotating taps won't bore you. And the seasonal menu with plenty of munchies and shareables—complete with cleverly named options like Resurrection Fries and the Inquisition Burger—is sure to delight.
Know where you want to try first? Our tip: start close to home!
---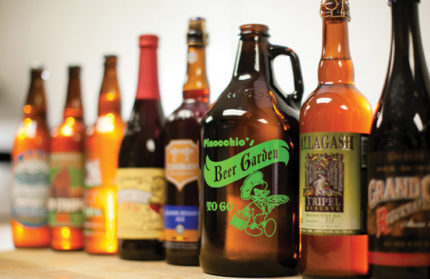 Beer Events
Beer-burbia has plenty of beer-focused events!
Ales & Asanas
Yoga, beer and healthy snacks … What more could you want? Last year Iron Hill Brewery's Media and Wilmington locations held this popoular event Saturday mornings on the floor of the brewery. Stay tuned for more this year!
Beerunch
Every Saturday and Sunday at World of Beer in Exton, from 11 a.m. to 2 p.m., enjoy brunch after a night out with eye-opening drinks like the Beermosa and tasty breakfast and lunch options like the Hangover Skillet.
Kegs n' Eggs
Celebrate Superbowl Sunday at Levante Brewing Company in West Chester with bacon, eggs and beer! This year will be their third running and hopefully the first with the Eagles in the Superbowl.
Thanksbrewing Tour
Kennett Brewing Company in Kennett Square does this 50-mile bike tour twice a year, stopping at places like Buckley's Tavern and The Whip Tavern along the way. And all for a good cause benefitting Kennett Food Cupboard.
Yoga & Hoppiness
Exton's World of Beer offered Saturday summer morning yoga on the patio with a side of beer—Dogfish Head's Namaste White to be specific. Stay in the loop for word of future classes this year.
back to top