Breakfast? Lunch? We Want Brunch!
Where to go on the Main Line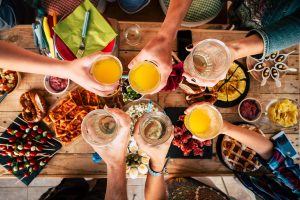 Sunday. It's late morning. A soothing ambience is what you want. With family and friends. Some eggs, perhaps French toast, all kinds of omelets, Belgian waffles or stacks of pancakes with fruit and cream.
But first, a strong cup of coffee. And maybe a blessed bloody Mary or a bubbly mimosa.
It's Sunday Brunch. And Main Line restaurants really know how to put out a spread. Here are a few to sample, from Bala Cynwyd to Malvern.
Classic Sunday Brunch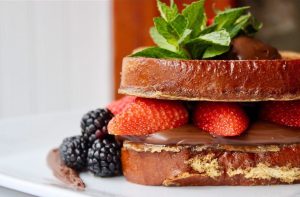 For a classic brunch, start with a place that put the concept into their name. At The Classic Diner in Malvern, you can build your own three-egg omelet with about 35 different à la carte ingredients, ranging from roasted peppers to Canadian bacon to goat cheese. There's the same B(uild)YO approach to breakfast sandwiches, along with five kinds of eggs Benedict, four kinds of French toast, plus lox, pancakes, Belgian waffles and many lunch sandwiches, salads, soups, crispy appetizers and baked goods. Everyone's happy! Brunch is served from 6:30 a.m. to 3 p.m. on Sunday.
An excellent — and green — place for brunch is Terrain Cafe in Devon, open for Sunday brunch from 9 to 4. It offers, among other things, quinoa fritters, avocado toast plus shrimp and grits, as well as brioche French toast, fried avocado Benedict and Terrain breakfast with bacon, sausage, potato hash and greens. Garden Cocktails — including a blood orange prosecco smash or citrus margarita— will ease you into the afternoon.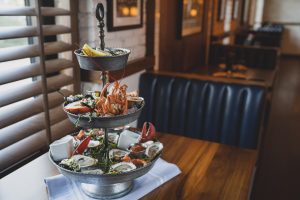 If you're near Villanova University, The Refectory is a great spot to start a Sunday. Open from 10:30 a.m. to 10 p.m., it offers eggs Benedict, omelets, quiche, French toast, pancakes, brûléed grapefruit, other breakfast-y things and more. Chef Biff Gottehrer say, "Nothing beats Breakfast On a Bun (braised brisket, hash brown, horseradish mayo). The bacon, egg, cheese, caramelized onions and avocado on a seeded long roll will satisfy any hunger need."
In Wayne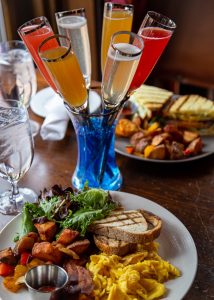 There are several popular brunch options in Wayne, including Autograph Brasserie for brunching on Saturday and Sunday from 10 until 3. Begin with a mocktail, such as a grapefruit spritz or peach Palmer. After appetizers, choose from traditional brunch dishes — Benedicts, omelets, waffles, steak and eggs — as well as more unusual specialties — shakshuka, short rib hash and smoked salmon Benedict. Executive Chef James Davidson prefers "simply soft scrambled eggs and scrapple, toasted English muffin with apricot jelly." He sees brunch as a family meal, and his kids like "runny eggs" (sunny side up) and dipping toast in the yolks.
The Silverspoon, on Sunday from 11 to 2:30, has a weekend pancake special in addition to eggs Benedict. You can also order from the lunch menu, including omelets, quiche, an egg and cheese sandwich on English muffin, plus salads, soups and sandwiches. Executive Chef Jake Parobek says, "Our favorite thing at brunch is to take classic dishes and refresh them with newer, global ingredients according to the season."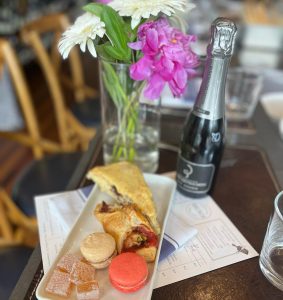 White Dog Cafes on the Main Line in Wayne and Haverford (more locations elsewhere) are popular stops, open 10 to 2:30 for brunch goers. We suggest starting with warm doughnuts and Kennett Square mushroom soup, then go traditional with eggs Benedict, brioche French toast (in Haverford) or huevos rancheros (in Wayne), or other dishes, including Lancaster County omelet, falafel burger, fried chicken and waffles. It's so good you won't have leftovers for a doggie bag.
Cornerstone is not open on Sunday, but offers Saturday brunch from 10 until 2. In addition to the usual suspects (eggs Benedict, French toast and the like), it offers a raw bar with oysters and caviar, as well as creative sandwiches (mussels, prosciutto and cheese, soufflé and jam) and sweets (Nutella cheesecake, bourbon balls). The restaurant also offers a "chef's board" with a selection of charcuterie and cheeses.
A Bit to the North … or South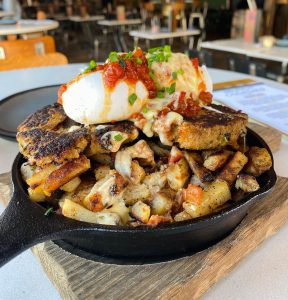 Away from Lancaster Avenue, just off Route 202 in Wayne, is Black Powder Tavern, open for brunch from 11 to 3. Enjoy its dark colonial atmosphere and good food. Choose poached egg croque madame, steak and egg tacos, chicken and waffles, and quiche of the day. Or build-your-own omelet. If you're more in the mood for lunch, try their burgers, Reuben, club sandwich, short-rib grilled cheese, salads and soups.
Brick & Brew's Main Line location in Malvern is open for brunch on Sundays from 10 to 2. Inspired by the Creole south, the menu includes croque madame skillet, shrimp and grits, bacon and Florentine pizza, chocolate French toast, eggplant burrata and various omelets, in addition to pancakes or French toast on the kids menu. Also enjoy its inventive cocktail menu — an Ellsworth, Capone or Moniker, for example.
Something Ethnic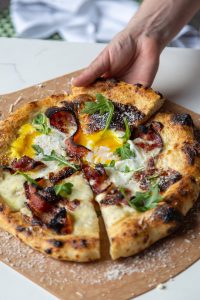 If you're in the mood for an Italian twist on brunch, try Rosalie at the Wayne Hotel, from 10 until 3 on Sundays. Executive Chef Merrick Devine reminds us, "Brunch as we know it doesn't exist in Italy." This gives Rosalie "freedom to serve some fun dishes you wouldn't otherwise see in a more traditional Italian restaurant," he continues. Try the breakfast pizza, dok dall'ava prosciutto, shakshuka, egg-in-the-hole, omelets, French toast, Belgian waffle, steak and eggs, and house-made pastries. Also on the menu are a broad selection of apertivos, antipasti, salads, primi and secondi. Order a cocktail, mocktail, beer or wine from Rosalie's extensive list.
Hymie's Deli in Merion is an institution, known for its "great omelets, large buttermilk pancakes and hand-cut smoked fish specialties like nova lox on a fresh New York bagel," says Louis Barson, the owner for 33 years. Serving breakfast all day, from 8 to 7, the restaurant features many Jewish specialties, including its "whole megillah" and "oy vey" omelets. Salami and eggs, fried matzoh, latkes and blintzes are also served.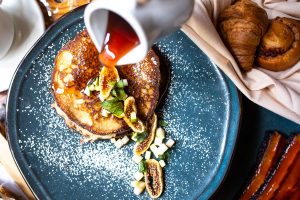 For a little bit of Catalonia, visit the new Amada in Radnor. Part of the Garces Group, the restaurant began offering brunch in April. The food, setting, staff and service are spectacular! Chef Jose Garces says, "My favorite brunch items are the sangria pancakes and the tortilla Española. The tortilla Española is a classic Spanish breakfast food made of eggs, potato and onion, while the sangria pancakes are a fantastic choice for when you'd prefer something sweet." Also recommended: crabs Benedict, shakshuka and torrijas (French toast).
Buffet Style, Hearty Breakfast or Breakfast All Day
So far, our recommendations have involved a sit-down, menu-driven format. But many of us don't want to commit to one dish. We want it all. At Fork & Bottle in Malvern's Desmond Hotel, you'll wander along a delicious buffet. From 10 to 2 (last seating 1:30), pick and choose your dishes, including eggs Benedict, pancakes, Belgian waffles, salmon and omelets. Executive Chef Christopher Calhoun says, "The #1 rule is quality. Start with the best ingredients and you'll end up with the best food." And you can end up with as many choices as you like.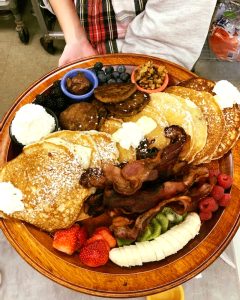 From 9 until 2, Black Cat Cafe in Devon serves breakfast and lunch, offering its Pancake Board with fruits, nuts, chocolate chips, Nutella, whipped cream, sausage and bacon. Eggs, Tiggers Caribbean French toast, soups, salads and sandwiches fill out the menu. And you'll help give a home to a kitten!
To the east in Bala Cynwyd, by the Schuylkill River, find The Landing Kitchen, an all-day café from Chef Nicholas Elmi, open for breakfast from 8 until 6. It serves a crispy pork belly sandwich that's exceptional, plus a mouth-watering breakfast sandwich. Try French toast, Kismet bagels from Fishtown, salads, sandwiches … Also, the drinks are very tempting — apple cider bourbon buck, pump house margarita, gin cranberry spritz. Enjoy a spring day on the deck by the river.
A Little Bit Different and Casual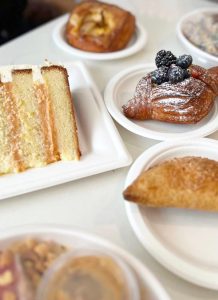 If you're in Malvern from 8 until 2, stop by the Malvern Buttery, a community gathering space. It's cool, communal, set up to let you serve yourself. Although it doesn't serve most of the classic brunch dishes (maybe a slice of quiche), it has a host of to-die-for pastry choices — croissants, monkey bread, morning buns — and breads, including baguettes, brioche buns, wheat-free sourdough. You can also enjoy sandwiches, salads and soups.
Known for its "upcakes"— more or less upside-down cupcakes with more icing — Dixie Picnic in Malvern offers eggs Benedict, sticky bun French toast, sausage gravy biscuit, breakfast burrito and several other Southern-styled breakfast dishes until noon on weekends. And take an upcake home!
One thing is certain: choose any of these eateries and you won't leave hungry. From a quintessential meal of eggs, bacon and perhaps a bloody Mary, to a full-blown banquet with French toast, caviar, wine and all manner of sumptuous dishes, you'll find something on the Main Line that will amply sweeten your morning. And easily carry you to Sunday dinner.
back to top