Brandywine Table: West Chester Growers Market
Local love emanates from the 28-year-old market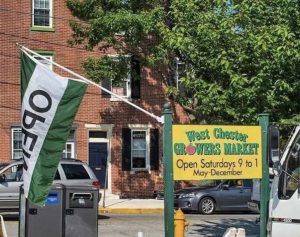 A topping for an arugula salad was on Liz Bradley's mind when she recently picked up some rosemary lemon chèvre at Amazing Acres Goat Dairy's stand at the West Chester Growers Market.
A married mom of two children from East Goshen, Bradley likes supporting local artisans by shopping at the market. She also values that it gives her kids a chance to see who grows or makes the food they eat, which gives them a better understanding of where it comes from. "They can ask questions and take their time," Bradley says. "It's way more fun than the grocery store."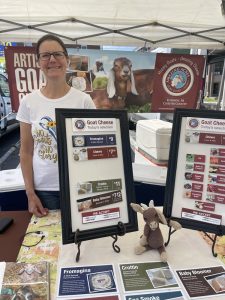 Amazing Acres, owned by Lynne and Will Reid, is one of 30 vendors currently making up West Chester's 28-year-old market held on Saturdays from 9 a.m. to 1 p.m. at North Church and West Chestnut Sts. In what will be their first full year at the market, the Reids are one of the newer additions to the lineup that includes a range of offerings from locally grown fruits and vegetables to honey and flavored oils along with coffee, cheese, plants, meats, baked goods and hard spirits.
Sky Breads Bakery from Wilmington is one of the longtime vendors at the market, currently in their 25th season. Andy O'Neill, whose father, Patrick, founded the business, sells their hard-crust European breads, soft-crusted sandwich bread, cookies, granolas and pastries. Their seven-grain sourdough and three-seeded whole wheat breads are their biggest sellers. O'Neill was happy to report that business has been steady, if not better, at the market these days. "I think Covid improved business a lot, because a lot of the new customers stayed," O'Neill says.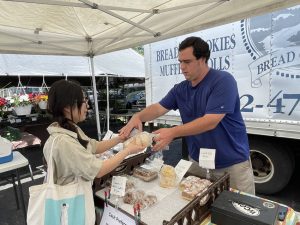 A few stands down, Adam Lauer, owner of Forgedale Fungi in Fleetwood, Berks County, was selling his farmed and foraged specialty mushrooms. Dan Miksiewicz, a fan of Forgedale's mushrooms, enjoys the versatility of cooking with fungi. "You can throw them in anything from stir-fries and cheesesteaks to pasta dishes," Miksiewicz says.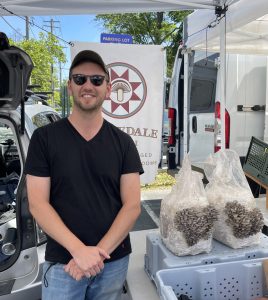 The cooperative market is overseen by a board of 10 members that includes vendor Don Irvine, the founder and president of Tally Ho craft roasted coffee based in West Chester. He says the community loves the market because of its easy access given its central location downtown. The quality of the food products and good prices are other draws. Irvine shared some of the keys to the market's longevity. "We have really great vendors, and it's a great town to be in," Irvine says. "The town support is really important."
In this month's column, vendors from the market shared favorite summertime recipes for you to try. They will serve as a wonderful opportunity to feature your market finds. Read on!
back to top