Brandywine Table: Think Outside the (Lunch) Box
Locavore-minded chef offers a fresh approach to prepared foods and make-ahead meals
September means back to routine. A time when we trade in carefree summer grazing for something a bit more orchestrated. And while planning our meals may sound onerous at the outset, it doesn't have to be.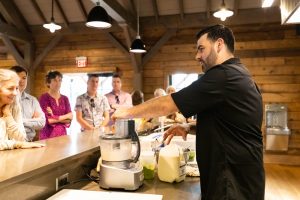 Chef John Alff of Vesta Kitchen in Phoenixville says his menus are inspired by what's available. "I like to actually go to the store or farmers market and see what ingredients jump out at me. It gets the wheels turning on what I can create."
Originally from Bucks County, John says his food journey began in a hometown pizza joint before winding its way through some of the best-known restaurants in Philly (including Percy St. BBQ and Barbuzzo). Ultimately, he and his wife decided to trade the fast-paced city life for something a bit more family-centric and found their way out to the Phoenixville area.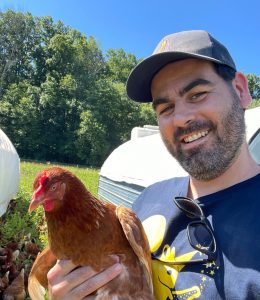 John's passion for seasonal, local ingredients led him straight to the Phoenixville Farmers Market, where he quickly developed relationships with the growers and producers. He was especially taken by the fresh-baked bred from St. Peter's Bakery. "I asked the owner one day if I could come hang out and learn to make bread." The owners agreed, eventually making him part of the team.
A couple years later, when the farmers market needed a hot food vendor, John decided it was time to start his own business. With little more than a smoker trailer, folding tables and a tent, Vesta was born. John began by selling hot breakfast sandwiches and smoked meats on weekends. He chuckles remembering the early days. "I was renting out a church kitchen, working around youth groups and bridge club," he says.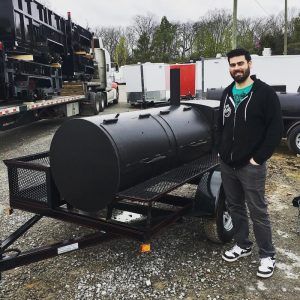 Eventually, John met the folks behind Partners Creating Community, an umbrella organization for three mission-driven artisan food companies in Chester County. He loved their energy and mission and began subleasing their kitchen space in Franklin Commons.
By the time the pandemic hit in early 2020, John had developed quite a following. In an effort to stay afloat while staying safe, he pivoted his business online and offered contactless local deliveries. While order volume was down, sales remained steady, thanks to larger orders with a wider variety of dishes.
Also during this time, John began processing and preserving large quantities of seasonal produce and developed a new line of small-batch pantry products (most notably his fermented hot sauces).
Today, John's amazing food and sauces can be found all over town, including prepared salads and sandwiches at the newly-opened Red Dog Market in Pottstown and various pop-ups and caterers throughout the region.
Check out these recipes and tips to help make your transition to fall cooking exciting and delectable.
Web-Exclusive Recipes
You'd be surprised how far a few tasty ingredients, vibrant condiments and make-ahead recipes will get you. Work these into your menu planning rotation — you'll thank us later.
Carrot-Top Pesto
This pesto is a great way to use up basil at the end of the summer as well as to incorporate ingredients that are coming up into season in the fall. Substitute other ingredients for carrot tops depending on the time of year — ramps in spring or radish and turnip greens in the summer!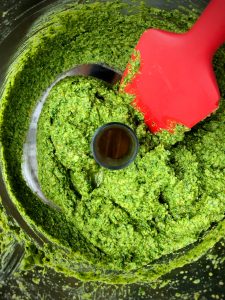 Makes about 3 cups
4 C. (packed) carrot tops, chopped and big stems removed and washed
4 C. basil leaves
¼ C. garlic cloves
1 T. kosher salt
½ C. Parmesan, grated (leave out to make it vegan)
1 tsp. black pepper
1 T. lemon juice
1 C. good quality olive oil
Salt and pepper to taste
Add all ingredients except for olive oil to food processor and pulse until finely chopped and combined. With machine on lowest setting, slowly add the olive oil until desired consistency and all ingredients are buzzed and incorporated. You may need more or less oil depending on personal taste.
Taste and adjust salt and pepper as needed.
Enjoy on a pasta salad, as a dip, on a slice of baguette or marinate chicken breasts in it overnight to grill the next day. Will keep in the refrigerator for up to one week or can be frozen.
Tip: John says freezing sauces and herbs in ice cube trays allows you to just thaw what's needed when you want to use it again.
Buffalo Hot Sauce
John always enjoys collaborating with local food artisans. When this fermented hot sauce and blue cheese combo was invented, it was too good not to share. John now bottles it and calls it "Tangled Up in Blue."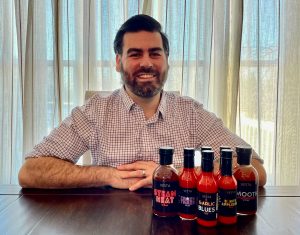 Makes about 2½ cups of sauce.
500 grams (about 2¼ C.) fermented hot sauce (see recipe in Brandywine Table, September issue)
50 grams (a little over ½ C.) blue cheese (preferably from Birchrun Hills Farm in Chester County), crumbled
Combine hot sauce and blue cheese in a large saucepan and heat over medium-low heat, stirring frequently until all the blue cheese has melted.
Enjoy as a glaze on chicken wings, roast cauliflower or anything else you think would be tasty with buffalo sauce.
Buffalo Roasted Cauliflower
Adapted from Cookie and Katie
1 tsp. garlic powder
1 tsp. smoked paprika
2 T. cornstarch or arrowroot powder
1 pinch coarse sea salt
½ tsp. ground black pepper
1 head cauliflower, chopped into florets
2 T. olive oil
¼ C. buffalo sauce (recipe above)
Preheat oven to 425º and prepare a large cookie sheet with parchment paper.
In a small bowl, add garlic powder, cornstarch/arrowroot, salt and pepper, then mix.
In a large bowl, add cauliflower florets and sprinkle powder mixture over top a bit at a time, tossing each time to coat. Once coated, drizzle with olive oil and toss once again.
Spread coated florets in a single layer onto prepared baking sheet. Roast in oven for 15 minutes on a lower rack, then flip/toss and return to oven for an additional 15–20 minutes or until they're softened with brown, crispy edges.
Remove from oven and allow to cool slightly. Toss cauliflower back into a large bowl and drizzle hot sauce over top one tablespoon at a time until lightly coated and to your taste.
Arrange florets back on tray and bake for 5 additional minutes. Allow to cool slightly and enjoy warm.
Vesta Kitchen Chicken Tinga
This bold and flavorful dish can be dialed up or down depending on your heat tolerance. Enjoy over chips, in a taco, over a salad or layered into a quesadilla.
Serves 3–4
1 medium onion, peeled and quartered
6 tomatillos
3 T. Steam Heat BBQ sauce (more if you want it spicier!)
½ jalapeño pepper
4 cloves garlic
2 tsp. cumin
1 tsp. dried oregano (1 T. if fresh)
1 tsp. dried thyme (1 T. if fresh)
¼ C. canola oil (used in 1–2 T. increments to brown chicken)
2 lbs. chicken pieces (breasts, thighs or both)
Salt and pepper to taste
2 C. crushed tomatoes
Garnishes
Preheat oven to 350º.
Add onion and tomatillos to a large pot, cover with water (just until covered) and bring to a boil. Then strain.
Add onion, tomatillos, Steam Heat, jalapeño, garlic, cumin, oregano and thyme to food processor and puree.
Heat oil in a pot. Season chicken with salt and pepper, then add to hot pot, browning on both sides. Remove chicken and excess oil from pot.
Add tomatoes and chicken pieces back into pot, cover with blended tinga sauce and bring to a simmer. Cover pot and put in oven. Check chicken after 2.5 hours (it should shred easily with a fork). Shred all the chicken into a bowl, taking care to remove any bones or grizzly bits. Add back into pot with sauce.
Serve on tacos, salad or on rice with lime wedge and garnish with cilantro.
back to top