Brandywine Table: The Accidental Apiary
A Chester County father and sons team finds purpose and livelihood in the age-old craft of beekeeping.
People lucky enough to make a living doing what they love generally don't get into their craft for the money. It's often a spark of creativity or curiosity that propels them forward. Walt Broughton, owner and founder of Swarmbustin' Honey of West Grove, fits this description to a tee — classic case of hobby turned way of life in the most bee-utiful way possible (the puns are just too easy).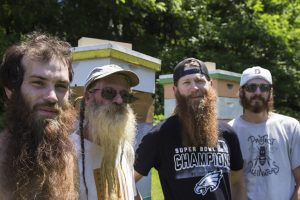 In 1983, a friend of Walt's was moving and needed to unload a couple of beehives. Walt remembers, "I had a grand scheme to become self-sufficient as best I could." Having already planted fruit trees and a garden, bees seemed the next logical step.
He had no intention of becoming a full-time beekeeper — his colony simply kept growing. Two hives turned to four, and four to ten hives, eventually leaving little time or space for the rest of his endeavors. "I had no idea the bees would take over my life — best thing that could have happened," Walt says gratefully.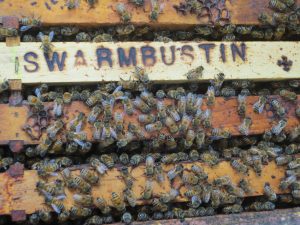 Walt describes beekeeping as both an art and an adventure. Something about the adventure called to his three sons, as they have all found roles running and supporting the business. Walt laughs and says, "It's four alpha males in the same house. It's not always quiet and we all have our own opinions, but it's been a blessing." Together, they now manage up to 650 hives each summer — at 60–100 thousand bees per hive. "It's quite a little bit of bees," Walt says, quoting a friend.
Walt says it used to be much easier to grow his colony. Since the '90s, the decline of bees, or "colony collapse disorder," has been well documented. Walt says no one thing is to blame, but rather a trifecta of negative factors — predatory mites, habitat loss and widespread insecticide and pesticide use. Out of those issues, he says mites have been the hardest for beekeepers.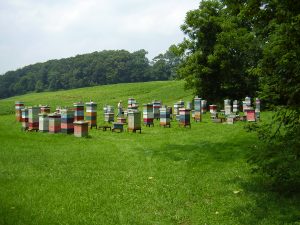 For Walt, the mission has always been greater than selling delicious local honey and bee products — it has also been about getting others involved. They do so by selling nucs (or nucleus colonies, used to create new hives) and hosting free workshops for new beekeepers. "That is my newfound passion," Walt says proudly.
To appreciate honey is to know that one pound of honey represents upward of two million visits made to flowers and trees by bees. It's also to observe the variations in the honey depending on the time of year and what is in bloom when the honey is harvested. Walt sees the uniqueness of each batch as something to relish rather than overcome.
In celebration of pollinators, Father's Day and the delectable sweetness of honey, we've created a host of honey-focused recipes to help build the buzz around the tremendous ingredient. Enjoy!
back to top