Brandywine Table: Phoenixville Farmers' Market
Fun for the whole family, dogs included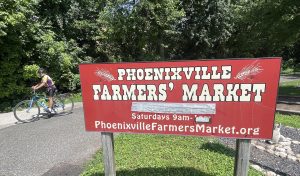 Corn chips and guacamole by Taste of Puebla, ravioli by Vera Pasta Co. and locally grown fruits and veggies by Mickley's Orchard & Farm are some of the treats you can usually find on Megan Muchbach's shopping list when she visits the Phoenixville Farmers' Market a couple times a month. As the weather starts cooling down in October, she begins cooking warm and hearty meals for her family of four that lives in Wayne. Squash is a popular ingredient in their household this time of year, whether acorn, butternut or kabocha. "We cook easy things when school starts since I'm also a teacher," she says, while her three-year-old son plays in the kids' activity area situated in the center of the market.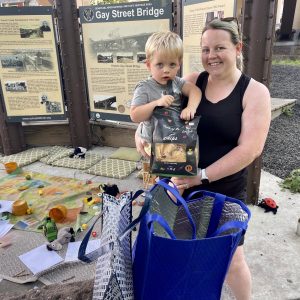 The vibe at the market is a social one, where you can see regular shoppers chatting it up with each other in between their stops to vendors like Hickory Grove Gardens, Wild Fox Provisions and Sweet Water Baking Company, among 27 or so others. "I grew up in town and love the market here and saw it bring the town together," says Max Kulp, who serves as the day-of market manager every other week. Revitalizing the downtown was one of the primary goals of Liz and Bill Anderson when they founded the market 20 years ago.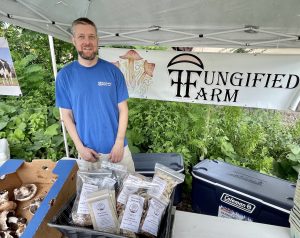 While many vendors have been with the market for years, one recent addition is Fungified Farm, owned by Alethea Kidd of Telford, Montgomery County, which joins longtime vendors such as Cucina Verde, owned by Annmarie Cantrell of Birdsboro in Berks County. Cantrell's husband, Sam, handles the sales at market and also grows the main ingredients that go into their seven varieties of krauts made using Chinese and European cabbages.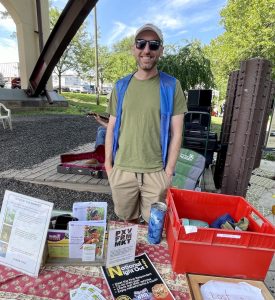 Many shoppers are regular faces to vendors, but some are still discovering the market for the first time, including Annie Bryant from Exton, who was with her significant other, Javin McIntosh, from New Jersey, on a recent Saturday. A regular at the Eagleview Farmers Market, Bryant was happy to see a familiar nut butter stand, Nutty Novelties, since she's a big fan of their cinnamon almond variety. The couple were especially drawn to the fresh and colorful selection of fruits and vegetables. Sweet potatoes and tomatillos are some of their favorites this time of year. "I blanch and blend the tomatillos to make salsa verde," McIntosh says, adding he loves to cook. "You can use it as a sauce on so many different things."
Here's a taste of what October has to offer — recipes from vendors and friends of the market to inspire your dinner menu this fall!
back to top