Brandywine Table / Savored Starts
Photos by Jackie Botto
The timeless tastes and traditions behind Italian antipasti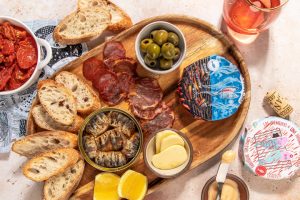 In cultures around the world family and friends gather ahead of the main meal noshing, relaxing and sharing. These communal pastimes span the globe, varying only in ingredients and name. One can enjoy mezze in Turkey, zakuski in Russia, tapas in Spain, yet nowhere is the tradition more alive than in the antipasti of Italy.
Antipasti literally translates to "before the meal" and is a compilation of savory bites that can include cured meats, cheeses, smoked fish, marinated olives or grilled vegetables. It's often served family-style on a large platter and may be accompanied by a glass of wine.
"That's the beauty of antipasti—you can really make it with anything," says Emilio Mignucci, third-generation owner and Vice President of Culinary Pioneering of iconic specialty food market Di Bruno Bros. He recalls frequently going over to his grandparents' house growing up, and each time they'd whip up something simple, delicious and healthy from whatever was available.
"It was actually pretty strategic," he says with a chuckle. "You'd have food and drink, relax and suddenly you're sharing things … even things we didn't plan on telling our parents." Emilio admits he and his wife still use that technique with his kids years later.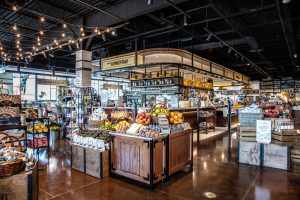 Di Bruno Bros. was first opened in 1939 by brothers Danny and Joe Di Bruno as a small grocery store in the heart of Philadelphia's famed Italian Market. In 1965, the brother's made the decision to focus on cheeses and other specialty imports to set themselves apart. They never looked back.
In 1990 third-generation cousins Emilio, Billy Jr. and Bill took over the business pledging to keep the family legacy alive. Since then, the company has grown to six retail locations and numerous bottle shops. Fortunately for us, they have found their way out into our neck of the woods.
The new Wayne location opened in spring of 2021 with all their standard best-in-class offerings along with Cafe Di Bruno, a coffee and pastry bar, and Bar Alimentari, which serves Roman-style pizzas and antipasti-style small plates.
When shopping for your own antipasti components, Emilio suggests heading to the store with a general plan, sampling and tasting your way through, and leaning on the expertise of cheesemongers and others.
Emilio acknowledges their antipasti selections—whether imported prosciutto or specialty cheeses—often carry a higher price tag, but for good reason. "It's the best you can get," he says proudly. "You don't need much, a few ounces of each cheese or meat and a few spoonfuls of marinated olives go a long way."
The best news about antipasti—you can't mess it up. Select an assortment of tasty ingredients, tailor it to your preferences, arrange it in a grazing-friendly way, and presto—it's ready. Whether you're hosting a gathering or grazing through dinner, we hope you'll give the antipasti route a try. Buon appetito!
back to top