Brandywine Table: Kennett Square Farmers Market
Loyal customers abound at the 23-year-old market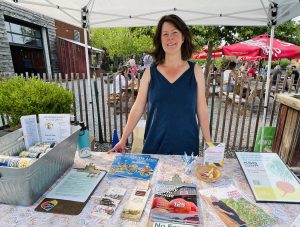 Around 3 p.m. every Friday, Zack Hathaway heads to the Kennett Square Farmers Market to stock up on fresh, local ingredients to use in his latest monthly menu. Zack and his wife, Karessa, are co-owners of one of Kennett's newest restaurants, Sweet Amelia's, and he says visiting the market is one of the highlights of his week. "Every Friday it's my little getaway from work," he says.
The Market's manager, Ros Fenton, keeps Hathaway posted on what's going to be available. Today he's expecting to find late-season tomatoes, hearty greens (like kale and collards), along with squash. Some of his regular vendor stops at the market include Lindenhof Farm, Swallow Hill Farm, Fiddle Creek Dairy and Full Table Farm. "The Hathaways have really been committed to supporting local," says Liam Miller, owner of Full Table, a small, organic, low-till vegetable farm located just ten minutes from the market.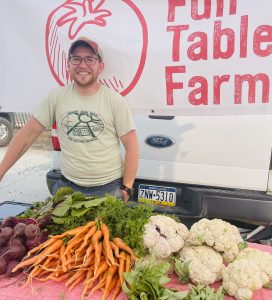 Ruth Hogue is another regular customer of Full Table who never misses a Friday at the market with her husband and their two young children. With her baby and a full bag of market goodies in tow, she's excited for the fall season when she roasts root vegetables for her family. "We are really into making bowls, so we'll do rice and beans and throw in another protein, like egg or chicken, and add the roasted vegetables," Ruth says.
Sue Miller, owner and operator of Birchrun Hills Farm with her husband and their two sons, is another vendor Hogue frequents at the market. In her 17 years of cheesemaking, Miller has been involved with many markets and shared an aspect of Kennett Square's that makes it stand out. "It's so a part of the culture of the community to shop at the market and support the regional farms," she says.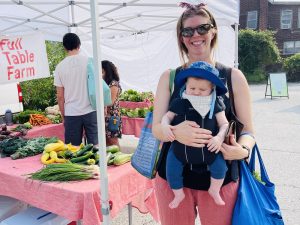 Miller sees the fall season as a time that's ripe for cheese, with October serving as Pennsylvania Cheese Month. Now that people have wrapped up their vacations and are shifting to spending more time at home, eating food and sharing in the bounty of the harvest, cheese serves as a nice complement to the abundance of fruits and vegetables available.
Here are a few recipes that highlight the best of what the season has to offer, to help inspire some cozy dinners. Read on!
back to top