Brandywine Table: Food, Farm and Family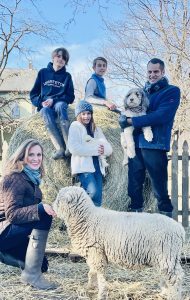 This month i am honored to join the County Lines family as its new food editor, following in the footsteps of Alyssa Thayer, whose work on these pages and in the community I've long admired. We both share a passion for food, supporting local growers and serving the community.
My own relationship with food began at a young age, growing up on a hobby farm in Berks County's Oley Valley, where we had a large vegetable garden along with pigs, chickens and sheep as our family pets. Eventually, I left bucolic Pennsylvania to attend college, travel abroad and work in New York City as a TV producer. It took 15 years for me to realize that my heart yearned to reconnect with the country girl I once was. An 18th-century grist mill restoration project at our family farm became the perfect excuse to return to the countryside on weekends.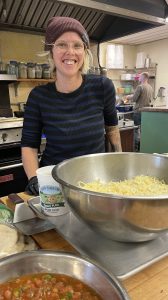 Soon after, I met my husband, who grew up on a farm just a mile down the road. The next chapter of my life as a wife and mother brought me back to the Oley Valley for good, and I couldn't have felt more fulfilled. When it came time to find a school for our three children, we sought not only a holistic educational approach, but one that aligned with our food values. The Kimberton Waldorf School in Chester County, with its farm-to-table kitchen, was the answer.
Its Food for Thought lunch program uses all local, organic and non-GMO ingredients, many of which are grown in the garden of the school's 430-acre campus. The school's chef, Lianna Criniti, takes great pride in the global diversity of their seasonal menu and strives to accommodate all dietary restrictions.
But children at the school do more than enjoy Criniti's wholesome meals — they help plant and harvest ingredients under the guidance of the school's garden teacher, Celia Martin. Last summer, Hilla Haut, who manages the kitchen, spent days preserving cucumbers from the school's garden to make enough pickles for the year to garnish hamburgers made using Seven Stars Farm grass-fed beef.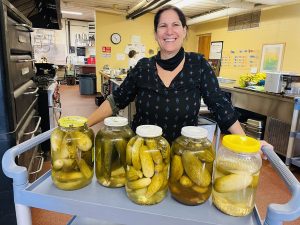 Food for Thought serves as a model for what every school lunch program has the potential to offer students and parents through their weekly soup subscription, community dinners, pie sales and kitchen volunteer opportunities. Kimberton's approach to both education and food has enriched my family's life in ways I never could have imagined.
Here are recipes to warm you up this February. They'll give you a taste of the school's mindful food offerings and some standout recipes from my cookbooks.
back to top