Brandywine Table: Field to Feast with Toad Stop Farm
Conventional and non-conventional inspiration for your Thanksgiving table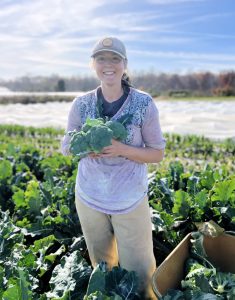 The first time Becky Brett spotted a toad when tending to the fields at her new farm, she was ecstatic. Just the idea of them wanting to spend time there was the inspiration behind the farm's name: Toad Stop Farm. "Having that biodiversity is so important, and it's amazing to have a place where toads and other critters want to hang out," she says.
Brett highly values her relationship with the land. "You're trying to manage nature to some degree, so it's good to be a part of that natural cycle as much as you can," she says. That cycle includes being in sync with the seasons. Fall is a time when she looks forward to a lack of humidity and cooler weather as her body begins shifting to a welcome change of pace. "The days are getting shorter and there's not much time to have to work after going strong all summer."
It was October of last year when Brett set out on her own to farm land in Chester County after working with a local CSA (community supported agriculture) for seven years. She saw an increased demand for CSAs and seized the opportunity to branch out.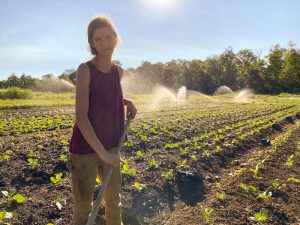 Sankanac CSA at Camphill Village Kimberton Hills is just one that had a waiting list. "I refer those families [we can't accommodate] to farms like Becky's, Knee High Farm and Kimberton CSA," says Erin Throop, Sankanac's farm manager.
Brett's CSA members receive their shares through the beginning of November, when they're greeted with a hefty array of fall goodies, from butternut squash to radishes and Napa cabbage to arugula. Her three dogs, Toby, Molly and Lila, are regular fixtures at the farm, along with her husband, Colin, who's usually put to work when he visits after working as a chef at Kimberton Whole Foods.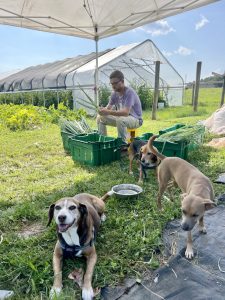 Thanksgiving for the Brett family usually bypasses the traditional route and often centers on a theme stemming from a recent place of travel among extended family. "We've done Greek and Italian," Brett says.
For Throop of Sankanac, she'll be having more traditional Thanksgiving fare with family at the Village. Her husband, Dylan, has a tradition of making cranberry relish, and their son usually pitches in to help grind it up.
Now Throop's sights are focused on season-end projects, such as planting garlic and mulching strawberries, along with putting a majority of the land to rest by planting cover crops. "It gives a nice closure when we can thank the soil for everything it's given us and then begin planning the next season," Throop says.
Read on to get inspired by some traditional and unexpected twists on recipes as you contemplate your menu for Thanksgiving.
back to top