Brandywine Table: A Feast Among Friends
A group gathers to make Chinese New Year an annual culinary tradition
It was 29 years ago when a group of eight friends gathered for the first time to celebrate the Chinese New Year. Their elaborate, multi-course meal would be the first of many, stretching deep into the evening before the last courses were finished.
Today, the group still gathers annually for their good luck feast, albeit with fewer courses and a much earlier end time.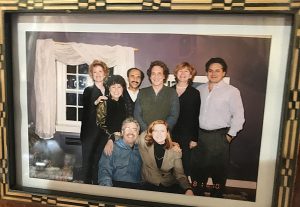 Liz Girvin-Marcus, the organizer of the event, has always loved hosting. When she moved to a new place (first New York City, then Boston and the Philadelphia suburbs), she used it as a way to forge new relationships. "Food is an invitation. People can be hesitant to host, but they always like to be invited," she says.
Liz's husband, David, who worked in the food industry, would often talk about lavish banquets he attended in Chinatown. After years of hearing of these festive affairs, Liz thought, "I love Chinese food. Why don't we try to make some and celebrate the Chinese New Year?" And so it began.
It started small, just one other couple, a noodle dish and stir fry. But slowly the group grew and so did the menu.
For a few years Liz did all the preparations. "It was like the Olympics of cooking," she remembers. She would begin pouring through cookbooks months in advance. The week-of, she'd venture down to Chinatown to gather ingredients. Finally, in the days leading up to the dinner, she'd begin chopping, mincing and prepping for hours.
As with any longstanding tradition, it shifted over time. "As we've gotten older, we've paired down the number of dishes," says Liz. The group kept the recipes they loved and dropped the ones they didn't, and group members began taking on parts of the meal. One friend perfected hot and sour soup, while another couple created the winning dessert combination of traditional almond cookies and refreshing citrus sorbet.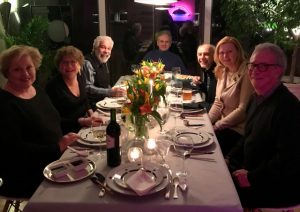 Deep fryers and rice cookers made preparation more efficient (and reliable). And about ten years ago, they began ordering a centerpiece protein, Peking Duck, from a local restaurant (Sang Kee Asian Bistro in Wynnewood) and never looked back.
There were plenty of laughs and lessons learned along the way— like the time a grease fire broke out thanks to an unstable wok, and when they ended up deep frying spring rolls in the snow. And there was the memorable year when they prepared and devoured Ken Hom's fried cashews, only to realize they weren't hungry for the other courses.
As she thinks back on this tradition and the meaning of the holiday, Liz says warmly, "It's about being with family and food. And this group is truly our chosen family."
Hot and Sour Soup
From The Chinese Cooking School by Joanne Jahnk. Thanks to Richard Immerman for sharing.
1 C. bean curd* [Cook's Note: Cambridge Tea & Spice, slice 1 piece x 1 cup]
¼ C. bamboo shoot, shredded
¼ C. golden needles [Cook's Note: Cut in half. Lily buds soak in water 10–15 min. Snap off stem.]
2 T. wood ear, shredded [Cook's Note: Or crow ear. Chop, then soak until soft.]
¼ C. black mushroom [Cook's Note: Soak in warm water until spongelike. Bigger the better with marble lines. Rinse off sand, etc. Pinch off stem (belly-button). Save liquid.]
1 egg, well beaten
4 oz. pork, shredded
Mixture A:
1 tsp. soy sauce (light)
1 tsp. cornstarch [Cook's Note: Tenderizes meat]
Mixture B:
6 C. soup stock [Cook's Note: Pork or chicken. If in can, mix with equal parts water.]
1½ tsp. salt
1 tsp. MSG
1 tsp. sugar
Mixture C:
3 T. cornstarch
3 T. water
Mixture D:
2 T. soy sauce (light)
2 T. vinegar [Cook's Note: White]
1 tsp. sesame seed oil
1 tsp. chili oil
½ tsp. black pepper
3 T. scallion, chopped [Cook's Note: Very fine]
1 T. fresh ginger, finely chopped [Cook's Note: Grate]
Marinate the pork in Mixture A for 15 minutes. Use 2 T. oil to stir fry the meat until the color changes. Remove to the side.
Bring Mixture B to a boil and add the black mushroom, bamboo shoot, wood ear, bean curd and golden needles. Cook for 3 minutes.
Add the meat, add Mixture C, add the egg, add Mixture D. Cook for a short time and serve hot.
Serves 8–10.
[*Cook's Note: Bean curd should be odorless and smooth. There is often a soft bean curd that virtually crumbles in hand, used for delicate dishes. After buying, soak in water, changing water every other day.]
back to top