Brandywine Table: Feasting & Foraging in the Field
Mindfully sourced event menus and decor can highlight the local bounty of the season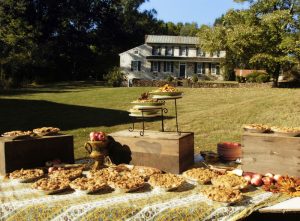 When I reflect on the planning of our wedding in 2007, I distinctly remember the many things we did that kept the land around us in mind. Most important, we focused on what it had to offer for our special day in the fall season. We were fortunate to have plenty of open space at my family's farm to grow sunflowers for the bridal bouquets and forage for bittersweet vines to complement the locally grown apples anchoring our centerpieces at the reception.
In keeping with our seasonal theme of apples, we filled up a humongous wooden barrel with pony-sized jugs of locally pressed cider to give out as wedding favors. And instead of cake for dessert, we served up homemade apple pie, accompanied by a trio playing old-time fiddle tunes.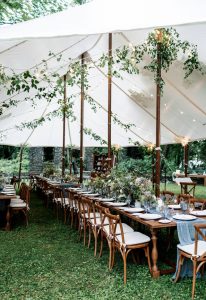 Since I had only recently moved back to the area from New York City, I was overly excited to fully immerse myself in country-inspired event planning, which led me to take on much more than I likely should have. Since not everyone is inclined to forage for their wedding and prefers more help and guidance, a mission-aligned event business might be the answer.
Terrain Events is a service that offers an 'In the Field' farm-to-table experience that enables couples to celebrate their union beyond the confines of Terrain's event spaces in Devon, Glen Mills and, most recently, Doylestown. Brianna Alcorn, Terrain's Director of Sales, says their In the Field offering came to fruition when many customers began requesting a preference to have their event in a home or in the field under a tent.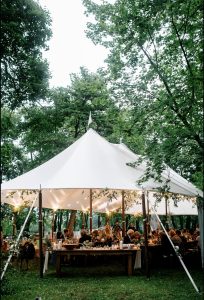 Like their cafe menu in Devon (which happens to be a favorite lunch spot) Terrain's event menus are mindfully curated — always reflecting seasonality using locally sourced ingredients. Their signature garden-centric approach comes from the selection of the food they source from places like Lancaster Farm Fresh Cooperative, which is their go-to for produce; Farm of Cultures, also in Lancaster County and which makes all of their yogurts; The Farm at Doe Run in Chester County, which provides all of their cheeses; and their microgreens from High Hill Hydro in Delaware County.
Steve Linneman, Terrain's Culinary Director, enjoys visits to High Hill. "They have an incredible hut on their property where they will grow based on our wants and needs," he says. "The owner personally delivers it and is my friend."
Whether a main course, salad, bread or dessert, Terrain's relationships with those who make or grow many of the ingredients in their recipes elevates the culinary experience for diners in both taste and presentation. Here are some customer favorites from their cafe and events for you to try at home.
back to top