Brandywine Table: Barbecue at Home with Michael Falcone
Falcone features unique sauces on the grill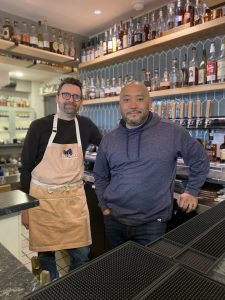 I've followed Michael Falcone's culinary path ever since I dined at his first restaurant, Funky Lil' Kitchen in Pottstown, about 15 years ago. His innovative and daring approach to cuisine inspired me.
It was a pleasure to reconnect recently with Falcone to hear his story since closing FLK a decade ago and learn about his plans for the future. And since we're focusing on outdoor grilling, I asked what he's cooking at home this summer for his wife Tonda and daughter Rio.
Falcone's latest food venture began five years ago when he met food entrepreneur David Backhus in Yellow Springs, where Falcone had his Heart Food Truck. An exchange of phone numbers led to a friendship that became a partnership.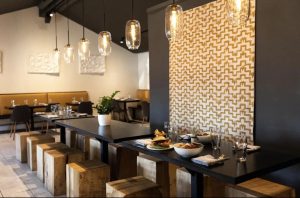 The timing was perfect. Falcone was ready to move on from the food truck he started after closing FLK, and Backhus planned to open Oori, a seasonal Korean-inspired restaurant in Pottstown. Backhus knew Falcone's history with FLK and needed guidance.
In 2019 Falcone partnered with Backhus in Take Flight Restaurant Group, where he also serves as corporate chef. Since then, the duo has taken the local culinary scene by storm. "David has a great vision and wants to put it to good use," Falcone says. "I'm fortunate to be along for the ride."
After launching Oori in South Coventry in 2019, they opened Bloom Southern Kitchen in Eagle a year later. In 2021 they started Collective Coffee, a coffee roastery, also in Chester County. Then in April 2023, they added Collective Coffee & Bakery in Ludwig's Village. (The group also owns Morgantown Coffee House in Elverson, which Backhus started before their partnership.)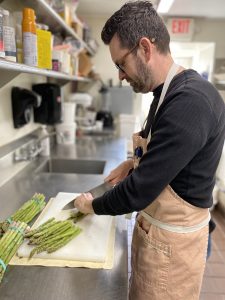 Their latest acquisition is The Stables: Kitchen & Beer Garden in Eagle, reopening early this summer after renovations. "It will be a casual, fun hangout but with elevated food and service," Falcone says. "Bring your family."
Plans also include expanding Bloom to the third floor for a members-only speakeasy. Falcone says the vibe of the lounge will be "dark and chill." Intended to be a late-night, after-dinner destination, the speakeasy will have a menu featuring light food and cheese boards plus a full range of bourbons and specialty cocktails.
With all he has on his plate, Falcone enjoys downtime with his family, especially when it comes to summertime meals at home centered around the grill. He shared some of his favorite barbecue recipes that, not surprisingly, venture into new or less-traveled territory. They're likely to inspire you to leave your comfort zone as they've done for me. Read on!
back to top