Brandywine Table / August 2021
How one Chester County farm is bringing local food, chefs and people together.
It's a warm summer night in the lush, rolling hills of the Brandywine Valley. The doors of a historic 17th-century barn are propped open revealing long communal tables lined with beautiful rustic settings. Delectable smells waft from large grills and festive strings lights drape the sky.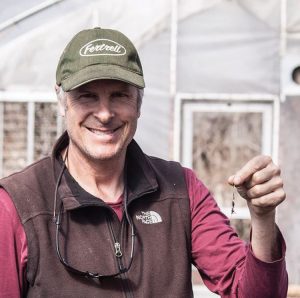 This magical evening is part of the Field to Fork series put on by SIW Vegetables in Chadds Ford. The dinners pair farm-fresh ingredients with local chefs for a multi-course culinary experience. "It gives a chance for chefs to show off their skills outside of a restaurant environment," says H. G. Haskell III, owner, farmer and idea machine behind the whole SIW operation.
The property (Hill Girt Farm) was originally purchased in 1910 to be used as a Guernsey dairy farm. By 1986 the cows had been sold and HG graduated with a degree in agriculture business—it was time for him to create his own vision for the land.
"I was sure I didn't want to be a dairy farmer," he chuckles, "that's a 365 day a year job." So, he decided to grow vegetables instead. In year one, the farm grew just 5 varieties of vegetables on 6 acres, Now, they're growing 50 varieties on 50 acres.
Since taking over, HG has continued to innovate and expand—opening a seasonal farmstand, running a weekly CSA and hosting the Field to Fork dinners in the barn. And when someone has a new idea or asks to collaborate, the answer is almost always "yes."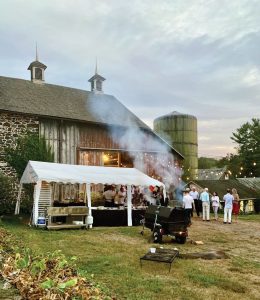 When a member of the SIW Veggie Recipe Facebook Group mentioned a love of burdock root, HG bought the seeds and added burdock to the growing plan. When Chefs Gerald Allen and Natalie Eguez lost work due to the pandemic, they became a permanent part of the SIW family, creating weekly smoked dinners that could be pre-ordered and picked up at the farmstand.
The Field to Fork dinners are an extension of that same ethos of building community and connecting people to their food. "They started as annual potluck dinners for our CSA members to celebrate the end of the season," says HG.
Even as the Field to Fork dinners became more established, and the chefs higher profile, the dinners never lost their original purpose or communal feel. The dishes are served family-style and the menu is dictated by whatever is available on the farm.
The recipes in this month's column share that same mission—they are delicious, use what's in season, and are best enjoyed among good company. Cheers!
Chef Gerald's Famous Spud Spice
Chef Gerald Allen says "It is hard to give this one away but I know it will change your life." Just like the name implies, it's fabulous on potatoes cooked any way, from simple mashed potatoes to fries to the most elaborate potato pave. While it may require you to shop for some new ingredients (most of these powders can be found online) Chef Gerald guarantees it'll be worth it!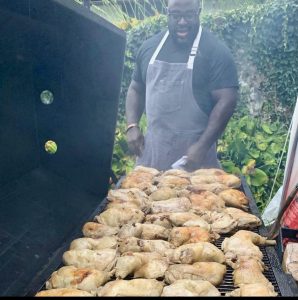 1 Tb. malt vinegar powder
1 Tb. sour cream powder
1 Tb. buttermilk powder
2 tsp. onion powder
1 tsp. garlic powder
1 Tb. coarse black pepper
1 tsp. granulated sugar
2 Tb. flaky sea salt
Mix all the ingredients together in a bowl and store in an airtight container. It will keep for a month or more, but certainly won't be around long once you taste how good it is.
Makes 3/4 cup.
back to top