Discover the Brandywine Polo Club
A Place for Family Fun for 70 Years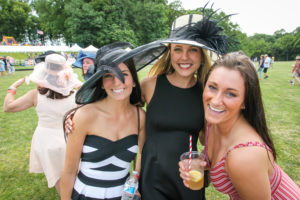 Equestrian fans in Chester County eagerly anticipate the month of May and the start of the steeplechase season. Winterthur's Point-to-Point is followed on successive weekends by Willowdale and Radnor Hunt steeplechase races culminating in 11 days of the Devon Horse Show rounding out the month.
But sadly, for 2020 all four major events have been cancelled because of COVID-19 concerns.
So we suggest this is the year to satisfy your equestrian yearnings by discovering what's happening at the Brandywine Polo Club.
Marking their 70th anniversary, our well-regarded regional polo club offers the tradition and thrills of this exciting game in a long season that may be extended into October. (The schedule for 2020 will, of course, be adjusted as necessary to keep everyone safe and healthy. Check the website for updates.)
Why Polo?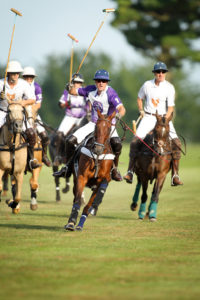 Polo is a passion. With players ranging from Winston Churchill and British royals to Argentine heartthrob Nacho Figuera and ltalented local players, the sport of kings has earned a special mystique.
Current Brandywine Polo Club president Dixon Stroud caught the bug after the late George "Frolic" Weymouth sent him to take a lesson at the polo fields in Toughkenamon. "That's all it took. Just once and I was hooked," says Stroud. "I even got a polo pony as a wedding gift."
Stroud has worked 30 years to elevate the level of polo at the club to draw more fans and add excitement. Now, many years after that first lesson, this former Maryland Hunt Cup winner and polo-convert is preparing to turn over the reins to the next generation, including his son-in-law, Michael Bucklin, a more recent polo fan.
Growing up on the coast of Maine, Bucklin describes himself as more at home on the water. "I got started riding polo ponies during visits to Dixon's farm," says Bucklin. "That, plus personal polo tutorials, did the trick." He, too, is hooked.
"It's addicting. The animals, the speed down the field, then the quick turn," says Bucklin. And it didn't hurt that he could play polo down the road from home. From one of his first visits to the polo fields—Bucklin expected a tour but instead got an invitation to mow the fields—he's been working to improve the slice of southern Chester County heaven that is the Brandywine Polo Club grounds.
What is the Polo Club?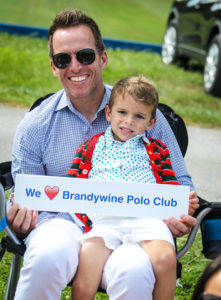 But you don't have to play polo to love it. The matches draw long-time fans and first-time visitors to watch the fast-paced action as riders from around the world ride agile polo ponies down fields covering the space of nine football fields to the sound of the twack of the mallet. All in a bucolic setting where tailgating and champagne sipping are encouraged.
Mixing a passion for polo with the spirit of the community, Brandywine Polo Club host a four-month season with seven competitive tournaments, plus three concerts and a polo school on their 122-acre grounds outside Kennett Square, explain Elizabeth Hedley, club marketing guru.
"The club invites spectators to visit for one match or the full season—watching from the sidelines or enjoying a tailgate spot," says Hedley. Membership is another option to join the community and get more involved. "Kids are welcome to enjoy the grounds, as are dogs on leashes. It's a family affair," says Hedley.
Want to learn more? Hedley suggests signing up for polo school or the OTP program—Orientation to Polo—that gives men, women and youngsters four lessons and a chance to play in a match. There are even barn tours for those who like the behind-the-scenes experience.
Polo 101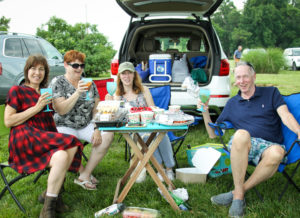 Some liken polo to ice hockey on horses—the speed, intensity, constant action to get a small object through the goal. All done on horseback, on a field that's 160 by 300 yards and wielding a mallet over 4 feet long. Others prefer analogies to croquet or golf—with the emphasis there on hitting a ball on a green field, but much faster.
Polo—one of the oldest team sports in the world, dating back to nomadic tribes—has many variations, from arena polo to beach, snow and cowboy polo. It's also been played on elephants, donkeys and bikes.
We'll stick to the more common outdoor match on horses.
Some specifics: two teams of 4 compete, in a match with 6 or more periods, called chukkers, of 7 minutes and 30 seconds. There are 4-minute breaks between chukkers for players to change horses (hence the term "string of polo ponies"), and a 10-minute half-time intermission. In all, it's about two hours of thrills.
Spectator note: half time involves audience participation when fans are invited to help with divot stomping to flatten the field after the action. Champagne toasts and socializing are part of the tradition. Tip: don't stomp any steaming divot. It may not be grass.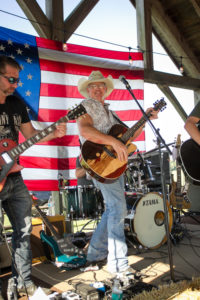 A goal, earning 1 point, is scored by getting the baseball-sized ball through the goal posts. After each goal, the teams reverse field. You'll notice all players hit with their right hand, for safety's sake. No lefties in polo!
Referees call infractions—most involving line of the ball fouls (right of way) or dangers to players or horses.
Fashion points: players wear helmets, polo shirts (of course) numbered 1 through 4 (1 is up front offense, to 4 defense), white jeans, gloves, pads and high boots. Horses have shaved manes and short braided tails to keep clear of the mallets.
And the horses are called ponies because of their smaller size, generally around 14 hands and most are thoroughbreds. These fast, agile sprinters can run 1 to 2 miles during each chukker, another reason players change their mounts.
Club Activities
No club could attain Brandywine Polo's 70-year legacy—including surviving a barn fire and tornado—without evolving to reach a growing audience. In addition to memorializing ponies lost in the fire with an annual match, the polo club also sponsors an annual Chester County Hospital Charity match fundraiser (likely postponed until September) and Chukkers for Charity, among other events.
Three concerts are planned for 2020 to take advantage of the grounds: Horses and Horsepower, featuring a local band; Horses and Honky Tonk with country and western music; and Hoses and Hops, working with local brewery, Wacker Brewing.
The Brandywine Polo Club hopes fans can join their 70th anniversary celebration on 122-acre grounds with room to spread out, enjoy the game while still minding social distancing. Here's hoping we can enjoy this part of the Chester County equestrian season!
If You Go:
WHAT: Brandywine Polo Club
WHERE: 232 Polo Rd., Toughkenamon
WHEN: Matches on Friday evenings, Sunday afternoon, May 22–Sept. 26 (subject to change)
ADMISSION: General adm., $10–$15; Tailgate spots, $40; free for kids & seniors 70+; season passes and memberships available
MORE: BrandywinePolo.com
back to top