Books to Feed the Soul
There are times when a great book is the best type of nourishment.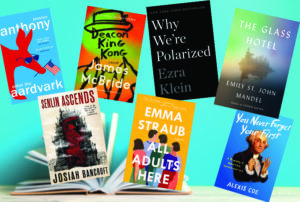 It has been a challenging spring and great books are needed now more than ever. The chance to escape into new worlds and gain insight into the world we live in always make reading a wonderful adventure.
Here are some recommendations for deeply engaging stories—whether you crave fantasy, fiction, politics or biography. Plus there's a local author to support.
Be transported by a good book!
Senlin Ascends by Josiah Bancroft
Thomas Senlin is a recently married teacher in a village of fishmongers. For his honeymoon, he brings his wife to the Tower of Babel—the renowned center of arts and culture—and loses her. People disappear from the Tower all the time. Horrified by the prospect of returning home alone, and pessimistic that his wife will return on her own, Thomas journeys into the Tower, facing the rules and challenges that each level offers. He ultimately arrives at the realization that the Tower grinds away everyone's will for its own purpose. A simple story set inside a massive, evocative world, written by a local author.
Deacon King Kong by James McBride
This is a wonderfully brash American novel. Set in the tenements of South Brooklyn in 1969 when an aging church deacon, Sportcoat, shoots the housing project's drug dealer in front of a crowd of witnesses. Written in a Dickensian style, the book sketches the inhabitants of the Five Ends Church and the community around them. From the Italian gangster in a boxcar by the docks to the mysterious cheese delivery, the characters and heartfelt story are immersive and highly enjoyable.
All Adults Here by Emma Straub
A sudden and shocking occurrence jolts small town stalwart Astrid Strick, a widowed mother of three, into reassessing her life, especially her failings with her three children. Even as she tries to find a path towards redemption, it's clear her offspring are nursing different hurts. Is it Astrid's fault each of her children is struggling in a different way, or are they tilting at imaginary windmills? Straub's lovely and charming comic novel explores the messy dissonant truths that underpin the illusions we maintain about those closest to us. Even adults have to grow up. Charming and engrossing.
Why We're Polarized by Ezra Klein
Ezra Klein's timely and critically important Why We're Polarized examines the American political system in a well-researched, highly readable way that few other books have in recent memory. Too many current affairs books focus on Trump this, or Bernie that. Instead, Klein focuses on the why and system of American government: where America has been as a people and as a governmental system, how we got there, and where we go from here. Klein's research is deftly woven into a narrative that all of us, wherever we sit on the political spectrum, need to read and have an honest conversation about. If you read one book about American politics before the November election, let it be this one.
You Never Forget Your First by Alexis Coe
A whip smart, hilarious and important look at the life of … George Washington. Coe tells Washington's story with great pace and research. All too often, histories and biographies are dry, boring and too long. Not this one. It's books like this that make Americans of the past come alive for us and future generations. A must read!
The Glass Hotel by Emily St. John Mandel
Crafting compelling stories with memorable characters is something novelist Emily St. John Mandel has done throughout her writing career. In The Glass Hotel, Mandel deftly weaves an international narrative, moving back and forth through time. Vincent is a bartender at a hotel made of glass in Caiette, British Columbia. A wealthy New York City investor, Jonathan Alkaitis, comes in for a drink, and soon Vincent is in the kingdom of money as his new "wife." Turns out, Alkaitis's business is not what it appears. Mandel's characters all have flaws, and the narrative twists and turns unexpectedly. The Glass Hotel is not another Station Eleven, but that fact is to be celebrated. It's a compelling, cinematic tale of taking advantage of opportunities and the consequences of doing so.
Enter the Aardvark by Jessica Anthony
Wow! Well, I've never read a novel quite like this one. The story connects two storylines, one revolves around the stuffing of an aardvark, and the other storyline revolves around a repressed, Reagan-obsessed, Republican millennial Congressman. What I loved most about this novel was that, yes, it is kind of ridiculous (in a great way!) but Enter the Aardvark is by the novel's conclusion very poignant and leaves the reader changed. Bravo, Jessica Anthony!
John McManus is a bookseller at Main Point Books, an independent bookstore with a handpicked selection of books for every member of the family. Check out their great events, book groups and children's activities at MainPointBooks.com or on Facebook, Instagram and twitter. Order on-line for delivery or pick-up. 116 N. Wayne Ave., Wayne.
back to top