Books that Inspire
Give an uplifting book a chance.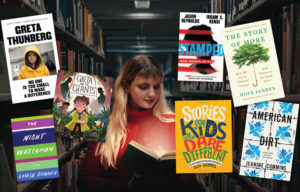 It never hurts to take stock of the issues facing us and our global community. Books can help us decide where we should focus, what kind of difference we can make and provide ideas about how to move forward.
Many of the recommendations below are aimed at younger readers, who are willing to take risks to change the world.
Whether you want to inspire someone else or motivate yourself, there's a book to help you do it.
No One Is Too Small to Make a Difference by Greta Thunberg & Greta and the Giants by Zoe Tucker and illustrated by Zoe Persico
Greta Thunberg soared into the American spotlight in 2019, becoming TIME magazine's "Person of the Year" at the age of 17. Now, there are several books spreading her urgent environmental message.
No One Is Too Small to Make a Difference is a compilation of Greta's greatest speeches. The message? All of us from the youngest to the oldest must start to radically change how we live or our planet will die. Greta's voice has resonated with teenagers around the world, inspiring them to become more politically active.
For the little activists among us, Zoe Tucker and Zoe Persico have written and illustrated Greta and the Giants, a picture book about a little girl whose forest is being chopped down by giants until she steps in to save it.
Stamped: Racism, Antiracism, and You by Jason Reynolds and Ibram X Kendi
The popular middle grade author Jason Reynolds has adapted Ibram X Kendi's Stamped from the Beginning into a YA (young adult) "not a history" book. It traces the history of racist ideas and makes us think about or own preconceptions so, hopefully, we can make better choices in the future. This is definitely one you can read with your kids and then have an inspired conversation.
The Story of More: How We Got To Climate Change and Where to Go from Here by Hope Jahren
Hope Jahren is an award-winning scientist, teacher and author of the phenomenal Lab Girl. Her new book, The Story of More: How We Got to Climate Change and Where to Go from Here explains the science behind key inventions and shows us how they hurt as well as help us. She explains the current and projected consequences of greenhouse gases—from superstorms to rising sea levels—and the actions we can all take to fight back.
Stories for Kids Who Dare to be Different: True Talks of Amazing People Who Stood Up and Stood Out by Ben Brooks
Want to inspire a middle-grader? Ben Brooks shares true stories of some extraordinary people who broke the mold and changed the world for the better. The point? Stay true to yourself and you can do it too. Brooks offers an accessible compilation of 76 influencers from the past to the present, every one of them a rule-breaker and stereotype-smasher. Profiles include Emma Gonzalez, Andy Warhol, Björk, Hans Christian Andersen and Sally Ride.
American Dirt by Jeanine Cummins
Sometimes it's easier to see the need for change when the message comes in an entertaining way. There's a wave of wonderful fiction that will keep you engaged, but might also move you to action. American Dirt by Jeanine Cummins is one of those books. A heart-pounding thriller, it's the story of a mother and son who are forced to flee their home in Acapulco after the rest of their family is murdered by a drug cartel. The novel graphically depicts the lives of those forced by circumstance to try and make it to the United States and a new life.
The Night Watchman by Louise Erdrich
Louise Erdrich's new book, The Night Watchman, is a fictionalized account of the life of her grandfather, a Chippewa councilman and night watchman. As with all her books, Erdrich shows how Native Americans are still treated as "others" in a land that was once theirs. 
Cathy Fiebach is the owner of Main Point Books, an independent bookstore with a handpicked selection of books for every member of the family, located at 116 North Wayne Ave., Wayne. Please check out their events, book groups and children's activities at MainPointBooks.com or on Facebook, Instagram and twitter.
back to top