Best of the Best: Quintessential Chester County
Birchrunville Store Café
1403 Hollow Rd., Birchrunville
610-827-9002 / BirchrunvilleStoreCafe.com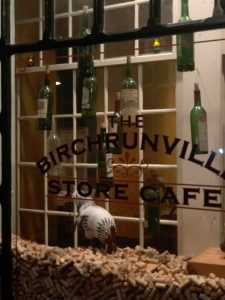 You'll probably need Waze to find Birchrunville, let alone Birchrunville Store Café. After driving through rolling hills, you'll find an intimate space with country furnishings, candles and corks from wine bottles — it's BYOB. Let Chef Francis Pascal set a French-Italian table that's unique in Chester County. For years, it's been local destination dining at its finest, and reservations still require planning ahead. Feast on crispy pheasant or beef carpaccio for openers. Add fresh oysters, if you like. Choose a salad, with every element absolutely fresh. For mains, there's seafood, veal, pork, lamb and steak, all prepared to perfection. If you're nearby during the day, stop in at the ButterScotch Pastry Shop across the street. Chef Francis is married to its owner, Nui.
Bloom Southern Kitchen
123 Pottstown Pk., Chester Springs
484-359-4144 / BloomSouthernKitchen.com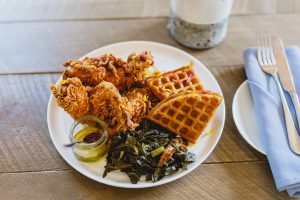 Despite the huge blossoms painted on the exterior, many folks still think of the building at the crossroads of Pottstown Pike and Little Conestoga Road as the Old Eagle Tavern. After all, it's been around since the early 18th century. But several recent reincarnations lightened, brightened and updated the landmark as a prime example of adaptive reuse. The redone interior still radiates the historic feel where fried chicken (aka happiness on a plate) is served alongside gumbo, shrimp and grits, hush puppies and cornbread from the Southern-themed menu. Warm hospitality and a very strong bourbon selection (three tiers, plus premier) continue making fans. This spring, look for an expansion to the nearby Stables Kitchen and Beer Garden.
Catherine's Restaurant
1701 W. Doe Run Rd., Kennett Square
610-347-2227 / CatherinesRestaurant.com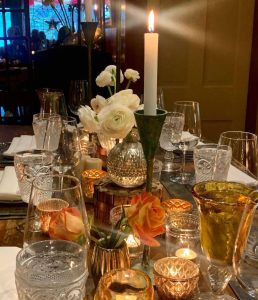 Every season of every year, when nearby fields are alive with equestrian events and bordered by fall foliage or dusted with snow, Catherine's county charm and fabulous food, especially seafood, leave us glowing. Devour brunchtime lump crab cakes with arugula and grilled asparagus on the patio with urns of sunflowers and table ferns. Savor goat cheese ravioli with scallops in a complex pine nut crème at winter candlelight dinners. Save room for key lime pie topped with swirls and plated with fresh berries, or chocolate layer cake with Baileys. Take home Chester County's best mushroom soup with crab, rich enough for royalty, along with Chester County charm.
Four Dogs Tavern
1300 W. Strasburg Rd., West Chester
610-692-4367 / TheFourDogsTavern.com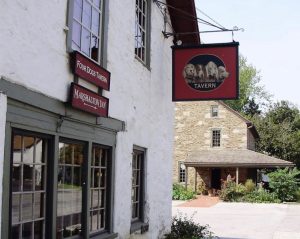 Set in the quaint, historic town of Marshallton, outside West Chester, Four Dogs Tavern was originally the stables of the adjacent Marshalton Inn (one L). The tavern was named for a print of four foxhounds found on site, painted by 19th-century artist Louis Godefroy Jadin. The dogs live on in the sign outside. Chef David Cox, West Chester native and Johnson & Wales grad, has been the owner since 2006 and serves scores of loyal fans. Expect elevated sandwiches, pasta, flatbreads, soups, salads, mains and wonderful desserts. Rustic, warm and friendly (for you and your dog) by the fireplace, at the friendly bar or outside on the tented and open patios, Four Dogs is as fine a place to enjoy Chester County's hospitality as any around.
The Whip Tavern
1383 N. Chatham Rd., Coatesville
610-383-0600 / TheWhipTavern.com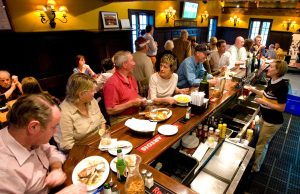 Whether you're in wellies, dashing in under your brolley, or still in riding gear after a sunny gallop, look no further than The Whip for an authentic English pub in Southern Chester County. Turn at the "Blow Horn" sign, park in the lot or by the bucolic field, and enter the tavern where the fire is warm and the beer is cold. Among the menu's traditional bangers and mash, bubble and squeak, fish and chips, Scotch egg and sticky toffee pudding, find bread pudding made with local Highland Orchards cider and a cheese board featuring nearby Doe Run cheeses and Swarmbustin' honey. Always brilliant!
back to top