Best of the Best on the Main Line
DiBruno's Alimentari
385 W. Lancaster Ave., Wayne
484-581-7888
DiBruno.com/Locations/Wayne
The shopping center's exterior looks unassuming, but shiny rows of Mercedes, Audis and BMWs say something interesting is going on inside. That something is the Alimentari bar inside the Main Line's DiBruno Bros. It's quite the place to see and be seen, celebrating with champagne or kicking back over red, orange, white and rose wines or classic and curated cocktails. The menu offers tasty bites including house-made focaccia with Sicilian olive oil, beef and pork meatballs, pan-seared octopus, salads and not-remotely-ordinary grilled cheese sandwiches, all surrounded by the market's best gourmet Italian foods to be found. Do a little shopping on your way out.
Autograph Brasserie
503 W. Lancaster Ave., Wayne
610-964-2588 / AutographBrasserie.com
Wander the many star-studded rooms at Autograph Brasserie and gaze at 1,000 vintage photos on its walls, from Marilyn to Kiss, Sting to Audrey Hepburn and Keith Richards to James Gandolfino. After work, on weeknights 4 to 6 (or until 9 for women on Wednesdays) enjoy a great Happy Hour. The wine list tops out at over $500 a bottle, but you can find many affordable by-the-glass options. In warmer months, on Tuesday and Thursday evenings, there's live music. Meanwhile, Executive Chef Jim Davidson invites you to savor his fine steaks, luscious seafood, delectable sushi and pasta dishes, topped off with apple crisp cheesecake. For Marty Grims of Fearless Restaurant, it's another success story.
Rosalie
139 E. Lancaster Ave., Wayne
610-977-0600 / RosalieWayne.com
(Locations in Bala Cynwyd and East Norriton)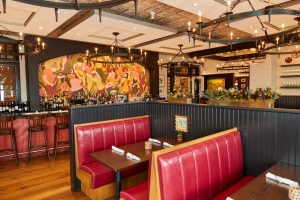 Whenever you can, sit on the veranda of the glorious 117-year old Wayne Hotel, a Tudor Revival structure that's home to Rosalie, where you can sip a Negroni or Goodbye Summer, in season. The beautifully appointed dining rooms welcome diners in colder times to find Italian soul food from Chef Merrick Devine. Try prawns and fegato (foie gras torchon), fritti (crispy pork with a long hot pepper pistachio pesto and aioli), casonicelli and gnocchi, branzino and eggplant. Cannoli, of course for dessert. Rustic yet elegant. Another hit from Fearless Restaurants.
White Dog Café
200 W. Lancaster Ave., Wayne
610-225-3700 / WhiteDog.com/Wayne
Yes, yet another Fearless Restaurant, White Dog Café was originally founded in University City by Judy Wicks, a pioneer of the farm-to-table movement. Now there are five locations — adding in Glen Mills, Haverford and the Vickers Tavern transformation in Exton, coming soon — all still supporting sustainable food. At Wayne, choose from four artfully and whimsically appointed rooms plus outdoor patio. The welcoming bar is festooned with dogs — portraits on the walls, on the pillows. Chef Greg Maloney turns out seasonal fare — Kennett Square mushroom omelet, oysters, lamb Bolognese, for example. All very fresh and sustainably raised. And always a delightful dining experience.
Nectar
1091 Lancaster Ave., Berwyn
610-725-9000 / TasteNectar.com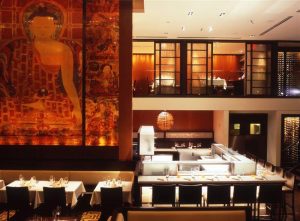 As a kid, we "had Chinese" every Sunday night, picking from well-worn menus. But Nectar's Pan Asian cuisine is quantum leaps beyond that experience. Sample starters include crispy calamari, steamed pork buns, lobster sliders. A long list of sushi and sashimi — tuna, striped bass, flying fish roe. Or, try the King Kong Roll, with filet mignon and lobster. For entrees, moo shu pork, grilled tea-smoked salmon or pan-seared wild Alaskan halibut are tempting. Kenny Huang and the late Patrick Feury fused French and Asian cuisines, inspiring a cascade of tastes and aromas, matched with Nectar's impeccable service. A towering silk-screened Buddha discreetly monitors your meal … and smiles. You will, too.
La Cabra Brewing
642 Lancaster Ave., Berwyn
610-240-7908 / LaCabraBrewing.com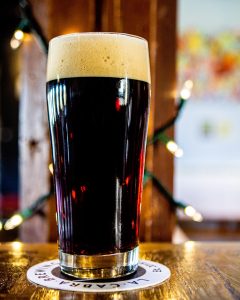 With over a dozen beers on tap — including a favorite dark bourbon-barrel-aged Kosta (a Russian imperial stout) — Head Brewer Chris Young produces some of the best beer in Chester County. A hop-forward pilsner, complex farmhouse ale, full-bodied wheat beer, malty lager, English barleywine and a few amazing sours, all from a seven-barrel brewhouse with a seasonally adjusted lineup. Executive Chef Patrick Seyfried supplements the brews with a host of bar bites, small plates, salads, tacos and sandwiches. Try the Cubano, al pastor burger or blackened shrimp taco. La Cabra's mission is to be a great neighbor and their good food and community events — Oktoberfest and beyond — are making that a reality.
Malvern Buttery
233 E. King St., Malvern
610-296-2534 / MalvernButtery.com
Your mouth waters as the door opens to Malvern Buttery. The aroma of fresh coffee and baked goods is just one reason it's a favorite year after year. Now open seven days a week, the Buttery makes it worth opening your eyes early to get warm sticky buns covered in nuts, hot pesto and egg sandwiches, and light flaky croissants — regular, sweet-filled or savory with herbs and feta. The ultimate to savor by the sunny windows or under outside umbrellas — the Buttery's cuffin: croissant pastry filled with chocolate ganache and topped with hazelnuts. No wonder we keep returning to this neighborhood treasure.
A Taste of Britain
503 W. Lancaster Ave., Wayne
610-971-0390 / ATOBritain.com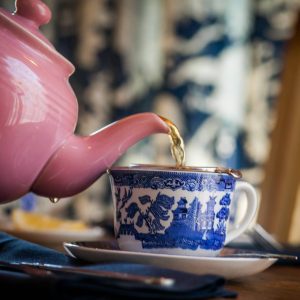 Fancy a cuppa? We highly recommend heading for A Taste of Britain. You'll find over a dozen black teas, flavored and unflavored, another dozen green and white teas, even more decaffeinated and herbal options. Complement your tea with warm scones, Welsh Rarebit or a Ploughman's Platter cheese board, featuring Stilton, Leicester and cranberry Wensleydale. Or choose lovely salads, soups, sandwiches, pasties — Cornish or cheese and onion — and chicken pot pie. For dessert, savor grapefruit posset pudding or a slice of chocolate Guinness or orange marmalade cake. All fit for a king. Be assured, owners Debbie Heth and Edward Pierce will serve you royally, especially with the recently expanded space featuring British home goods and gifts, plus an extensive British grocery market.
Terrain Garden Café
138 W. Lancaster Ave., Devon
610-590-4675 / ShopTerrain.com/Devon-Restaurant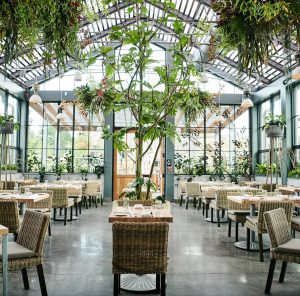 Outdoors comes indoors and indoors appears as outdoors at Terrain Garden Café. Any meal becomes an elegant picnic in a charming Woodland Village tent in the nursery or greenhouse where ivy, succulents, hanging floral baskets and hungry patrons thrive. Baked bread arrives at the table in a customary flowerpot — very on theme. Edible blossoms garnish artisanal cheese boards. Soups, salads, bowls and plates incorporate fresh local produce. In addition to the Garden Sips menu, garden spritzers include Northrose, lavender and elderflower flavors. Dessert offers a delightful terrarium — a glass bowl filled with tasty chocolate cake, mousse and ganache sprouting from matcha crunch "earth." Paradise.
Tonino's Pizza & Pasta Co.
235 Lancaster Ave., Malvern
610-240-9566 / ToninosPizzaAndPasta.com
The setting may be modest — located in the Lincoln Court Shopping Center in Malvern. But the Scotto family — four children, plus inspiration from their father, Nonno Tony — produces excellent and satisfying pizzas along with Italian chicken and veal specialties from this convenient spot. Pizza with thin caramelized crust, luscious, savory and expertly seasoned tomato sauce, the finest mozzarella … Mmm! And the toppings — pepperoni, meatballs, sausage, peppers, artichokes, eggplant, mushrooms, pesto … Plus there's so much more than pizza — semolina pastas, eggplant parmigiana, lasagna, fettuccini, for example. The pizza's so good, you may miss the Pasta Company part of the name at this BYOB with separate dining room.
back to top