Best of the Best: Instagrammable
At The Table
11 Louella Ct., Wayne
610-964-9700 / AtTheTableBYOB.com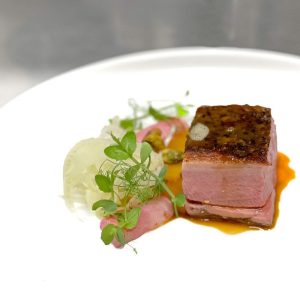 Envision escargot au champagne on golden brioche crowned with fresh green nasturtium leaves. Perfect venison with white duck fat snow and Brussels sprout leaves. If ever there was exquisitely beautiful, photogenic and sublimely delicious food to be found, it's at the six-course tastings of At The Table. Now six years old, the Wayne BYOB graced by husband-wife team, Chefs Alex and Tara Buzan Hardy, offers award-winning luxurious dining for your eye and palate. Ever-changing masterpieces include foie gras with orange marmalade, honeycomb and pale heart of palm, plus for dessert — chocolate pots de crème with glistening berries. Bon appetit! And don't be embarrassed to take a quick pic.
Bluefin Sushi & Asian Cuisine
555 Wellington Sq., Exton
610-458-3234 / BluefinEagleview.com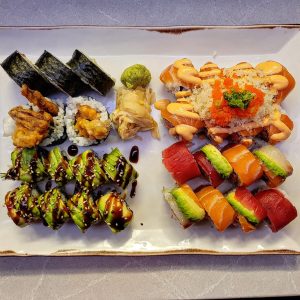 Chef Yong Kim's creative signature sushi rolls are in a class of their own. In Eagleview's Restaurant Row, Bluefin's delicacies — some named after streets near the restaurant — set the highest bar for color, texture, presentation and taste. The Wharton rolls' green avocado, orange salmon, pink tuna, (mango) mango and red roe are a rainbow for your eyes and sunshine for your palate. The Wellington's crunchy tempura chips, spicy tuna and more are exceptional. The shrimp sundae — created to look like the ice cream treat, topped with peanuts and cherry red roe — delights as appetizer or dessert. Take your phone camera and an appetite!
Le Cavalier
42 W. 11th St., Wilmington
302-594-3154 / LeCavalierDE.com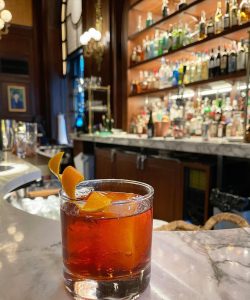 Chef Tyler Akin has settled into the Hotel DuPont's fabled Green Room redo and serves up food as gorgeous as the setting — OpenTable dubbed it one of the most beautiful restaurants in the U.S. and Canada. Whether it's classic steak frites, foie gras mousse with blood orange marmalade, a shrimp-topped bloody Mary at the opulent bar, or an upscale take on a Big Mac, try to get a glimpse of the stunning restaurant in the background of your food photos. Le Cav's mosaic floor, light fixtures, wood paneling are highly Instagrammable. And did we mention the bar?
Turk's Head Café
111 N. Church St., West Chester
610-241-1666 / TurksHeadCoffee.com
If you're one to snap and share every great cup of coffee in every great café, you already know and love the new Turk's Head Café. Their latte art enchants both morning larks and groggy owls. Smile back at the frothy, grinning monkey face on a cup of Funky Monkey while you park yourself and your computer at a long wooden table. Ask for a tulip on your mocha to sip under a red umbrella in the outdoor nook. Whether sipping a nitro cold brew, iced mocha, steaming latte or Americano, you'll have a better morning — better tasting and looking — at Turk's Head. Post it to make it so.
back to top