Best of the Best in Media
Ariano
114 S. Olive St.
610-892-6944 / ArianoMedia.com
Ariano is a labor of love and tribute to family. Owner Anthony Bellapigna and his father, Otino, built the restaurant themselves — from the Tuscan clay wood-fired oven to the hand-hammered copper tables. On the second floor, look up at the stunning mural on the ceiling depicting the Bellapigna family story in their hometown of Ariano Irpino. Known for their thin-crust pizzas, Ariano has expanded its menu to include Italian entrees (chicken cacciatore, pistachio-crusted salmon) and paninis, though you'll have to go to sister restaurant Fellini Café for pasta. Pair your meal with a handcrafted cocktail and end with authentic Italian gelato made onsite.
Azie
217 W. State St.
610-566-4750 / Azie-Restaurant.com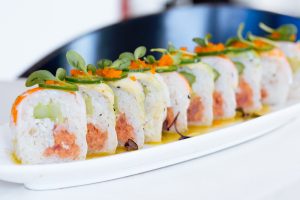 The chic, Center-City-meets-Tokyo vibe here is reflected in both the decor and the menu. Azie is known as a leader of the New Asian movement, bringing American and European influences to Southeast Asian cuisine. Order sushi, sashimi and maki rolls that are as beautiful (and photo contest-worthy) as they are delicious. Or try inventive dishes like Kobe beef carpaccio, bibimbap with red-wine braised short ribs, or bulgogi spring rolls with Peruvian sauce. Then enjoy a drink on their award-winning rooftop deck — seasonal craft cocktails, premium sakes and Asian beers — as you take in the action on State Street from above.
Brick & Brew
26 W. State St.
484-443-8441 / BrickNBrewPub.com/Media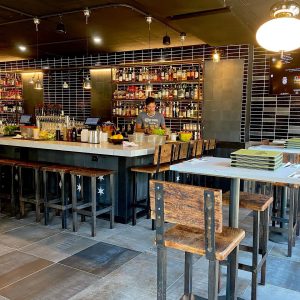 Each of the three Brick & Brew locations (Havertown, Malvern) has a unique feel in its classic American bar food venue, and the newly renovated Media restaurant is no exception. Check out the underground distillery ambiance, enhanced by shelves full of bourbon behind the bar. There's also plenty of craft beer on tap, as well as unique cocktails and wine. The menu is full of upscale bar food made from scratch, from inventive sandwiches to, as the name suggests, brick-oven pizzas. But the real standouts are the apps, called "sociables." Share an order of short rib lollipops with friends, or try the grilled octopus salad with smoked paprika sherry vinaigrette. With a brew, of course.
Desert Rose
305 W. State St.
484-442-8012 / DesertRoseMediaPA.com
For authentic Mediterranean and Middle Eastern street food, look no further than Desert Rose, which celebrated 10 years on State Street last March. Everything here is made fresh daily, from house-baked pita to hand-scooped falafel and chicken shawarma piled high. The hummus — traditional Israeli-style with tahini and olive oil or warm with eggplant and a poached egg — will transport you from State Street to the streets of Israel. Be sure to get there early, as they've been known to sell out before closing!
Tom's Dim Sum & Dim Sum Mania
Tom's Dim Sum: 13 E. State St.
610-566-6688 / TomsDimSum.com/Store2.html
Dim Sum Mania: 17–19 E. State St.
610-557-8757 / DimSumMania.com
Three years after Chinatown staple Tom's Dim Sum opened a location in Media, we were surprised to see Dim Sum Mania appear just two doors down the street. Turns out that Tom Guo, namesake of Tom's Dim Sum, parted ways with his partners to open Dim Sum Mania. Both serve Shanghai-style dim sum — think soup dumplings and scallion pancakes — at similar price points and share a sleek, modern atmosphere. Though many have chosen a side in the dim sum turf war — from Yelp reviewers to the Inquirer's Craig LaBan — we say that both are delicious and worth sampling.
Shere-E-Punjab
210 W. State St.
610-891-0400 / Shere-E-Punjab.com
This is a top go-to spot for authentic cuisine from India and Pakistan. Freshly baked naan, chicken and fish tikka, tandoori entrees and biryani rice dishes round out the menu and bring that distinctly Punjab flavor to State Street. Plenty of vegetarian and gluten-free options, too. Finish your meal with a classic Indian dessert — kheer, gulab jamun or kulfi to name a few. Come for the popular lunch buffet on weekdays, or drop by Thursday through Saturday nights for Punjab Live, open mic nights and live performances exclusive to the Media location (another location in Glen Mills).
The Towne House
117 Veterans Sq.
484-445-2041 / TowneHousePA.com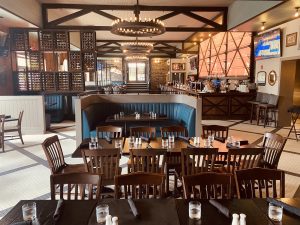 All of Delco rejoiced when the iconic Towne House reopened in 2020. Native Irishman Brian McLaughlin breathed new life into the restaurant, creating five unique dining rooms, each with its own menu and theme. Choose among over 300 whiskeys at The Shebeen, sip seasonal cocktails in Idlewild's open-air courtyard, unwind at the Colony Cocktail Club's velvet lounge, host your next event at the Towne Hall or check out the farm-to-table Towne House — order the Irish breakfast for brunch or overnight Guinness short ribs for dinner. No matter which dining room you choose, this Media landmark continues to satisfy.
Rye BYOB
112 W. State St.
610-263-7832 / RyeBYOB.com
Two years after its highly anticipated opening, Rye BYOB still lives up to the hype for New American food made from scratch. Decorated with local art, Rye's atmosphere is comfortable and inviting for both special occasions and casual nights out. Enjoy a menu emphasizing small plates that encourages diners to mix and match for a customizable experience. Highlights include protein dishes, including chicken Milanese and baked cod with bamboo rice, and pasta made onsite, like the saffron mafalde with shrimp scampi. And with a focus on local and sustainable ingredients, Rye lets you feel good about eating out.
Pinocchio's Restaurant
131 E. Baltimore Ave.
610-566-7767 / PinPizza.com
Serving up pies since 1955, Pinocchio's is a go-to destination. Delco's first pizzeria and Media's oldest restaurant is now run by its third-generation owners who brought something new to the table: the award-winning Beer Garden To Go. Beer connoisseurs come for over 1,000 specialty beers, including 200 from craft or international breweries. Mix and match six-packs or fill up a growler or crowler from their 25 rotating taps. New beers arrive daily, so be sure to come back again and again for the latest brews.
back to top