Best of the Best in Kennett Square
Talula's Table
102 W. State St.
610-444-8255 / TalulasTable.com
One of the best tables in Chester County, if you can wait for it, is Talula's Farm Table. The gourmet food-store-by-day transforms at night and continues to book the Farm Table a year in advance, with only a few openings through December 2023. Treat eight to 12 foodie friends (four to eight at the Nook Table) to seven courses of exquisite cuisine ($125, BYOB). The current menu includes lox and latkes, figs, pate, ricotta gnudi, scallops béarnaise, crispy duck mole, truffle crepes and ginger crisp. For the impatient, shop at Talula's Market to sample baked goods, cheeses, charcuterie, pastas and a changing variety of delicious to-go foods. A landmark under the striped awning for over 15 years in historic Kennett Square.
La Verona
114 E. State St.
610-444-2244 / LaVeronaPA.com
Kennett's lights glitter at sunset. Walk along State Street past diners already under the stars and shoppers scurrying to stow packages before stopping in for drinks. Enter the pretty glass-paned doors to one of the town's favorites: La Verona. The gourmet Italian food with superb ingredients is consistently wonderful: calamari, artichokes, truffle oil, mushrooms, fresh pasta and plump red tomatoes. The bustling bar with sparkling glassware is always great for stellar pizza and antipasti classico to accompany a nice selection of wines, whiskey and cocktails, including spiced pear and limoncello martinis. Order extra tiramisu for the table — it's too good to share.
Sovana Bistro
696 Unionville Rd.
610-444-5600 / SovanaBistro.com
After a fire and a pandemic that kept us away for almost two years, like a phoenix, Sovana Bistro rose back better than ever. Friendly staff — as genuinely happy to see us as we are to see them — greet, seat and serve us, then ensure a perfect meal. In house Sovana brines the dill caperberries and bakes the bread, bagels and biscotti that arrive on the saucer with coffee. Wood-fired pizzas, cheese flights and salmon are always a hit, as are apple tarts and crème brûlée. For extra smiles, visit at holidays when staff members wear Halloween costumes and Christmas-y Santa hats.
Grain Craft Bar & Kitchen
108 W. State St.
484-886-4154 / MeetAtGrain.com
Opened in 2017 as one of several area locations, Grain makes the most of its rooftop level, with a retractable glass wall to extend the pleasure of that special spot. This casual gastropub, with a full bar and 20+ taps (half always local), is an inviting option for brunch, lunch or dinner, with live music, bingo and trivia nights. The menu is filled with appealing pub grub, from cream of mushroom soup and pork belly sliders to short rib grilled cheese and bourbon glazed salmon, with yummy brunch dishes (hot cocoa pancakes!). Stop by during the golden hour — in winter that's during the 3 to 6 p.m. Happy Hour. And feel free to buy the hardworking kitchen staff a drink ($10).
The Creamery of Kennett Square
401 Birch St.
484-732-7040 / KennettCreamery.com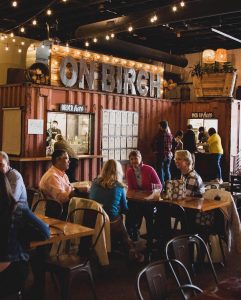 A century ago, the son of The Creamery's one-time owner, Herb Pennock, a pitcher for the New York Yankees, reputedly hung out there with Babe Ruth. Originally built as the Eastern Condensed Milk Company, then a mushroom cannery, The Creamery was reimagined in 2016 and today has become a community gathering space that's also the site of countless events. Friendly, open, inviting, the cavernous wooden structure is a comfortable place to enjoy a beer, sip wine or sample a cocktail with friends. Enjoy live music on weekends and order a bucket of wings or choose from a variety of flatbreads, salads or burgers, and take in the vibe.
Letty's Tavern
201 E. State St.
610-444-5688 / LettysTavern.com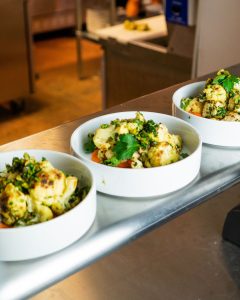 Cross the threshold into an old inn with fresh food and style: Letty's Tavern. The food is fabulous, drinks are divine and the comfortable setting is perfect for a lively evening on the town. The tavern serves up traditional pub grub favorites — fish and chips, burgers, pizza and beer — and upscale fare for foodies —halibut, vegetarian eggplant medallions, chocolate mousse cake with a hint of cherry. Cocktails, anyone? Try a zingy Paper Plane or a sweet, creamy Bee's Kiss. At Halloween, skeletons lounge by the fireplace, perhaps awaiting a visit from Letty, the ghost who lends her name to the establishment.
back to top