Best of the Best in Exton
Ron's Original Bar & Grille
74 E. Uwchlan Ave.
610-594-9900 / RonsOriginal.com
Fresh ingredients. Made from scratch. Local. No preservatives, high-fructose, MSG, GMO, added hormones or antibiotics. No bad ingredients in this food! But it's not a typical "health-food" restaurant and sure doesn't taste like one. Here the flavors are very Italian, coming from over 30 years of cooking by Ron Inverso as he serves up pizzas (and specialty ovals), stromboli, piadini, pastas, soups, steaks, chicken, seafood and more. It's a very large, very diverse menu., along with a kids' menu and an extremely friendly bar with 20 craft beers on tap, an extensive bottle list, many wines and a host of signature cocktails. Catch live music on weekends. And remember Ron's motto: "If I wouldn't eat it, I won't serve it."
Appetites on Main
286 Main St.
610-594-2030 / AppetitesOnMain.com
Sports fans' heaven! Not a man-cave, given the floor-to-ceiling windows looking out on Exton's Main Street shopping thoroughfare and the female patrons. There are 18 TVs, lots of beer — 14 on tap, 60+ in bottles — immense cocktails and huge portions. Especially recommended is the Reuben sandwich, but it's hard to pass up the Pastraminator, the Dave W, the Buffalo chicken grinder. Wings are a specialty, with a dozen sauces and rubs, plus fries topped with bacon and cheese, short rib or served NOLA style. So much finger food. Weather permitting, kids, dogs and others enjoy the 80-seat open-air patio. Worth noting: Brad Weinstein is celebrating 20 years there. We wish him 20+ more.
Iron Hill Brewery Taphouse
260 Eagleview Blvd.
484-874-2897 / IronHillBrewery.com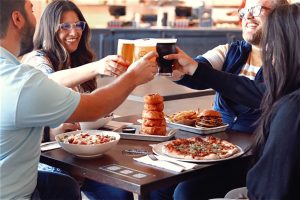 The Taphouse is a new concept for Iron Hill, which has about 20 other locations, mostly in the mid-Atlantic, that have been attracting fans for over 25 years. This taphouse/production brewery/restaurant in an industrial chic 4,500-square-foot space caters to those looking for award-winning beer and hospitality. The food menu here is abbreviated compared to its sister sites, instead emphasizing shareables, salads, burgers and flatbreads. But the beer menu is big, with 26 brews on tap — Engine 47, Brambleberry, Pig Iron Porter — and many more in bottles. A portion of proceeds from Engine 47 Pilsner is donated to Lionville Fire Company. Honor the men in red. They'll be stopping by for a cold one. Join them!
Mama Wong
268 Eagleview Blvd.
484-713-8888 / BestMamaWong.com
If there's one thing Chester County needed a few years ago, it was an authentic, no-frills Chinese restaurant. No longer. Mama Wong filled that niche when local executive Song Li created a place for his many Chinese employees to savor the taste of home — just "a bowl of noodles, a few dumplings, a cup of soup." Head Chef Hongbin Luo (of Han Dynasty, one of CNN's top 50 Chinese restaurants) has brought those signature tastes and flavors to all of us. Known for hot and spicy Szechuan dishes, Mama Wong also features Cantonese and Shanghai styles. Sage advice though: pick carefully from the diverse menu. You'll feel the heat!
Taco Maya Mexican Grill
250 Eagleview Blvd.
610-363-3081 / Taco-Maya.com
Tacos, burritos, quesadillas. The Mayan pork is other worldly. The chorizo, smoky and sweet, is muy bueno. Barbacoa … well, you get the picture. Also, chile rellenos, nachos, taco salad, taquitos and tamales. Great guac. Delectable queso. Savory salsa. Mini burritos and quesadillas for the kids. Rated #1 by TripAdvisor, the popular Taco Maya gets rave reviews for authenticity, freshness and the friendliness of it its staff. One customer said he'd eat there again "even if I wasn't hungry." Owned by Erick del Angel, it's been in business for 10 years, and is good for at least 10 more.
back to top