Best of the Best in Downingtown
Amani's BYOB
105 E. Lancaster Ave.
484-237-8179 / AmanisBYOB.com
For over 10 years, Chef Jonathan Amann (Johnson & Wales grad) has helmed the ambitious kitchen, while wife Jeanine, a Downingtown native, has handled the front of the house. Their creative appetizers draw heavily from the sea — calamari, escargot, oysters, octopus. Entrees will appeal to a landlocked mariner, with crab cakes, lobster crepes, shrimp and scallop ramen and Parmesan-crusted monkfish. Landlubbers get love with short ribs, pork porterhouse and lamb ragout. The desserts — pecan pie, espresso crème brûlée — and drinks (more than BYOB) — Sazerac, key lime martini, chocolate cherry Manhattan — further demonstrate the surprisingly sophisticated cooking here. Note: Upstairs is new-ish Amani's North with craft cocktails and small plates.
Station Taproom
207 W. Lancaster Ave.
484-593-0560 / StationTaproom.com
It takes over an hour to travel by rail from Suburban Station to Downingtown. When you get off the train, you'll likely be mighty thirsty. Thankfully, Station Taproom awaits, right across the street, with 16 ice cold beers on tap, ranging from Root Down Berliner Weisse at 4.6% ABV to Mainstay Eurodeath, an imperial stoutat 9%. And, while you're sipping a cold one, sample from the Taproom's soul-satisfying food menu — try Buffalo wings and wonton nachos. Step up to brisket, birria panini, red curry or dan dan noodles. In other words, don't be surprised if your "beer after work" becomes a full meal. The Bottle Room next door offers six-packs of your favorite.
Victory Brewing
420 Acorn Ln.
610-873-0881 / VictoryBeer.com/Visit-Taprooms
Now part of Artisanal Brewing Ventures, Victory Brewing was founded in Downingtown by Ron Barchet and Bill Covaleski in 1996 and is among the top ten craft brewers in the U.S., as well as a destination brewery for beer fans. Drink the classics — Hop Devil, Prima Pils, Golden Monkey, Storm King — or others on tap at the place where they're made. In its onsite restaurant, tuck into a variety of shareable foods — fried pickles, popcorn shrimp — plus wings with several sauces, about ten different sandwiches, four pizzas in two sizes, and four entrees, including fish-n-chips and pork tacos. Every day except Saturday, Victory offers discount specials to complete this beer mecca.
Pomod'oro Pizza & Italian Restaurant
200 Chestnut St.
610-873-0405 / PomodoroDowningtown.com
Inside, the warmth and aromas of a traditional old-school Italian kitchen prevail. Inspired by memories of his youth, Tony Cataldo learned his passion for cooking in Sicily, watching his parents and siblings prepare pastas, risottos, stromboli and pizzas. Now he uses fine local cheeses — mozzarella, ricotta, feta, pecorino Romano — plus the best vegetables and herbs from the garden — plum tomatoes, roasted red peppers, artichoke hearts, sweet basil and Kalamata olives — combined with a range of proteins — chicken, veal, beef, clams, mussels, calamari and other seafood. More than 40 years later, Tony and wife Claudia have perfected the cuisine, served with love and wine, and oversee a bakery, too. It's where to go for satisfying Italian goodness.
La Sponda
20 E. Lancaster Ave.
484-593-4488 / LaSponda.com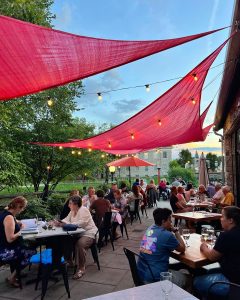 It's a beautiful, albeit unlucky, spot on the banks of the East Branch of Brandywine River. Hurricane Ida closed the restaurant temporarily in 2021. Before that, several restaurants — not to mention a historic paper mill — opened and closed there. But the delicious food, friendly service and inviting ambience of La Sponda all portend a bright future. Start your meal by selecting from a long list of largely Italian wines. Then an appetizer, maybe polenta, grilled octopus, beef carpaccio or about ten others. Follow with veal saltimbocca, eggplant rollatini, grilled branzino or over 15 pastas. Owner Julian Mene has created a wonderful dining experience inside the historic space and on the patio with the best views in Downingtown.
Estrella Tacos y Mas
202 E. Lancaster Ave.
484-237-2423 / EstrellaTacoBar.com
The taco — it's come a long way from ground beef between a stale cornmeal folder. Estrella Tacos y Mas offers what may be some of the best tacos around. Megan and C.W. Bruton quit positions as corporate restaurateurs, called on Megan's roots in Austin and C.W.'s roots in Downingtown, moved into an old firehouse and started what's become a destination for Tex-Mex in Chester County. The tortillas are homemade, warm and filled with smoked brisket or pork, Southern fried chicken, beer-battered fish, blackened shrimp, braised black beans, roasted cauliflower or fried avocado. Quench your thirst with a massive margarita or seasonal drink (e.g., watermelon, blackberry). And relax.
back to top