August Publisher's Letter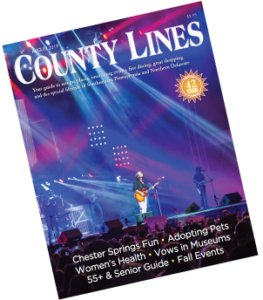 And so, it's August. At County Lines, we're focused on the good life: women's health, retirement options, dream homes, the environment, art, theater and pets. This month we also tour Chester Springs, preview the Citadel County Spirit concert and suggest where you can exchange vows in local museums.
We've asked local doctors to take "A Closer Look at Women's Health," related to four topics: "Breastfeeding Is Still Best," "Anemia in Teens
," "Lung Cancer in Women" and "Hair Loss in Women." Read their advice. And be healthy!
Not that I'm ready to quit, but where should I retire when I do? A lot depends on finances. Read "Getting Older Made Simple: 
From Selling Your House to Joining a Lifecare Community." Our staff has also compiled a "Guide To 55+ and Retirement Communities and Services" with more details and options.
In our Home of the Month feature, Laurel Anderson tours Four Chimneys Farm, near Unionville, on 50 acres, with a 5000-square-foot house, a barn, dressage ring and indoor riding arena. The home's soaring ceilings, massive beams and 18-century stone create a marriage of California style with Chester County roots.
Parks, farms and forests account for millions in savings, earnings and avoided costs for Chester County. Natural Lands' writer Kirsten Werner explains how "Saving Land Saves Money." She describes the benefits the County reaps by preserving about 140,000 acres of land.
Join Cindy Walker for "A Ramble Around Chester Springs" as she visits historic districts and 18th-century mills, along with hip restaurants, a brewpub and the area's largest multi-day country music festival. There's much more there than historic sights, horse shows and rolling hills. (Make sure to get your tickets to the "Citadel Country Spirit USA." Last year's event was spectacular!)
Art lovers will enjoy Mercedes Thomas's visit to the Brandywine River Museum of Art's new exhibit, "N.C. Wyeth: New Perspectives." And theater lovers should mark their calendars for People's Light's final performance of the season—the classic, Our Town. Rosemary Devine previews the 1938 Pulitzer Prize winner and reminds us that there is beauty in the ordinary.
In "Adopt, Don't Shop" Mercedes Thomas explores the many area animal rescues hoping to match pets with forever homes. August is also when we have our Cutest Pet contest. Check out the finalists and vote on Facebook.
Finally, Marci Tomassone suggests you "Mark Your Calendar" with a preview of upcoming fall events. With so much to do, you need to plan early. As always, we have the Best Local Events coverage, including top picks for August and plenty of Family Fun ideas.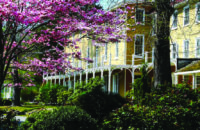 A Ramble Around Chester Springs
I didn't know George Washington had his headquarters in Chester Springs or the Continental Congress built a hospital there for Revolutionary soldiers. Nor did I know the still-working Anselma Mill was 250 years old and surrounded with walking trails. Ludwig's Corner Horse Show and the Citadel Country Spirit USA music festival are reason enough to visit. After reading, though, I think I'll spend time at Ludwig's Grille, Eagle Tavern, Liberty Union, Epicurean Garage or one of the many Chester Springs places described in this article.
Saving Lands Saves Money
They say money doesn't grow on trees. It doesn't flow in the streams either. Nevertheless, the trees, streams, fresh air and open space—nearly 30% of the land in Chester County—has created, and continues to create, an immense amount of wealth. Increases in home values, farm revenue, environmental benefits, recreation and tourism dollars, lower incidence of disease and other ailments …. In sum, Chester County is a good investment.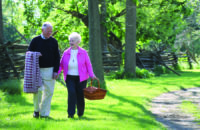 Getting Older Made Simple
Well, it's as simple as I could make it. Few of us can comfortably afford to continue to live in the house where we raised our families. And few of us want to continue mowing lawns, raking leaves, shoveling snow and doing many other chores of home ownership. Health care costs are looming, too. We can sell, but still need to live somewhere. The question is, where shall we go? 55+ Communities, Independent Living, Assisted Living, LifeCare Communities … I offer some suggestions.
We hope you'll to subscribe to County Lines. You can do it online or call 610-918-9300. Or get an electronic copy at Issuu.com. For single print issues, try Main Point Books, Wellington Square Bookshop, Wegmans, Paoli News, Bryn Mawr News, Berwyn News or other newsstands. Visiting an advertiser is a great—and free—way to get one: click Get A Copy at our website, www.countylinesmagazine.com. You can also get our free on-line events newsletters by signing up at the website.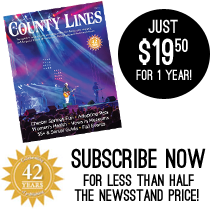 Ed Malet, Publisher
County Lines Magazine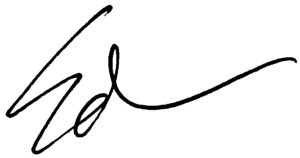 back to top