Add Some Sparkle to Your Life
This summer enjoy a sparkling rosé.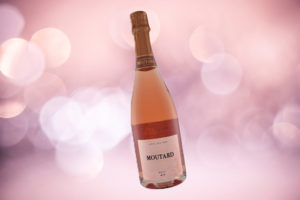 There's no denying the arrival of warmer weather sparks an evolution in our palate's cravings along with the change of seasons. Wine fans may want a break from the heavy, hearty reds of cooler days and prefer a lighter, brighter choice.
Rosé—with its wide taste range from light and floral to rich and fruity—has long been a popular option for summer. But what would make these wines even more special? A little bit of pop with a sparkling rosé!
So let's look ahead and think about putting a little extra sparkle into this year's summer plans! Here's hoping we have some things to celebrate by then.
Why Sparkling Rosé?
What makes a sparkling rosé appealing? To start, rosé pairs well with a range of food choices—from light appetizers to grilled chicken to spicy entrees and even some desserts. When you combine this versatile wine with a bit of sparkle, you increase the number of pairing options. In fact, the bubbles act as a fast-acting palate cleanser, making sparkling wines perfect for parties with a lot of food or a meal with extreme varieties of food.
And you don't need a big party or special occasion to enjoy a sparkling rosé. Sip this wine while relaxing at home, on the porch, with a good book in your hands. This is a true all-occasions type of wine. And it makes every occasion special.
A Little Refresher
As you may know, there are many methods for making rosé wine as well as for making sparkling wine. When you put the two together, you have even more possibilities for style, color and flavor. Plus many countries, regions and producers have their own unique approach to making distinctive sparkling rosé.
Before jumping in, here's a little refresher on bubbles. There are two main methods for producing sparkling wines (in addition to more obscure methods). First is the Traditional Method or Méthode Champenoise, characterized by a stronger presence of bubbles formed inside the bottle. These wines also usually have a bit of age, depending on the region where they're produced.
The second method, the Tank Method or Charmat Method, has less pressure in the bubbles from being made in a tank and tends to produce more of a fresh characteristic.
As for making rosé wines, most obtain their color from short periods of contact with the grape skin. Another technique, the Saignée Method, adds (or bleeds) a small amount of red wine into white wine to produce the distinctive rosé color.
Some Recommendations
Here are six options in a range of styles to help start your journey into this wine category. Remember, there are many more out there that deserve a sip, so be sure to continue your tastings.
Let's start in Provence, a region known for its outstanding rosé wines. Rivarose Brut Rosé Méditerranée at $16.99 is an excellent choice if you're looking for a sparkler from that area. Rivarose is one of the oldest and largest producers of sparkling wine in Provence, making wonderfully light and herbaceous wines. Made from 100% syrah grapes in the tank method, this rosé has lovely notes of raspberry and white pepper and is an elegant sipper.
Next, from Catalonia, Spain—a region known for excellent value for sparkling wines—try a pale pink rosé cava made with in the traditional method. Roger Goulart's Coral Rosé Cava Brut at $17.99, made from 70% garnacha and 30% pinot noir, is very fresh and intense with notes of red strawberry. The blending of these two grapes creates a bold fruit base that's paired with a citric acidity that keeps your mouth watering.
While California is producing many excellent sparkling rosé wines, New Mexico should also be on your radar—specifically family-owned and run Gruet Winery. Gruet Brut Rosé NV is made from 100% pinot noir, using the traditional and Saignée methods, priced at $17.99. This garnet colored wine is bursting with juicy cherry, raspberry and wild berry fruit, finishing up with a delicate zesty acidity.
Interested in sampling a bolder style of rosé? Casina Bric 460 Nebbiolo Brut Rosé, from Piedmont, Italy, is perfect for fans of the barolo wines of that region. This antique pink colored sparkler, at $24.99, is made in the tank method and boasts an intense cherry palate with an underlying earthy quality that's unique in this category.
Of course, any sparkling wine list must include the Champagne region of France. Try Moutard Champagne Rosé de Cuvaison Brut at $33.99, done is the traditional and Saignée methods from 100% pinot noir. The color on this wine is incredibly dark, hinting strongly that it's very fruit forward, full bodied and well balanced. For a seriously intense rosé, this is it.
And finally, here's a sweet sparkling rosé for those who like a bit of sugar in their wine. Gouguenheim Malbec Bubbles Sparkling Rosé from the Uco Valley of Argentina is a perfect choice for a wine that tastes like a candied strawberry. Tasting notes: delicate with red fruit aromas, very fresh in the mouth, with a lovely persistence of small and brilliant bubbles on the finish. A delicious dessert wine for a beautiful summer day, and at $10.99, you'll want to stock up.
No matter your taste preferences, mood or occasion, there's a sparkling rosé wine out there for you.
Make this summer pop by adding rosy bubbles!
Cheers!
Jessica Roberts has worked with Fine Wine & Good Spirits for six years, taking the position of Wine Specialist a year and a half ago. What began as a hobby soon blossomed into a satisfying career. Jessica works at the Premium Collection store in Phoenixville. Stop by for one of her tastings or just to ask a question. Learn more at FWGS.com.
back to top