11 Perfect Pumpkin Picking Spots
Great pumpkins aren't just for Charlie Brown.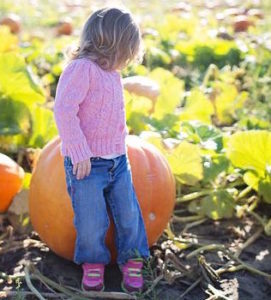 Blazing foliage, frosty hayrides, steaming cider, crackling bonfires, and of course, plump October pumpkins. What better way to fall into the season than the great family tradition of pumpkin-picking?
Here are some of our favorite orchards and farms in County Lines country for your picking pleasure.
ATGLEN
Gametime. Celebrate everything pumpkins have to offer at Glen Run Valley View Farm in Atglen. Kids can head for the playground or play pumpkin-themed games like pumpkin putt-putt and pumpkin skeeball. Stick around until November for the annual Pumpkin Olympics, Nov. 10, and chuck, roll and smash pumpkins to your heart's delight. 280 Lenover Rd., Atglen. 610-593-5656.
https://glenrunvalleyview.farm/
CHESTER SPRINGS
Best Pumpkins in the Galaxy. You have to go to the Milky Way for this one—Milky Way Farm, Chester Springs, that is! Jump on a hayride to the pumpkin patch, or take the road less traveled on the walking path. Visit nearby Chester Springs Creamery, starring ice cream made with farm-fresh milk. With over 48 moo-licious flavors, each named after their cows—Abby's Apple Cinnamon, Miss Marple's Maple Walnut—every sweet tooth will be satisfied. 521 E. Uwchlan Ave., Chester Springs. 610-827-1484;
http://www.milkywayfarm.com/
KENNETT SQUARE
Cat's Meow. Pick pumpkins and see cats at Bernard's Orchard in Kennett Square. Kitties roam the store as you shop for goodies—buckwheat and flower honey, baked goods, dried apples and apple butter. Fans swear by their natural, unpasteurized apple cider and applesauce. Take a snack break and pet Boots or Jinx—black and white kitties who greet new visitors. 1079 Wawaset Rd., Kennett Square. 610-347-2151.
https://m.facebook.com/Barnards-Orchard-277402103895/?ref=page_internal&mt_nav=0
MALVERN
A Spoonful of Sugar. Sugartown Strawberries in Malvern is a seriously sweet spot. Snap the perfect Instagram as you pumpkin-pick on 200+ acres of gorgeous farmland. Birdwatchers, bring your binoculars—Sugartown is a certified bird haven. Stock up at the Country Store with honey harvested from Sugartown hives, local smoked meats and cheeses and, of course, Sugartown strawberry preserves. 650 Sugartown Rd., Malvern. 610-647-0711.
http://sugartownstrawberries.com/
MEDIA
Healthy Heritage. Take a short jaunt down the road from Linvilla to Indian Orchards Farm. This family-run farm picks produce from their 100-plus-year-old orchard. Learn about growing organic and sustainable food and pick pumpkins, persimmons, raspberries and more. Short on time? Grab-and-go at the farmstand for fresh apples, mums and locally sourced delights like maple syrup and pumpkin butter. Everything you need for a tasty autumn breakfast! 29 Copes Ln., Media. 610-564-0794.
http://indianorchardsfarm.com/
Pumpkinland Dreams. Take a family trip to Pumpkinland at Linvilla Orchards in Media. Linvilla's annual Pumpkinland celebration boasts over 100 tons of pumpkins in all colors, shapes and sizes. Make sure to bring your wallet for the Farm Market, Garden Center and brand-new Beer Garden hosted by Ship Bottom Brewery. Get competitive with apple slingshot and pumpkin ring toss games. And take a hayride to the Friendly Witch's house—she might give you a special treat. 137 W. Knowlton Rd., Media. 610-876-7116.
https://www.linvilla.com/
MORGANTOWN
Pumpkins for All. Fall Family Fun Days are finally here at Weaver's Orchard in Morgantown. Parents will enjoy live music and entertainment, while kids will love inflatable obstacle course and pumpkin painting. Weaver's provides pick-your-own options for every palate with pumpkins, raspberries, mini kiwis and 30 apple varieties. Come early for Kim's Café, serving local Twin Valley Coffee and New Holland Coffee. 40 Fruit Ln., Morgantown. 610-856-7300.
https://www.weaversorchard.com/
PHOENIXVILLE
Family Values. Family-owned since the days of William Penn, Yeager's Farm in Phoenixville is an expert on autumn tradition. Snap Instagram pics inside the decorated greenhouse—colorful mums are a fan favorite. Yeager's offers bounties of honeycrisp, gala, Macintosh and smokehouse apples plus tasty cider. 1015 Pike Springs Rd., Phoenixville. 610-935-8244.
http://yeagersfarm.com/index.html
SPRING CITY
Autumn Evenings. Pluck your pumpkins right off the vine at Olszanowski Farm in Spring City. A moonlight corn maze will appeal to your inner night owl. Then warm yourself with hot apple cider by the bonfire on Fridays and Saturdays. Bring your own sticks and marshmallows for a s'mores extravaganza. Just stopping by? Grab a bite to eat before scaring yourself silly at nearby Pennhurst Asylum. 315 Pughtown Rd., Spring City. 610-506-7851.
https://www.facebook.com/pg/OlsFarm/about/?ref=page_internal
WEST CHESTER
Living the Highland Life. Come to pick, stay to eat and drink at Highland Orchards in West Chester. Fall Festival weekends feature pumpkin picking, food trucks, face painters and more through Oct. 28. Don't stop at just pumpkins—Highland's apple season is in full swing with over 20 varieties to pick or purchase. Homemade apple cider and some of the best apple cider donuts at the bakery are perfect for Sunday football get-togethers. 1000 Marshallton-Thorndale Rd., West Chester. 610-269-3494.
http://www.highlandorchards.net/
WILMINGTON
Maze Runner. With a pumpkin patch bigger than 10 football fields, Ramsey's Farm in Wilmington will make sure you have plenty of choices. After you pumpkin-pick, get lost in three different mazes with options for every size tyke. Wind through an eight-acre corn maze and learn about agriculture on every continent. Here, you travel the world—on foot, of course. 330 Ramsey Rd., Wilmington, DE. 302-477-149.
http://www.ramseysfarm.com/index.asp
back to top