April Publisher's Letter 2020

Amidst all the news of COVID-19, we are trying to focus on the positive and looking forward. Although portions of our April issue are quarantined at the printer, subscribers should be receiving their copies in the mail. We plan to release copies to our affiliates and advertisers when conditions permit.
Meanwhile, we invite you to read and enjoy our April issue online and to share it widely with all those who would appreciate reading it. Please pass along this link. https://issuu.com/countylinesmagazine/docs/apr20-issuu.
Here's a preview of what's in the April issue.
Set atop a hill, on 10 acres that were originally part of a family compound, with commanding views of the Willistown countryside, "An Industrial Farmhouse in Malvern" is the subject of Laurel Anderson's Home of the Month feature. It's a classic stone colonial at its center yet, with wings, balconies, courtyards, tower, crowning copper roof and much more. It was named "Home of the Year" by Custom Home Magazine in 1992. Take a virtual tour.
As natural habitats disappear, it's important for gardeners to create wildlife-friendly environments wherever possible. Whether an urban container garden or rambling country estate, your garden can invite wildlife to make a temporary stop, a seasonal nest, or permanent home there. In "Gardening for Wildlife," Chanticleer Gardens' Anna Kruschwitz offers ideas for how a garden can provide welcome habitat for birds, insects and pollinators.
Assistant Editor Mercedes Thomas spent the warmer months of her youth in Lancaster County driving down country roads and passing horse-drawn buggys on her way to farmers markets and kayaking down the Susquehanna for a taste of nature. Now she shares two ideas for visits to her old stomping grounds—classic Lancaster County and its historic river towns in "Spring Getaways in Lancaster County."
Second marriages are, well, different. They're typically smaller, less lavish and more relaxed than the first time around. Gift-giving is downplayed. There may be kids involved. And the event may have a more personal feel. Matt Freeman takes a closer look in "Things are Different … the Second (or Third) Time Around."
If you've been chosen best man or maid/matron of honor, you've got a big responsibility: to plan an epic bachelor/bachelorette party. I suggest things to consider—having a joint party, choosing activities, combining things to do, considering local and, of course, the preferences of the bride or groom. There's one rule that can't be broken: "Make It Memorable."
Associate Editor Marci Tomassone helps with the early phase of planning for the big day with "Guide to Wedding Venues & Services." So many gorgeous choices in our area.
Maria Marabito and Lindsey Miller preview the launch of a new three-day event, "BV Brewscene Craft Beer Weekend." (Look for new dates for this inaugural event.) It's a perfect opportunity pair beers from our area's best breweries with food from local restaurants. Behind-the-scenes tours, VIP tastings and live entertainment are planned. Brush up on your craft beer lingo and find your favorite version of lager, ale and stout.
Finally, Brandywine Table's Alyssa Thayer explores the seasonality and tastes of goat cheese in "New Kids on the Cheese Block." With the help of Catharine and Al Renzi of Yellow Springs Farm, she shares recipes for Goat Cheese and Asparagus Quiche, Goat Cheese Balls and more.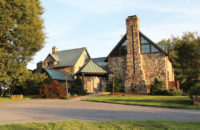 An Industrial Farmhouse in Malvern
Architect Peter Zimmerman says he designed this unique home, less than 30 years old, as a kind of turn-of-the-century millhouse complete with modern touches. The interior is full of angles and surprises, mixing steel beams, stone, brick and reclaimed wood. Outdoors, a huge pool and two-story poolhouse. On a private, dead-end lane, on a hilltop with views of the Malvern countryside, the five-bedroom home awaits the next owner.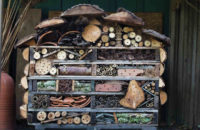 Gardening for Wildlife
Your garden isn't just about plants. It should also be about wildlife—the birds, animals, fish, insects, bees and butterflies that will stop and live there. Chanticleer Gardens shares several ideas on how to attract them, including adding native plants, hugelkulter beds, snags and bee hotels to your landscape.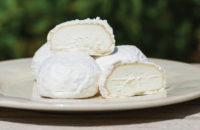 New Kids on the Cheese Block
Did you know that tastes of cheeses—good cheeses—are seasonal? Goat cheeses made in the spring taste fresh, herbal and fruity. Summer goat cheeses are richer in taste and fat content. So say Catherine and Al Renzi of Yellow Springs Farm, who share their experience making artisan goat cheese at their farm—from mild bries to cave-aged blues, using European techniques and avoiding the use of stabilizers or artificial ingredients.
We hope you'll subscribe to County Lines. You can do it online. Or you can get an electronic copy at Issuu.com.
And once deliveries of magazine are permitted, find print issues at Wegmans, Giant, Bryn Mawr News, Berwyn News, Shady Maple, Yoder's, Stouffer's, Oregon Dairy or another newsstand. Also, Wellington Square Bookshop, Reads Books and Main Point Bookstore will have a limited supply for free.
Visiting an advertiser or affiliate is a great—and free—way to get County Lines: click Get A Copy.
You can also get our free on-line newsletters by signing up here on our website.
Find more feel-good local content when you follow us on Facebook, Instagram and Twitter.
During these difficult times, please support local businesses.
Stay safe and stay well.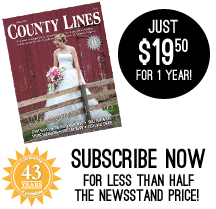 Ed Malet, Publisher
County Lines Magazine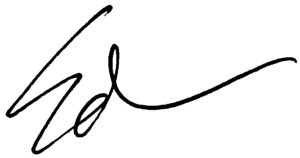 back to top
Notice: Undefined offset: 0 in /www/wp-content/themes/countylines-v2/single-article.php on line 203 Notice: Trying to get property 'term_id' of non-object in /www/wp-content/themes/countylines-v2/single-article.php on line 203
Our Favorite Resources