Ramen to Cookbook
---
Ramen
Rai Rai Ramen & Hawaiian BBQ
124 E. Market St., West Chester
610-738-8808 / on Facebook
Who doesn't love a good noodle—thin, thick, flat, loopy, straight or otherwise? Foodies go once to Rai Rai Ramen and are hooked. Why? Attentive service—they're greeted, seated and served quickly. Atmosphere—even Rai Rai's clean, sleek look is appetizing. And great food. Options for dishes with authentic Japanese ramen are vast: with seafood, vegetables, oxtail, ribeye steak, chicken, pork, miso or curry-flavored, in superb broth, with gluten-free rice noodles and in all sorts of combinations. The chefs accommodate special requests whenever possible. Open in West Chester since 2017, it's already a hot spot for lunch and a quick dinner.
Southern Classics
Dixie Picnic
215 Lancaster Ave., Malvern
484-320-8024 / DixiePicnic.com
Yes, ma'am, at Dixie Picnic the lunchtime pimento cheese and house-smoked Virginia ham sandwiches, potato salad and breakfast-time sausage gravy biscuits are as authentic as the portraits of the kin—Momma, Aunt Myrtle and others who handed down the recipes—on the wall. From the deviled eggs to the po' boys and big selection of lip-smacking "upcakes"—upside down cupcakes iced on the top and sides to maximize the icing—vittles are served with Southern hospitality. Dig in at a sidewalk table, casual wicker settee indoors or bring your own picnic basket to fill and take home. Y'all must go.
Classic Steakhouse
Pietro's Prime Steakhouse & Seafood
125 W. Market St., West Chester
484-760-6100 / PietrosPrime.com
A steakhouse ought to be simple: elegant but down-to-earth. And so it is with Pietro's, offering classics like strip steak, filet, ribeye, all Pureland Premium Black Angus Beef, richly marbled, broiled to perfection. Zagat-rated, the onion rings are spectacular; the martinis, just right; the service, excellent; the live music and ambiance, comfortable and soothing. Since 1927, Pietro Guinta, who owned a grocery downtown at Darlington and Biddle, conveyed respect for the customer. So did his children and grandchildren, who absorbed the store and ran it at several different locations through 2006. In 2007, great-granddaughter Marisa and Sean Powell, the Executive Chef of Pietro's, founded Pietro's Prime, and continue that tradition.
Sushi Feast
Lily Asian Cuisine
104 W. State St., Kennett Square
610-925-3700 / LilySushiAndGrill.com
On Tuesdays, it's All-You-Can-Eat sushi and sushi lovers rejoice! Fresh, beautifully and artistically served. Many customers swear Lily's serves the best around, with about 20 varieties of sushi and sashimi—salmon roe, sea urchin, sea bream, eel, octopus, tomago, bluefin and white tuna, among them. Plus you'll find 50 or so specialty rolls, everything from the simple California Roll to the exotic Angry Dragon Roll, with spicy tuna and king crab, shrimp tempura, avocado and sweet citrus sauce. Check what's on the All-You-Can-Eat menu on Tuesday, but, in any case, you won't be disappointed.
Innovative Sushi
Bluefin Eagleview
555 Wellington Sq., Exton
610-458-3234 / BluefinEagleview.com
Discover Bluefin Eagleview, where each creative specialty sushi roll—a delightful adventure for the eye as well as the palate—boasts a different flavor, texture and personality. Tiny crispy tempura chips give a satisfying crunch to the artful Wellington roll, named after the Square where the restaurant sits. Japanese-style pumpkin sauce lights up a unique shrimp tempura and cucumber seasonal maki. Don't miss the spectacular oyster mushroom roll featured in County Lines, March 2018. All in a contemporary setting where granite tables gleam and attentive staff from award-winning sushi chefs to servers ensure your meal is superb.
Special Sweet Treat
General Warren
9 Old Lancaster Rd., Malvern
610-296-637 / GeneralWarren.com
If your bliss involves delectable desserts and chocolate treats, follow it to the General Warren, where the desserts are as fine as the dining. As champion for two years running at Sweet Charity—a dessert-focused annual fundraiser—Executive Pastry Chef Andy Sciarretta, C.E.P.C., has a treat for you. Sink your teeth into sumptuous chocolate ganache-covered cheesecake, French apple galette or hazelnut mousse in a chocolate shell. Order online from General Warren's General Store and pick up award-winning praline pecan cheesecakes or mini pastries: eclairs, key lime tarts, Black Forest verrines and more. Magnificent to the eyes as well as the taste buds, they're a triumph.
Theme Dinners
At The Table BYOB
11 Louella Ct., Wayne
610-964-9700 / AtTheTableByob.com
People who love to eat are always the best people," says a Julia Child quote above the open kitchen in At the Table. And people love to eat recipes of the best chefs—inspiration for 4-course menus paying homage to two culinary legends who influenced Chef/owners Alex Hardy and Tara Buzan. Julia Child, who inspired chefs and home cooks alike, was honored with a menu including vichyssoise, seared duck breast, boeuf a la bourguignonne, tarte tatin. The menu for Thomas Keller, of Napa's French Laundry and New York's Per Se, included Acadian oysters and pearls, bowfin caviar, foie gras, strip steak—bone marrow, bordelaise sauce, plus honey cream tartlet. Visit to see what's at the table now.
Tea Time
The Lincoln Room
28 W. Market St., West Chester
610-696-2102 / on Facebook
Make lunch a tea party at the Lincoln Tea Room, where tea is queen. Caffeinated, decaf and herbal—try peach or cinnamon apple cider-infused—the teas served elegantly in pretty teapots and teacups are excellent, as is the food. Delightful tea sandwiches include tomato basil, chicken salad, the classic cucumber, boursin with fresh green apple on cinnamon bread and more. What's tea without a scone? Take a traditional scone with lemon curd for lunch or cinnamon toffee slathered in Devonshire cream for dessert. All these pleasures are available in a comfortable tea shop that's never stuffy—whether or not you choose to use the Queen's English or elevate your pinkie. Tea time or anytime.
Vegan
Love Again Local
18 S. Church St., West Chester
484-266-7381 / LoveAgainLocal.com
For those who love vegan, there's something new to love in Chester County—Love Again Local in West Chester. Slide into green chairs in the friendly, open space and dig into dishes of the 100% plant-based menu. Fans rave about Cuban and Vinny sandwiches. Enjoy holiday wheat and soy "turkey" sandwiches with mugs of cocoa. For those shying away from meat and cheese substitutes to simply celebrate vegetables, dive into salads. For kids, there's a PB & Jam Jam Jr. (gluten-free version available, too) with a cookie and juice box. For more fun, sign up for their plant-based cooking and nutrition classes.
Local Cookbook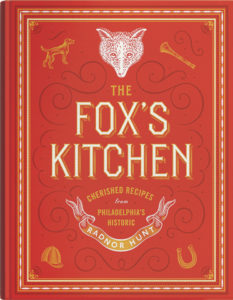 The Fox's Kitchen from The Hounds Foundation
1701 Horseshoe Trail, Chester Springs
610-601-9008 / TheHoundsFoundation.org
Subtitled "Cherished Recipes from Philadelphia's Historic Radnor Hunt," this addition to kitchen shelves or coffee tables has targeted its audience. Dedicated to Betty Moran and sponsored by The Hounds Foundation, the cookbook is stuffed with recipes from Radnor Hunt members and friends along with gorgeous photos, some history, foxhunting etiquette and more. The 15 menus, with a hundred recipes, include Tailgate Party, Fox & Hound Fireside Meal, Bitches' Brunch, Huntsman's Gathering and Tallyho, Let's Eat. The menus offer an array of dishes, but the cocktails and appetizers are legendary: Polo Punch, Devon Julep, Earl Grey Gin & Tonic, plus artichoke and caper dip, easy fig spread, Texas caviar dip, blue cheese pecans, chutney cheese pate. Add Scotch eggs and venison chili, plus caramel and sea salt brownies, and Talleyho, indeed!