Italian Feast to Pizza
---
Italian Feast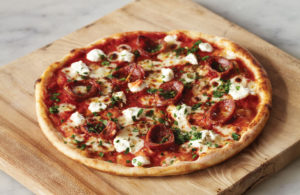 Toninos Pizza & Pasta Co.
235 Lancaster Ave., Malvern
610-240-9566 / ToninosPizzaAndPasta.com
From the Scotto family to yours come dishes of fresh house-made pasta, 30-inch Napolitano thin crust pizzas and mouth-watering mozzarella balls at Tonino's. With a friendly welcome to newcomers and regulars alike, the restaurant continues a legacy of Nonno (Grandfather) Tony's hard work and passion for food in a newly expanded dining room. Enjoy Tonino's mesclun salad mix and lasagna in a booth under a grand colorful painting. Or treat the whole gang to gourmet pizza and limoncello mousse. Hold a private event or a feast in the new back room with an inviting mural of pretty flowers under Italian skies, Roman arches and market umbrellas.
Taste of Sicily
Fiorello's Café
730 E. Gay St., West Chester
610-430-8941 / On Facebook
Welcome to a little bit of Sicily in West Chester, where Fiorello family members smile at customers as they enter, food and laughter are plentiful, and sometimes the whole restaurant breaks out in song. Beyond the warm Mediterranean atmosphere, the brick oven glows under the eye of owner and Executive Chef Danny Fiorello. There's tomato and garlic focaccia on the table and wine bottles stacked along the wall. Come hungry—antipasto, heavenly artichokes, pasta, cannoli and some of the best tiramisu in town abound. Before leaving, get the cappuccino with a golden nugget of biscotti on the saucer. Bellissimo!
Italian Family Dinner
Limoncello Ristorante
499 E. Uwchlan Ave., Chester Springs
9 N. Walnut St., West Chester
610-436-6230 / LimoncelloRestaurant.com
Everyone knew: Sunday dinner was the best meal of the week. Sumptuous dishes. Glasses overflowing with wine. Enough room around the table and food for anyone and everyone who showed up … family, friends, even all the cousins. And there was always dessert. For a big Italian family dinner every day, look no further than Limoncello, where everyone wants to be. The chicken limoncello is superb and the veal saltimbocca is tasty. There's plenty of wine—at the bar before dinner and at the table with your meal. For dessert, there's always tantalizing cannoli and Mom's Tiramisu, light as air. Go ahead—call up the whole family.
Italian Classics
La Verona
114 E. State St., Kennett Square
610-444-2244 / LaVeronaPa.com
Close your eyes as you savor the spinach and mushroom ravioli, gnocchi or tortellini pasticciati. With such cucina classica delights, you might believe you're in Verona, Italy, where a winding river wanders through the medieval town. At the Kennett Square restaurant inspired by and named after the town, go for grilled octopus or a margharita pizza at the bar during happy hour. Or sample the zuppa or insalata at lunch. With its location near Longwood Gardens and its warm and relaxing atmosphere, dare we say it's just the right ending to a visit to Longwood's Italian water gardens?
Leisurely lunch
Spence Café
131 N. High St., West Chester
610-918-1272 / Spence.cafe
The Spence family operated several West Chester restaurants before World War I. Since moved, but today under Chef Andrew Patten, the Café continues making a name with locally sourced, hand-crafted dishes. Dinner is sublime, as you probably know. But we love Spence for lunch, particularly the Fall Harvest salad with apples, cranberries, and walnuts. The spinach salad with eggs, bleu cheese and poppy seed dressing is also especially good. As are the sandwiches: the shrimp and crab roll or short rib grilled cheese. Can't choose? Pick two from the soup, salad, sandwich options. The comfortable white-table-cloth ambiance makes it easy to linger and savor a special lunch far from fast food or a sad desk lunch. BYOB on the patio for extra relaxation.
Jamaican
Miss Winnie's
211 E. Market St., West Chester
484-266-0508 / MissWinnies.com
Even in the coldest snow, feel Jamaican sunshine as reggae music strikes your ears and a fabulous jerk pork sandwich with jicama slaw and zingy mango chutney hits your mouth. Three minutes into Miss Winnie's and it's easy to see why within its first year, the little restaurant earned big awards. Friendly, down-to-earth owner-founders Bert and Nick Johnston, Winnie's son and grandson, treat customers like esteemed family and serve up terrific Jamaican family recipes at terrific value. Don't miss the glorious steaming fried plantains—a little sweet, a little tangy, crispy outside, almost creamy inside.
Beef Jerky
Righteous Felon Jerky Cartel
Online store / RighteousFelon.com
Not rabbit food, nor just for cowboys, beef jerky is catching on as a healthy, high-energy, portable snack, high in iron and zinc. And Righteous Felon jerky is from dry-aged Black Angus beef, all-natural, pasture-raised, hormone and antibiotic-free, raised nearby on the Roseda Farm in Monkton, Maryland. Since 2012, the beef has been made into jerky under the watchful eyes of a gang of Downingtown brothers and their friends. You can (and should) read about the "jerky cartel" at the website. Buy O.G. Hickory (the original), Habanero Escobar (the spiciest), or any of a line of eight jerkies on-line from the company or from Kimberton Whole Foods, Di Bruno Brothers or other retailers.
Mediterranean
Byrsa Bistro
128 Glen Mills Rd., Glen Mills
610-558-4700 / ByrsaBistro.com
Past a magnificent rock garden and terrace for relaxing with summertime drinks, enter Byrsa Bistro in the Magon Legacy Estate home next to the historic Glen Mills train station. Stained glass windows sparkle. A candle-lit table cut from a century-plus old ash tree awaits. In comfortable elegance, begin your meal with a vegetarian Mediterranean sampler with divine warm pita and hummus, delicate stuffed grape leaves and scrumptious spicy carrots. Continue with generous portions of spicy paella, Moroccan-style chicken tagine or cavatelli and lamb. The BYOB with friendly, attentive staff also now offers its own reds and partner wines, including Va La's delicious Prima Donna. Get swept away by its charm.
Fiesta Everyday
Más Mexicali Cantina
102 E. Market St., West Chester
610-918-6280 / MasMexicali.com
With one foot planted in Mexico and the other in L.A., the atmosphere at Más Mexicali is—cue the mariachis—fiesta-like! It's a party on three levels with an extensive menu—food and drinks—for every mood and member of your party. Feast first on the appetizers—guacamole, quesadillas, tostadas—then turn to a soup or salad, and on to the main course—tacos, fajitas, burritos, chimichangas, enchiladas, and other house specialties. The first-floor Cantina is roomy and spirited. The Velvet Lounge offers a colorful, cozy second-floor respite. Come spring, at the top of the stairs, "Más on the Roof" opens to the best rooftop vista and sunset view of West Chester. But, wherever you go, take your time. There's always mañana.
Pasta Dishes
Hearth Kitchen
Shoppes at Longwood Village, Kennett Square
484-732-8320 / HearthKennettSquare.com
Fans of Bryan Sikora were delighted by his return to the Kennett area with this rustic Italian kitchen near Longwood Gardens. The wood-fired pizza oven turns out magic and the entrees evidence an experienced hand. But it's the hand-made pastas that uniformly get raves. Rolled or extruded, fresh pastas provide a soul-satisfying medium for the chef's inspired seasonal sauces. Only the choice is tough—mafalde with smoked portabella, mushroom marsala gravy, toasted parmigiana bread crumbs; ricotta gnocchi with butternut squash, chestnuts, braised ham hock, shaved Brussels sprout, parmigiana; or radiatori with roasted duck, lemon peel, green peppers, olives, tomato reduction, fruity olive oil, parmigiana. Even the kids menu boasts garganelli pasta. No spaghetti and meatballs here.
Tastiest Little Pies
Nomadic Pies
132 W. State St., Kennett Square
610-857-7600 / NomadicPies.com
Everyone thinks of pie at Thanksgiving but at Nomadic Pies they're so good, why not enjoy pies year 'round? Five-inch sweet pies—just the right size to keep in the freezer for emergencies—are mounded high with fruit and a golden flaky crust. Buy a few piping hot little savory Marsala chicken and shepherd's pies to share and sample, or keep one tasty selection for yourself. This year after selling the food truck that started the venture and gave it its name, the business is a bit less nomadic, but the popular pies can be found at farmers markets and the enticing home base in Kennett.
Pizzas
MidiCi The Neapolitan Pizza Company
201 Main St. Suite 100, King of Prussia
484-322-2579 / MyMidici.com
Under an olive tree planted in the middle of the bright airy room, admire the gleaming gold wood-burning oven. Then notice the ingredients on your pizza: the light, flavorful crust, from finely ground caputo "00" flour; ripe San Marzano tomatoes; extra virgin cold-pressed olive oil; Parmigiano-Reggiano; and soft, delicate mozzarella. The pizzas that emerge—classic Neapolitan and chewy, either specialty or choose-your-own—are unusually fresh, wholesome and authentic. Try best-selling double pepperoni or The Devil's—house-made spicy sausage, spicy salami, chilies. The appetizers—homemade meatballs, house meat board or cheese board, are also inspired and delectable. With more than 45 locations nationwide, MidiCi is neither local nor unique. But it's damned good!
Pizza By Elizabeths
3801 Kennett Pk., Greenville, DE
302-654-4478 / PizzaByElizabeths.com
Not your average pizza joint is a familiar description for this elegantly casual Greenville mainstay topping 25 years of celebrating specialty pizzas and Elizabeths. From the Queen to Barrett Browning, to Taylor and Arden, plus Boop and White (Bettys, too), the wood-fired pizzas include over a dozen creative combos in mini or regular size atop white, low-fat honey wheat, or gluten-free crust, with sauces from chunky tomato to pesto to alfredo, plus veggies and herbs. Or DIY from the long list of all natural ingredients. A dozen gourmet salads and pleasant wine and beer lists enjoyed at the self-described "swanky" lounge or the 125-seat dining room. Join the loyal following beyond Chateau Country.
Ariano Restaurant & Bar
114 S. Olive St., Media
610-892-6944 / Ariano.net
With over 20 specialty pizzas, a daily special and the option to customize, Ariano is a pizza lover's dream. This charming family-owned and operated restaurant serves up Arianese-styled dishes from the Campagna region of Italy—from apps to house-made gelato and the risotto, a specialty. But back to the crispy, thin-crust pies coming out of the 900-degree wood-fired oven hand built with Tuscan clay bricks. Pick from the long pizza list, the Arianese—sweet sausage, artichoke, prosciutto, smoked mozzarella—to the Zio Luciano—spicy vodka sauce, organic chicken, fontina—or the special steak & gorgonzola. Choose a dining level, reaching the top via a spiral staircase to see the mural of the village of Ariano Irpino.