Drinks & Spirits
---
Cider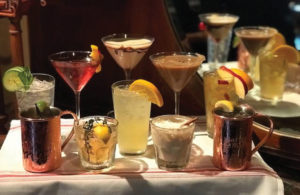 Dressler Estate
Available at local retailers / DresslerEstate.com
With crowd-sourced start-up funds, a first cider-versary, participation in Philly's first Cider Week, and a shout-out from Craig LaBan, Dressler Estates deserves recognition. Brian and Olga Dressler began in 2012 as homebrewers who evolved into cider makers working magic with yeast and apples. Their champagne yeast produces a pret-nat-style of hazy sparkling cider with fine bubbles, while their popular still cider is a clear, pale straw color with a dry, apple-forward aroma—far from cloying, overly sweet apple wine. These crisp, distinct ciders are well worth sipping and sharing. All hail this welcome addition to the local craft beverage scene in a state that's the 4th largest grower of apples.
Gin
Revivalists Gin
350 Warwick Rd., Elverson
610-901-3668 / RevivalistSpirits.com/Bistro
Gin is in, and small batch gin is big, natch. With a portfolio of gins reflecting our changing tastes during each season, Dan and Scott Avellino's Revivalist Gins, produced at Brandywine Branch Distilleries' 19th-century stone barn, continue to garner accolades. The winter Solstice gin—with dried cherry, orange peel and ginger, finished in red wine barrels to a surprising millennial rose gold tone—earned 92 points from Wine Enthusiast. And in 2018, Equinox—light, fresh and citrusy with hints of mint and spring—won double golds in the New York World Spirits competition. For those whose gin-sperience is limited to G&Ts, try the jalapeño infused Dragon Dance—"a wild ride of taste and botanical adventure."
New Spirits
Pennsylvania Distilling Co.
50 Three Tun Rd., Malvern
484-568-4920 / PennDistilling.com
Opened in August, this grain-to-glass distillery is the Main Line's first, though not Chester County's (there's Brandywine Branch, Manatawny and Bluebird distilleries). Not to be confused with Fishtown's Philadelphia Distilling (makers of famed Bluecoat Gin), Pennsylvania Distilling Co. is one of the new stops on the growing local Craft Distilling and Spirits Trail. The small-batch spirits are handmade with passion and care by owners Joseph Amoroso and Richard Buoni, who adhere to old-fashioned principles of distilling from scratch with all natural ingredients. Visit the tasting room or take a tour to sample flights or specialty cocktails—try the Malvern Mule or This Is Not a Negroni—with rye whiskey, vodka, light and dark rum, plus gin. Help them reach their goal of 1,000 cases their first year.
Whiskey Bar
Ripplewood Whiskey & Craft
29 E. Lancaster Ave., Ardmore
610-486-7477 / RipplewoodBar.com
Already earning a nickname, the Ripp, next to Ardmore Music Hall, is another reason to head east—yes, there's more than Tired Hands Brewing in Ardmore. Two floors of throwback American comfort food complemented by creative craft cocktails—Buzzed Bunny, Jorge Clooney, Millionaire Juice Box—plus beer, wine and cider, if you must. The changing menu is heavy on bar snacks and sharables with the pretzeled Parker House rolls (whipped truffle butter) and Ripp fries (fondue, jalapeño, brisket) as standouts. The burger (gouda, Lebanon bologna, special sauce) is legendary—might be the best you've ever had. Save room for the Brookie—brownie, chocolate chip cookie combo in a hot skillet with ice cream.
New Winery
1723 Vineyards
5 McMaster Blvd., Landenberg
888-330-0526 / 1723Vineyards.com
Fifth-generation farmers and first-generation wine makers Sarah and Ben Cody profess a passion for great wine and working with their hands. So they planted 11 acres in historic New London township (chartered in 1723, hence the name) with varietals that thrive in the region. Sharing their wine in an on-site tasting room, farm-to-table wine pairing dinners with a neighboring farm, and a wine club offering special releases, they're building a loyal following. Sample their range of craft wines from albariño and chambourcin to their favorite, cabernet franc, the one they believe most captures the terroir of their vineyard. Can you taste the intense aroma of pepper and eucalyptus colliding with dark chocolate flavors against lightly charred, cedar oak?
Brunch Cocktail
Tavola Restaurant + Bar
400 W. Sproul Rd., Springfield
610-543-2100 / Tavolas.com
A great brunch needs a great Bloody Mary, and Tavola's Garden Bloody Mary has legs. After being named the People's Choice Best Bloody Mary in America at the 2014 Food Network's Chopped! Wine and Food Festival, this brunch mainstay was selected as Drinking in America blog's 2018 pick for the best in Pennsylvania. And we agree. What distinguishes Chef Irene Moretti's recipe is garden-fresh herbs and veggies plus ingredients like house-made bread and butter pickles in brine mixed with a secret blend of Absolut peppar and cilantro vodkas, then garnished with a skewered piece of shrimp lejon. You can build your own Bloody Mary at Tavola's popular Sunday brunch, but why?
Patio Bar
Great American Pub Bar + Grill
148 Bridge St., Phoenixville
Other locations: Conshohocken, Wayne
610-917-3333 / TheGreatAmericanPub.com
Although we're fans of the adaptive reuse of the grand old Columbia Hotel, here's a shout-out to an amazing patio dining experience nestled in a space just off Bridge Street in Phoenixville. In the shadow of that historic hotel, this courtyard space with fountain, pergola, string lights and plenty of tables often hosts music in addition to loyal fans. But the highlight is about a dozen adorable covered wooden booths where you can enjoy a special experience—your own island of conviviality. With the name pub, expect great food and apps—like pub beef sliders—plus an extensive menu. Try the Chef Specialties—smoked brisket, smoked carnitas and sweet and smoky baby back ribs. Perfection on the patio!
Drinks with Friends
Iron Hill Brewery & Restaurant
3 W. Gay St., West Chester, 610-738-9600
Over a dozen locations / IronHillBrewery.com
Raise a glass to friends while you lift your fork for a meal at Iron Hill, a favorite watering hole with many area locations. What began as a birthday gift home-brewing kit is now a restaurant lauded in Craig LaBan's "Best of the 'burbs" in 2017. Patrons flock to the pub after special events—parades and cycling events in West Chester and First Fridays and the Firebird Festival in Phoenixville. Special days and any day pair burgers, pizzas and entrees with their craft beer—seasonal or signature on tap and award-winning bottled reserves. Treat buddies to martinis and Manhattans at indoor or sidewalk seats.
Drinks After Work
Black Powder Tavern
1164 Valley Forge Rd., Wayne
610-293-9333 / BlackPowderTavern.com
Black Powder Tavern does everything right for after-work drinks. Happy hour pricing is convenient, 5 to 7, Monday through Friday, for draft beers, house wines, classic cocktails, specialty martinis with a menu that goes beyond wings and flatbread. Order poutine, beer-baked pretzel sticks, cheesy devils on horseback and $8 cheeseburgers. If after-work drinks extend, the full menu offers more small plates, sandwiches, and large plates like cedar plank salmon and NY strip steak. The extensive full drinks menu includes 24 draft beers (Untappd's app has all the updates), seasonal drinks (fall drinks included pumpkin smash), lengthy single malt list, make my mule options, flights, plus more wines and ciders. Raising spirits since 1746 and through 2019.
Columbus Inn
2216 Pennsylvania Ave., Wilmington
302-571-1492 / ColumbusInn.net
For generations, the Columbus Inn has had a "room where it happens." Invite colleagues for drinks after work at the large tavern room with polished wood bar at one end and TV at the other. Take pals to the porch. Get things done or kick back in comfort at happy hour. Treat someone special to the wine and cheese bar facing a spectacular vault of floor-to-ceiling bottles of wine. Amid sparkling stemware, sink into a seat of luscious red leather and choose from premium spirits, craft cocktails, house wine pours or draft and bottled beer. Then just let it happen …
Drinks on the Deck
The Desmond Hotel
1 Liberty Blvd., Malvern
610-296-9800 / DesmondGV.com
Looking for a spot to sip wine with a few friends or celebrate happy hour with 50 of your closest colleagues? The Desmond Malvern has you covered. At a clutch of comfy chairs, umbrella table or stool at the outdoor bar, enjoy draft or bottled beers, imported or domestic wines with fare from the seasonal Sunset Grille. Select a signature cocktail: a classic rye Manhattan or a fun-lover's Espresso-tini with Bailey's and Starbucks coffee liqueur. Sudden downpour? No worries, the adjacent Fox & Hounds Pub and spacious lower level lobby with countryside mural have you literally covered, too.
New Bar Concept
Burlap and Bean Coffee
455 W. Baltimore Ave., Media, 484-444-2533
204 S. Newtown Street Rd., Newtown Square 484-427-4547 / BurlapAndBean.com
The Burlap and Bean café may be best known for its coffee—organic and roasted in small batches—with three locations in Newtown Square and Media. The music, generally on weekends, also feels fine, down-home and adds to the ambiance. But here we sing the praises of B&B's lemonade bar, which debuted last summer. Made with real lemons, B&B's house-made lemonade has options like muddled strawberries, açai, cucumber and assorted other fruits, berries, herbs and tastes to add to a liesurely summer day. All real, all natural. And colorful! It's oh so refreshing on a hot summer afternoon—and yes, summer will be here sooner than you think. A Pinterest-perfect concept for a non-alcoholic bar, a brilliant alternative to iced and cold brewed coffee.