Date Night to Indian Cuisine
---
Date Night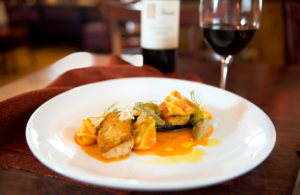 Domaine Hudson
1314 N. Washington St., Wilmington
302-655-9463 / DomaineHudson.com
Wine and romance go together, so a restaurant with awards from Wine Spectator, Open Table and more for its wine list is a good candidate for a date night destination. And Domaine Hudson fills the bill with 40 wines by the glass, 450 in the cellar and, more specifically, a date night special on Thursdays of 3 courses, 2 people, 1 bottle ($95). You do the math to see if this adds up to an easy choice. Dazzle your date with a place that has its extensive wine list on an iPad, with its inventory arranged by name, price, label, region, varietal and point score/rating. Take it to the next level and reserve a private room.
Dim Sum
Tom's Dim Sum
13 E. State St., Media,
610-566-6688 / 2-TomsDimSum.2-MenuCities.com
Busy, lively, sometimes with a line, but the dim sum is oh so good you don't mind! You'll watch, sipping tea, as a profusion of dumplings, buns, sticks and other bite-size delicacies—pork, chicken, beef, fish, shrimp, vegetable—emerge from the kitchen. Like exquisite tiny sculptures, they roll out, past your table and you'll wish you'd ordered that. Or that. Or that! Until your first dim sum arrives, and all eyes turn jealously to your choice! Shanghai shumai, soup dumplings—with delicate skins, filled with broth and meat—to die for, and scallion pancakes to live for. Be glad Tom's came to the 'burbs.
Donuts
Fractured Prune Doughnuts
2630 Egypt Rd., Audubon, 484-370-2176
660 Downingtown Pk., West Chester
484-999-8134 / FracturedPrune.com
Everyone has a favorite donut—warm yeasty glazed, classic jelly filled or the seasonal favorite apple cider donut. These hardwired preferences have not deterred an explosion of specialty donut chains that believe "your doughnuts should be as unique as you." Started in Ocean City, MD in 1976, our favorite, Fractured Prune, serves hot, hand-dipped, custom cake donuts with thousands of varieties—about 155,648 combos possible, according to their FAQs. For an interactive donut experience, you choose the glaze and toppings for a donut sundae. Or order from their menu of bacon bomb, morning buzz, French toast, salted caramel. The most popular? OC Sand (honey glazed, cinnamon & sugar). And the name, Fractured Prune? Just Google it.
Family Friendly
Ron's Original Bar & Grille
74 E. Uwchlan Ave., Exton
610-594-9900 / RonsOriginal.com
This is where to take your family for a wide variety of delicious healthy dishes. For the kids, there is everything from mac & cheese to a meatball sandwich. For those a bit older, order a Boss Burger, a grilled Reuben, or something else from the sandwich menu. Or try a pizza, an Oval, or a Piadini—basically, an Italian pita. The Casino, with hot capicola, roasted red peppers and garlic aioli is a favorite. Or, build your own original pasta dinner, choosing the pasta, sauce, protein and veggies. That is, if you can resist the lasagna, Blackened Alfredo or cioppino. Caution though: with such an extensive and tasty menu, expect the kids to grow up fast.
Farm Dinners
SIW Vegetables Field to Fork Dinners
4317 S. Creek Rd., Chadds Ford
610-388-7491 / SIW-Vegetables.blogspot.com
A farm stand, CSA and wholesaler of old-fashioned and newfangled vegetables, fruits and flowers, SIW Farm (stepped in what?) was transformed for the sixth year for 15 summer field-to-fork dinners. Lucky guests savored just-picked produce in an idyllic setting as the meals let the fresh food shine. Guest chefs ranging from Dan Butler, Bryan Sikora, Mark Vetri to William and Merry of The House of William and Merry, crafted menus as diverse as themselves. The rustic-chic 1600s bank barn at Hill Girt Farm—in the Haskell family since 1910—is the picture-perfect backdrop for an al fresco family-style dinner on a working farm (most BYOB and around $75). For crickets, conversation and farm-fresh cuisine beneath the twinkly lights, mark your calendar.
Fine European Service
Vickers Restaurant & Bar
192 E. Welsh Pool Rd., Exton
610-363-7998 / VickersRestaurant.com
For an Old World dining experience as sparkling as the 1930s emerald dinner ring you donned for the occasion, look no further than Vickers. Set on a white tablecloth, the proper fork is provided for the tableside-prepared Caesar salad and the correct glass holds your merlot. Discreet servers appear with each course—from the escargots to the filet mignon to the flambé highlighted in our awards for 2018's "Best of the Best." Ask the pianist to play As Time Goes By on Friday or Saturday night and linger over after-dinner coffee and conversation by the fireplace. It's never out of style.
French Pastries
La Baguette Magique
202 Market St., West Chester
610-620-4729 / MagicBaguette.com
Take a whirlwind tour of France through the pastries of La Baguette Magique. Order une tasse de café (every French delicacy demands the company of good coffee), an assortment of pastries and prepare to be transported. Chocolate, chocolate almond or regular croissants and brioche with chocolate or raisins whisk you to a French outdoor market. In bugnes, glimpse ancient ruins in Lyon, home city of founder/owner Catherine Seisson. With friends, find snow-dusted December Provence in the large almond-cream-filled Galette des Rois cherished at Christmas time. Shell-shaped madeleines invoke the Lorraine region (and Proust) while colorful macarons conjure up Paris in one bite. Magnifique!
Gelato
Gemelli Artisanal Gelato & Dessert Café
12 W. Market St., West Chester
484-557-848 / GemelliGelato.com
What's warmer than ice cream, smoother, richer, creamier, more flavorful and has less fat? If you answered gelato, you're in the know and may already know the gem that is Gemelli. Add that the spatula-scooped gelato here is made from scratch by a skilled and passionate artisan, Vincenzo Tettamanti, from family recipes improved by years of experimenting and influenced by fresh, local, seasonal ingredients—no artificial anything. Sample fresh-daily, swoon-worthy flavors like salted caramel, tiramisu, lavender vanilla, ricotta fig or the Gelato World Tour Competition-winning goat cheese and fig balsamic reduction. Plus vegan flavors and a popular gelato-making course that sends students home with two pints of their creation. From a gelato artist.
Greek
Opa Opa Greek Restaurant
122 E. Gay St., West Chester
610-696-4100 / OpaOpaGr.com
You know you've arrived at Opa Opa when you see the pretty Greek-blue storefront and smell fragrant herbs as the front door opens. Enjoy favorites, all served in generous portions—tzatziki, gyros, tempting pita, classic Greek salads, spanakopita and Greek yogurt—in a recently expanded dining room bordered by Greek island scenes on the wall. Try the truly special baklava with nuts drenched in honey; it's so good you'll get more to take home. Just try not to eat it on the way. Before your take-away bag gets full, check out the rice pudding and other goodies in the side refrigerator.
Grill Master
Restaurant Alba
7 W. King St., Malvern
610-644-4009 / RestaurantAlba.com
Steeped in hickory and mesquite, Chef Sean Weinberg prepares his trout, duck, pork, hangar steak and other meats as a virtuoso on his wood-burning grill, allowing their aromas to permeate the 125-seat dining room from the open kitchen. Restaurant Alba continues to merit its legendary status and anything from the grill is a gift. Locally sourced, the dishes on the menu list the "Family of Farmers" that supply the kitchen. The creative cocktails, strong selection of Italian wines and beer, mouth-watering desserts surround the main course with unimpeachable elegance. The antipasti (try grilled octopus), pastas (a passion), piatta piccolo—even the sides and locally grown salads—are wonderful. Alba earned numerous awards, including three bells, and deserves every one. If you're looking for something more casual, head for Biga in Bryn Mawr.
Heirloom Tomato Celebration
Willistown Conservation Trust
925 Providence Rd., Newtown Square
610-353-2562 / WCTrust.org
Perhaps nature's most splendid fruit, tomatoes are nutritious, tasty and versatile. And Pennsylvania heirloom varieties are a quantum leap better than the rest. Fresh-picked from the vine, as an ingredient or stand-alone dish, heirloom tomatoes make summer picnics special. Preserved in artisan sauces, they make winter meals brighter. To celebrate the red, gold and green marvels, Willistown Conservation Trust hosts an annual Tomato Tasting at Rushton Farm each August, and you should join them to celebrate peak season. Duck under party tents. Sidle up to red-checkered tables laden with rainbows of summer flowers and arrays of tomatoes, chutney, caprese and gazpacho. Add wine, beer, live music and a tour of the farm's gardens and it's a delight for growers and guests alike.
Hunt Country Meal
The Whip Tavern
1383 N. Chatham Rd., West Marlborough
610-383-0600 / TheWhipTavern.com
After the hunt or a week at work spent chasing your tail, unwind at The Whip. Prop your boots on the hearth, cozy up to the bar or head to the patio overlooking Doe Run and ask what's on tap. The longtime, well-loved, award-winning British pub in horse country has pub grub favorites, but even better than the classics dished up across the Atlantic. Warm up with fish and chips, Welsh rarebit or curry. Cool down with ales, stouts, imperials, Uncle Jon's Beer #1—an IPA from Stolen Sun Craft Brewing—or For Fox Sake cider from Big Hill Ciderworks.
Ice Cream Trail Stop
Chester Springs Creamery and Milky Way Farm
521 Uwchlan Ave., Chester Springs
610-827-1484 / MilkyWayFarm.com
Pennsylvania has an officially sanctioned Ice Cream Trail! Who knew? Now that you do, why not hit the trail. One of the 12 "cow-to-cone" stops is Chester Springs Creamery at family-owned Milky Way Farm. Make it an outing: say hello to the cows, go on a hayride and then choose a few scoops of some of the best ice cream around. Flavors are named for members of their herd. Bessie's Black Raspberry, Blossom's Butter Pecan and Molly's Mint Chocolate Chip are just a few of the 48 that can be piled on cones or sundaes, whipped up in milkshakes or taken home in packages. It's something to moo about.
Indian Cuisine
Bangles Indian Cuisine
889 E. Lancaster Ave., Downingtown
610-269-9600 / BanglesIndianCuisine.com
Bangles is a feast for the senses. One bite conjures a million images of India. Street food samosas call up colors, sounds and scents of bustling flower and spice markets. Aromatic biryani with seasoned yogurt and sides of warm naan bring to mind vivid silk saris and colorful bangles encircling wrists decorated with red henna. Gulab jamun, a favorite dessert dumpling drenched in sweet syrup, signals the end of the day when oil lamps are lit. Food from different regions of India with beautiful presentation in a wonderful setting—no wonder Craig LaBan listed it in "Best of the 'Burbs" and diners keep going back.