Beer & Taverns
---
Taverns 2.0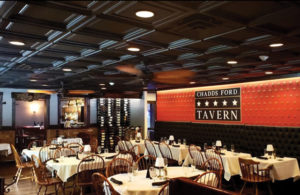 Chadds Ford Tavern
1400 Baltimore Pk., Chadds Ford
484-800-4084 / CFTavern.com
The Colonial tavern ambiance remains at this gathering spot frequented by Wyeths and Weymouths and owned for almost 50 years by Tommy Drane. Updated by new Chef/owner Phil Ferro, with a mission to have the regulars "yearn to return" while attracting new fans, CFT has much to recommend it. Happy hour seven days a week, two bars, raw bar, private dining, pairing dinners, live entertainment and patio dining planned for spring. If they don't already have it, Ferro likely will add it. Plenty of apps (tavern lobster chowder), shared plates (flatbreads), tavern classics (crab cakes, steak frites), prime steaks & chops, plus daily specials, decadent desserts (chunky monkey bread pudding) and a 215-year history.
Eagle Tavern & Taproom
123 Pottstown Pk., Chester Springs
610-458-5331 / EagleTavern.com
An icon got a makeover when the Eagle Tavern got new owners last year. The neighborhood mainstay with hundreds of years of history—a sign reads "First Established 1727"—is evolving, now offering Paranormal Dinner & Show and beer dinners with nearby East Branch Brewing. A team with ties to Victory Brewing—owner Matt Krieger, Chef Owen Kolva—has updated the interior and the ambitious menu. There are apps, selections from land and sea and garden, plus plats du jour, weekly specials and bar menu. There's real range—from house pickles to Scotch eggs and Allagash to Yuengling on the beer menu. The second floor taproom is for sports and live music fans.
Place to Grab a Beer
Root Down Brewing Company
1 N. Main St., Phoenixville
484-393-2337 / RootDownBrewing.com
To grab a beer with a friend, head for Chester County's beer capital—Phoenixville. Among the many choices, Root Down offers special attractions. The big space mixes historic and hip—exposed brick, graffiti murals, kung fu movies—plus a long welcoming bar and a game space with video games, bubble hockey, corn hole. Add award-winning beers like Bine (Great American Beer Fest gold for American-style IPA; plus silver for Salty by Nature, a gose), along with a strong supporting pub gub menu—from loaded nachos to cauli bites, brisket on a biscuit to vegged out wrap. They also garnered a win for best mid-sized brewpub and brewer of the year. Stop in to see why.
Taproom
Tap 24
36 W. State St., Media
484-442-8839 / Tap24Media.com
We have a soft spot for descriptive names, so a taproom with 24 rotating taps has our number. This relaxed sports bar has much to recommend it beyond the purse hooks and outlets at each bar seat. A short but solid menu offers starters like tots poutine, plus burgers, signature fried chicken, Cubano and BBQ pulled pork. On-tap choices, with strong local representation, run the gamut from lagers to hoppy stuff to dark to sour, barrel-aged and others, along with an extensive drinks list of cans, bottles, cocktails and wine. An On Deck list tempts return visits. The low-key vibe, brick and dark wood interior, plus servers in flannel add to the ambiance.
New Brewery Concept
Stolen Sun Craft Brewing & Roasting Company
342 Pottstown Pk., Exton
484-879-4161 / StolenSun.com
Come for the coffee, stay for the beer," says Stolen Sun Craft Brewing and Roasting Company. What the slogan doesn't mention is the fabulous food in between. The new combo brewery-"roastery"-eatery gets high marks for all three. The open space, once gym warehouse storage, is set up for a good time with your crowd. Taste an on-site-brewed IPA, plus on-site-roasted coffee and chef's special—a seafood crepe or three-mushroom ramen with broccoli—at colorful wooden tables on the lower level. Play board games, bar-watch over the balcony or peek into the blue-floored brewery from the second floor. Check hours, then go hang out a while.
Beer Gardens
The Gables at Chadds Ford
423 Baltimore Pk., Chadds Ford
610-388-7700 / TheGablesAtChaddsFord.com
Our area is bursting with breweries and taphouses—both good things. So what better use of beautiful grounds than to create a warm-weather beer garden. When Kennett's popular pop-up, The Creamery, closed last summer, The Gables occasional beer garden filled the bill. Like the restaurant, the beer garden was simple and elegant, using the beautiful back terrace (or banquet room for rain or heat) for sipping beers, summer berry peach sangria or wine while enjoying the bar menu, featuring favorites like bourbon pulled pork sandwiches, truffle fries and watermelon salad. A s'mores station (with homemade flavored marshmallows), lawn games and great music added to the ambiance. Stay tuned for plans for summer 2019!
Bistro on Bridge
208-212 Bridge St., Phoenixville
610-935-7141 / BistroOnBridge.com
How about a rooftop beer garden? With a 1973 VW beer bus? That's what was added during the renovation at Bistro on Bridge. The Instagram-worthy second floor Analog Room is a large open space overlooking the heart of Phoenixville—a family-friendly spot with a retro vibe, picnic tables and plenty of games, including vintage Pac-Man and Frogger. There's indoor space—with sofa and fireplace—protected by two large retractable garage doors. Enjoy a wide selection of canned beer, plus vintage cocktails and frozen drinks. Sample Bistro's satisfying menu, too.
Suburban Restaurant and Beer Garden
570 Wellington Square, Exton
610-458-2337 / SuburbanBG.com
Putting its devotion to beer gardens in its name, Suburban Restaurant and Beer Garden also honors all things local, including PA craft beer and spirits—don't ask for a shot of Cuervo here. Chef/owner Eric Yost comes by his local roots honestly, with stints at White Dog and the former Wyebrook Farm restaurant, both adherents to sustainable sourcing. His beer garden cred is also well earned, with a menu featuring faves like Bavarian pretzel with IPA mustard, pork schnitzel and bratwurst. Recently expanding the Suburban brand to include a nano-brewery in Honey Brook, Yost added his own brews to a strong lineup on tap—all the local suspects, plus Hijinx, Funk and Fegley's from around the Commonwealth.
Pinocchio's Restaurant & Beer Garden To Go
131 E. Baltimore Ave., Media
610-566-7767 / PinPizza.com
Beer Garden To Go is a different take on the community gathering space at the heart of the concept, but Pinocchio's does everything to make beer fans happy. It's the first bottle shop in DelCo, now open until 1 a.m. on Monday–Saturday, with 25 beers on draft, 200 craft and international options, and about 1000 choices overall. So order a draft from the hometown brews selections and get advice from the knowledgeable staff to help fill your six-pack to go as you wait for your take-out pizza. Then take your movable beer garden to-go home and kick back. Or enjoy the new deck upstairs.
Beer with a Purpose
Sly Fox Brewing Company
520 Kimberton Rd., Phoenixville, 610-935-4540
331 Circle of Progress Dr., Pottstown
484-300-4644 / SlyFoxBeer.com
Beer and curing childhood cancer? Why not. This special pairing is why we celebrate the partnership of Sly Fox with Alex's Lemonade Stand. Available this past April–August, the spring seasonal, Alex's Lemon Wheat Ale, was an inspiring, bright, refreshing, unfiltered pale wheat ale, with real lemon oil and lemon zest, plus natural flavors—a tribute to the original lemonade stand. A portion of the proceeds on sales was donated to support Alex's mission to find cures for all types of childhood cancer. Best enjoyed while wearing something lemon yellow. Look for its return this May.