Apps to Cookies
---
Local App for Dining Deals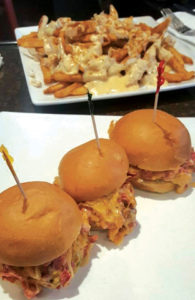 Localized APP
It's Friday night. You're in West Chester and looking for something fun to do and a good place to eat. But you're not sure what's hot or not. Localized has the answer. The Localized app—designed and built, well, as you might expect, locally—on your cellphone pinpoints your location and tells you about sales, specials, live music and more at cool places nearby that night and within the next week. Following its pilot in West Chester, Localized is now adding to its base of breweries, restaurants, pizza shops and other types of businesses so you're ready for a night on the town. Or you can always check the Events section and the Best of the Best dining listing on the County Lines website!
Local TV Star
Brooklyn Girl Bakery
2208 Kimberton Rd., Phoenixville
610-757-8318 / BrooklynGirlBakery.com
At Brooklyn Girl Bakery, New York City style meets Chester County taste buds and Hollywood excitement. This summer owner Peri Anderson and her teammate won the Netflix Sugar Rush reality show's cake challenge and $10,000 with their show-stopping Brazilian Carnival-inspired devil's food with dulce de leche. Back from Los Angeles, she's still earning accolades here. Without leaving the county, order stunning award-winning party and wedding cakes—sculpted, tiered, filled, frosted, fondant-covered, traditionally round or even shaped like a typewriter or chic purse in flavors including Coney Island Carrot and Madison Square Marble. Described by a fan as "ridiculously gorgeous, ridiculously delicious." Taste for yourself.
Appetizers
Appetites on Main
286 Main St., Exton
610-594-2030 / AppetitesOnMain.com
Call it Appetizers on Main, given its mastery of the major app food groups. For fried apps—fried calamari, mozzarella sticks, pickles and potatoes. That leads to the crossover fried and potato apps—house specialty bacon cheese fries (shoestring, waffle-cut, tater tots), NOLA fries and crazy potato skins. Next up, the bites group—pretzel or mac & cheese bites, plus cheesesteak eggrolls (although they're a few bites). For classics apps—a wide variety of wings (10 sauces, three dry rubs), sliders (choose three), and flat bread pizzas (customize yours). Also the favorite apps group—coconut shrimp, mini crab cakes, mini tacos, bacon-wrapped scallops. And finally, the hummus platter … because there's one in every group.
Bacon Theme
Bacon Me Crazy Café & Market
119 Main St., Phoenixville
484-924-8324 / BaconCrazyCafe.com
For the bacon-crazy, this place is for you! So why not order the Bacon Plate with two varieties, or a Bacon Sampler with a flight of three types, or Cinnamon Rolls with crumbled bacon, or Bacon Me Crazy Omelets, Bacon Me Crazy French Toast, the BLT or …? It's all locally sourced, ethically raised, smoked in-house, from free-roaming pigs raised without hormones or antibiotics. There are other things on the menu—eggs, pancakes, burgers, corned beef, potatoes, cheeses—but why? Get there by 3 on most days, but Friday and Saturday nights, it opens again from 11 p.m. to 3 a.m., in case you're in Phoenixville, hungry and want some, um … bacon.
Bistro
Sips Bistro & Bar
400 Bridge St., Phoenixville
484-924-9721 / SipsPhoenixville.com
From Bistro Salad to Le Burger, you can find a complete bistro menu at Sips. Yearning for onion soup, escargots, croque monsieur and madame, coq au vin, steak frites, mussels and more? You can almost hear Edith Piaf singing in the background. A strong, heavily French-influenced wine list (rosés and petillants, along with Champagnes and sancerres) make this the place to go when you won't make it to Paris in the springtime. Patio dining, creative cocktails, and if you love your food, you're invited to buy the kitchen a round of beer. Bon appetit!
Bowls
Bango Bowls
109 W. Gay St., West Chester
484-266-7389 / BangoBowls.com
Food tastes better in bowls, and there are lots to choose from at Bango Bowls, location #7 for this New York-based chain. Offering customized, mood-boosting, healthy food to "fuel your soul with our food," these good-for-you options are fast and affordable. Choose açai, the purple superfood from the Brazilian rain forests featured in the Bango Bowl, or pitaya, the equally Instagram-worthy dragon fruit in the Pink Dragon Bowl. Poke bowls—deconstructed sushi—make a tasty meal, while oatmeal bowls are a hearty breakfast—go healthy with goji berries with chia, hemp or flax seeds, or yummy with chocolate chips and nutella. Plus smoothies—Purple Rain or La Flaminga—or cold brewed coffee.
Breakfast with Friends
Malvern Buttery
233 E. King St., Malvern
610-296-2534 / MalvernButtery.com
Fresh flowers on long wooden tables and the smell of coffee beckon. Fill up those tables with yogurt and granola parfaits, pastries and egg bowls. Fill the long benches with your buddies, because Malvern Buttery is the place to have breakfast with friends. Go for the poached eggs atop root vegetables or grits—there's a good reason why the Buttery goes through more than 1,000 eggs per week. Lick the gooey homemade peanut butter that drizzled from your country white or wheat toast to your fingers. For a weekend splurge, eat breakfast dessert—sticky buns. Your friends will thank you.
Cakes for Special Occasions
Cakes & Candies by Maryellen
1332 W. Chester Pk., West Chester
484-266-0710 / On Facebook
Every special occasion requires a cake—after all, a party without a cake is just a meeting, according to Julia Child, who should know. And Maryellen has been baking amazing cakes in every conceivable shape for every possible occasion. The Flyers' mascot Gritty, Dunder Miflin-themed Office cake, cakes with Battlebots, black AmEx cards, Ghostbusters, a cigar, beer mug, Army-strong theme or capturing 80 years in three layers—yes, she's done that. Plus a perfect replica of the track shoes worn throughout college by one delighted groom—complete with shoe laces, cleats, perforations, a Nike swoosh and a medal showing his wedding date. If you can think of it, Maryellen will find a way to say it with cake and icing. She definitely takes the cake!
Creative Chocolates
Neuchatel Swiss Chocolates
461 Limestone Rd., Oxford
610-932-2706 / NeuchatelChocolates.com
One peek at the royal purple bag and you know something special is inside. Fifth-generation chocolatier Albert Lauber combines world-class Swiss chocolate with exotic and local ingredients for innovative flavors and designs. Rich, dark bars of saffron, pistachio and sea salt. Organic white hot chocolate with Japanese green tea. Silky truffles infused with nearby Va La's red wine. Novel chocolate-dipped Herr's potato chips. Vegan choices with hazelnut or coconut nectar. Designs of high heels, artists' palettes, golf sets, leaves or traditional pieces. All with fair-trade chocolate offered at a shop you'll want to eat your way through.
New Community Hangout
Chadds Cafe & Store
1609 Baltimore Pk., Chadds Ford
ChaddsFordBarnShops.com
Sip a little, talk a little, taste a little, shop a little. Welcome to the newest rendez vous point in Chadds Ford: Chadds Cafe + Store in the Chadds Ford Village & Barn Shops. The casual gathering place is where families enjoy hot chocolate on chilly days and neighbors chat over Baba's Brew on hot ones. Ask for Chef Pam Lau's homemade soups and baked goods or purchase one of her distinctive pottery mugs at the granite counter. Then take a seat at an indoor table under exposed beams or in a fire-engine red Adirondack chair on the lawn—come spring. Check it out!
Warm Cookies
Baked Cookies & Dough
34 S. High St., West Chester
610-981-1457 / BakedWC.com
The faster you decide which kinds to try, the sooner you get to eat them. That's not easy with such an assortment of warm, chewy cookies. Large chocolate chunk, oatmeal raisin, salted caramel, peanut butter or snickerdoodles. Gourmet triple chocolate, sugar, gluten-free and regular chocolate chip, Heath bar and red velvet with dots of creamy white icing swirled in. Devour them at a cute bright blue or pink table at the shop, have them delivered or aim to take them home. Warning: packets of warm morsels might not make it as far as the sidewalk outside Baked's door. Late night delivery on Fridays and Saturdays, so plan accordingly.