New & Noteworthy
---
Shining Star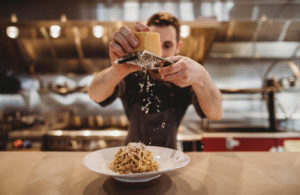 Andiario
106 W. Gay St., West Chester
484-887-0919 / Andiario.com
If you haven't heard the raves about the new star on Chester County's fine dining scene, let us introduce you to Andiario, from acclaimed Chef/owner Anthony Andiario, whose resume is too long for this introduction. Garnering accolades from restaurant critics (Craig LaBan's pick for the "suburbs' best new restaurant"), national and regional publications (Bon Appetit interview; #12 on Philly Mag's top 50), this white-tablecloth restaurant's focused New American menu—featuring four Beginnings, three Pastas, three Proteins—changes depending on local ingredients and the chef's creativity. What doesn't change is divine, inventive handmade pastas, with names some nonnas might not recognize (corzetti, nicchi, caombas). Look for dishes accented with "foragings from the forest floor" and exotic touches like tenerumi. Ask to be wait-listed for a coveted reservation.
People Are Talking About
Verbena BYOB
102 E. State St., Kennett Square
484-732-7932 / VerbenaBYOB.com
Kennett Square's dining scene is amped up—especially for those of us who also eat with our eyes (check the YouTube video). In under a year, Verbena has become an Instagram hit and dining destination, with descriptions of "magician" and "master" for Chef/owner Scott Morozin, a CIA-trained chef with a storied history at several top Philly kitchens. The small dining room, formerly La Madera, serves a tightly curated, refined American menu that's locally sourced and frequently changing. Such talent in the kitchen mandates the Chef's Tasting menu. Return diners rave about the baklava, ribeye and Lancaster farms chicken, but why not try Gun Powder Tea Glazed Skate? Plus, the chef's mother often greets guests, and there's no year-long waiting list.
Louette's BYO
106 Bridge St., Phoenixville
484-924-9906 / LouettesBYO.com
The most recent addition to Phoenixville's restaurant row, Louette's 60-seat cozy dining room and patio space (formerly Marly's) comes from Chef Steve Howells, veteran of several Michelin-starred and top Philly restaurants. Featuring small plates—not appetizer tapas, but smaller versions of entrees—the menu offers categories of Simples, Noodles, Conversation Starters and More Like Mains, plus the option to customize a four-course tasting menu ($45). The locally sourced eclectic menu puts creative spins on familiar dishes while encouraging diners to experiment with choices like fermented pickle jar, charred broccolini, perfect pastas, shaved pork belly, caramelized cauliflower steak and hand-torn scallops. Check in for Meatless Mondays and specials like rabbit saddle stuffed with chestnut, ham and rabbit mousse, dirty rice, butternut squash.
Buzzworthy
The Bercy
7 E. Lancaster Ave., Ardmore
610-589-0500 / TheBercy.com
There's a new buzzy spot on the eastern Main Line to see and be seen. You'll feel glamorous just entering the glitzy converted bank building (site of Primavera Kitchen) in Ardmore, now an elegant brasserie channeling Parc on Rittenhouse Square. And that's no surprise since Stephen Starr alums Justin Weathers and Joe Monnish (Exton's El Pastor) are behind this 210-seat beauty with a 40-seat marble bar, teal banquettes and bistro chairs. Sip your French 75 before ordering decadent onion soup, steak frites, cassoulet, bouef bourguignon or other classics accompanied by a selection of French wines and topped off by crème brûlée, tarte tatin or soufflé. It's both date-night-worthy and worth the drive.
Eddie V's Prime Seafood
670 W. DeKalb Pk., King of Prussia
610-337-7823 / EddieV.com
With locations from Arizona to Virginia and the first in the Philly area, Eddie V's is a classic expense-account and special-occasion seafood and steak restaurant in King of Prussia that checks all the boxes. Oyster bar, caviar selections, shellfish tower, surf and turf ($87), hand-cut steaks, a la carte sides and flaming desserts. There's live jazz in the V Lounge, happy hour with hand-shaken cocktails (not stirred?) and 300 wine choices. With 247 seats, private dining rooms with full tech, and valet parking, high rollers from nearby Valley Forge Casino are likely to roll on over.
Terrain Café at Devon
138 Lancaster Ave., Devon
610-590-4675 / ShopTerrain.com/Devon-Restaurant
At last! Main Liners no longer have to trek to Glen Mills to enjoy the charms of Terrain Café. The new setting adjacent to the Devon Horse Show grounds is home to another exquisite Urban Outfitters production. A charming greenhouse space—light, airy, plant-filled—is the place to lunch, brunch and enjoy dinner. Wait times can be over an hour for a Tuesday lunch! Fans will find familiar dishes—mushroom soup, specialty burger, flower pot bread—and locally sourced seasonal treats like the artisanal cheese board, toasts (eggplant, burrata, fig), salads (arugula, beet, kale), small and large plates (steak frites, duck breast, salmon). Wine and extensive drinks menus hold other temptations. End with a chocolate terrarium.
Amis Trattoria
138 W. Lancaster Ave., Devon
610-590-4782 / AmisTrattoria.com
Devon Yard also brought a Vetri offshoot to the 'burbs with the fourth location of Amis Trattoria. The sleek industrial chic space attracts a fun crowd to its bar and dining rooms for weekend lunch and dinner. The pizzetes (personal pizzas) are tempting, though we preferred the summer peach and prosciutto to the fall fig replacement. A full array of apps (Sal's Old School Meatballs) and mains (branzino, pork and lamb chops) fill the menu, but the pastas are the highlight—with a special shout-out for the bucatini with jalapeño and almond pesto and the tonarelli cacio e pepe, beautiful in its simplicity of cheese and pepper. Chocolate lovers order the tartufo for dessert.
National Nods & Nominations
Talula's Table
102 W. State St., Kennett Square
610-444-8255 / TalulasTable.com
About 600 judges, including restaurant critics, food and wine editors, culinary educators and former winners, narrowed 20,000 applicants to a mere 20 semi-finalists for the James Beard Foundation's outstanding restaurant awards. One of them was Talula's Table. So, ask yourself: one year from today—that's the wait time—what are you doing? If your calendar is blank, make a reservation today. (If your timing is flexible, check social media for occasional openings.) And prepare for a "super-seasonal" banquet that changes often but is always exceptional. Six months out, you'll dream about it. Three months out, you'll think you can taste it. Afterwards—eight courses, from pumpkin soup to lobster risotto to smoked roast beef tenderloins—you won't forget you ate local and well.
Teresa's Next Door
124-126 N. Wayne Ave., Wayne
610-293-9909 / teresas-cafe.com
So much to enjoy. You can go for the beer: there are 28 on tap and hundreds of appropriate glasses. Choose an import, e.g., Moinette Brune from Belgium. Or domestic: perhaps Nitro Merlin from Firestone Walker. Or go local with a selection from Hidden River or Sly Fox: Chester County Brown, maybe. If you can't find it on draft, choose from about 70 labels in bottles. Or enjoy the wines—about 100 in its cellar—by the glass or the bottle, from around the globe. Or sample the whiskey—over 300 on the menu—and gin—about 20. No wonder the James Beard Foundation selected Teresa's Next Door as a 2018 semifinalist in its Outstanding Bar Program. So good and so close to home.
Places to Watch
Main & Vine California Bistro
789 E. Lancaster Ave., Villanova
484-380-3688 / MainAndVineBistro.com
Find Napa Valley in the Delaware Valley at Main & Vine California Bistro, bringing vine-fresh cooking to the Main Line. The former Ave Kitchen space was redesigned for a modern, open feel, anchored by a 26-seat bar and 12-seat pizza bar—pizza as theater—serving light fluffy Napa-style sourdough pizzas. The menu's themes include Starters, Sociables for sharing, From the Vine salads, Pizzas and Mains, plus Family Table special menus for each weekday. Other favorites include the Wild Isles salmon (sustainable and delicious) and the black grape and blue cheese pizza with hazelnuts, rosemary and local honey. California beers and wines—at many price points. A lively happy hour and late night dining.
Avola Kitchen + Bar
625 N. Morehall Rd., Malvern
484-328-8584 / AvolaKitchenAndBar.com
Named after a seaside village in Sicily, Avola serves up a Mediterranean-influenced menu with Old World flavors and farm fresh ingredients. Owned by a group of area restaurateurs (Twenty9, Stephens on State, and more), this new addition to the Great Valley area in Malvern offers small plates, pastas and a pizza lineup—artisanal, Kennett, Diabolo, roast pork—from a 900-degree oven. A popular happy hour with food and drink specials pulls in the after-work crowd to the high-ceiling modern space. Plenty of local beers on tap, too.
Epicurean Garage
570 Simpson Dr., Chester Springs
610-615-5189 / EpicureanGarage.com
Honest local eats and cold beer. That's the promise from owner Lee Krasley (America Bar and Grill, Epicurean) for his new 150-seat, family-friendly, industrial chic eatery in the Eagle Point Village Shopping Center. Serving farm-to-table comfort food along with Root Down beer and BYOWine, the menu has apps, salads, sandwiches, burgers, mains, eggs, shakes and weekend brunch. Whew! There's lots to read about ingredients and sourcing—homemade sausage from Spring City pork, Jail Island salmon, LeBus bread. The brunch menu has special treats like banana brown sugar macadamia nut waffle, with bananas foster syrup and eggs in hell with Texas chili, black bean salsa, cheddar, Louisiana crystal drizzle, jalapeños, scallions. Fit for an epicurean.
Liberty Union Bar and Grill
325 Simpson Dr., Chester Springs, 484-359-4061
519 Kimberton Rd., Phoenixville
484-927-4244 / LibertyUnionBar.com
They had me at complimentary tater tots, wrote one diner—perhaps a reason for opening the second location in Phoenixville. Tots plus specials—BOGO burgers, free first drink for restaurant folks, quizzo, open mic, live music Fridays and Saturdays—and a menu featuring food from around the country—California wrap to Kennett Square tacos—make this a welcoming hangout with a lively bar and family-friendly dining room. Pick an app—Rhode Island calamari or Texan caviar—trendy options like build-your-own quinoa bowl, and American standards (ribeye, salmon, crab cakes) to satisfy everyone. Come for happy hour specials, the featured state of the week (complete with themed starter, sandwich and beverage), and good company.
Great Expectations
Enoteca Tredici
Opening in Downingtown, summer 2019
TrediciBM.com
If Enoteca Tredici transformed a 5,000-square-foot warehouse in Bryn Mawr into one of the sexiest new restaurants in the Philly area, imagine the magic brewing inside the historic paper mill overlooking the Brandywine in Downingtown—$1.5mill budgeted for the reno! Known for approachable Mediterranean fare in beautiful spaces, Enoteca Tredici follows Firecreek and Milito's in the historic site with plans to echo some design features of the Main Line stunner—soaring live trees, expansive central bar. Expect small plates, interesting pizzas inspired by the Zavino sister restaurant, and a strong wine list (a Philly Mag best). This 6th location for the Zavino Restaurant Group is a stylish addition to Downingtown dining. Late summer opening.
At the Mall
Mistral Restaurant
160 N. Gulph Rd., King of Prussia
610-768-1630 / MistralKOP.com
If ever mall food could be taken to another level, it would be at the KOP Mall and at Mistral. From four-time James Beard-nominated Chef Scott Anderson, of acclaimed Mistral in Princeton, this creative, sophisticated, globally inspired menu elevates the culinary IQ of the entire mall. And while the menu has chicken wings and burgers, Mistral's are pineapple chili glazed wings and a dry-aged burger with bacon jam. So whether you're taking a break from shopping or doing destination dining, bring friends to share the small plates of squash beignets, salmon poke, pork belly ramen. There are large plates, but we seldom make it to them. Specialty cocktails, a knowledgeable somm and curated wine list.
North Italia Restaurant
350 Mall Blvd., King of Prussia
484-751-9000 / NorthItaliaRestaurant.com
On KOP Mall's lower level is the first PA location for the hand-stretched pizzas and fresh pasta from North Italia, a chain from James Beard-nominated Sam Fox, also of nearby True Food Kitchen. The 300-seat bright, modern spot opened in October with crave-worthy brunch, lunch, dinner and happy hour ($20 Board & a Bottle special). The trendy menu includes plenty of apps from chef's board to grilled cauliflower, pastas from meatballs to squid ink and a specialty Bolognese, dinner entrees from branzino to salmon, with a popular chicken parm, pizzas with a daily special, plus desserts from affogato to tiramisu. Cocktails are similarly hip—Aperol spritzer to the Milano Mule—and a tempting wine list.